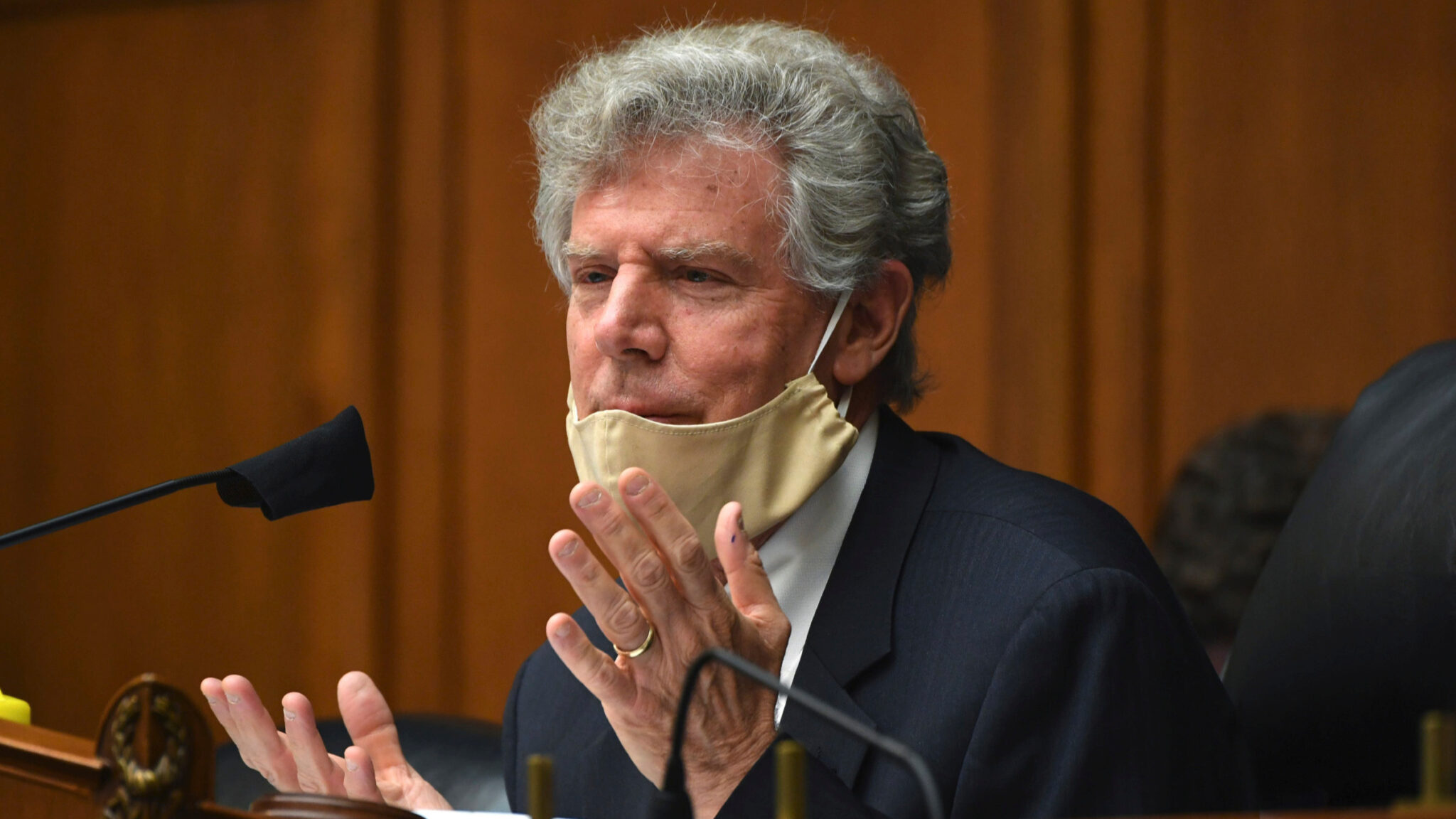 Frank Pallone (D-NJ), House Energy and Commerce Committee chair (Kevin Dietsch/Pool via AP Images)
House com­mit­tee unan­i­mous­ly ad­vances FDA user fee leg­is­la­tion with ac­cel­er­at­ed ap­proval tweaks
The House En­er­gy and Com­merce Com­mit­tee on Wednes­day of­fered a rare show of bi­par­ti­san sup­port for a bill that would pro­vide the FDA with user fees for the next five years.
The com­mit­tee vot­ed 55-0 to ad­vance the quin­quen­ni­al user fee bill to the full House floor, which if ap­proved, will al­low the FDA to use bio­phar­ma funds to hire new re­view­ers, and hit new marks as out­lined in the user fee deals that the FDA and bio­phar­ma com­pa­nies forged over the past sev­er­al years.
While the reau­tho­riza­tion of these fees usu­al­ly sticks to just the FDA-in­dus­try agree­ments, the bill that ad­vanced out of the House com­mit­tee on Wednes­day fea­tures mul­ti­ple new pro­vi­sions, in­clud­ing ac­cel­er­at­ed ap­proval re­forms, man­u­fac­tur­ing in­spec­tion tweaks at the FDA, and oth­ers.
On the ac­cel­er­at­ed ap­provals, com­mit­tee chair Frank Pal­lone (D-NJ) said at the markup Wednes­day that he heard from FDA of­fi­cials that some drugs ap­proved via the ac­cel­er­at­ed path­way take years to start their con­fir­ma­to­ry tri­als, and if the spon­sor fails to show ben­e­fit, it can take even more time to pull the drugs from the mar­ket.
Ex­am­ples of both sce­nar­ios can be seen with Sarep­ta's DMD drug eteplirsen, which took al­most 4 years to be­gin its con­fir­ma­to­ry tri­al af­ter its ac­cel­er­at­ed ap­proval, and the con­tro­ver­sial preterm birth drug Mak­e­na, which the FDA is still try­ing to pull from the mar­ket af­ter its failed tri­al in 2018.
But the Sen­ate draft of its own user fee bill, un­veiled yes­ter­day, did not in­clude many of these same pro­vi­sions like the ac­cel­er­at­ed ap­proval re­forms, and in­stead looks to ramp up FDA reg­u­la­tion of cos­met­ics, nu­tri­tion­al sup­ple­ments, and in vit­ro di­ag­nos­tics.
Both In­di­ana Re­pub­li­can Lar­ry Buc­shon and Col­orado De­mo­c­rat Di­ana DeGette said Wednes­day that they're pleased to see the Sen­ate in­clud­ed the VALID Act in its user fee reauth bill, but DeGette said she would pre­fer to work with Pal­lone to in­clude this di­ag­nos­tic test­ing reg­u­la­tion in­to the House bill.
"The time is now to an­swer the call and ad­dress the pit­falls that ex­ist in the cur­rent reg­u­la­to­ry frame­work sur­round­ing lab­o­ra­to­ry de­vel­oped tests," Buc­shon said.
With­out re­veal­ing whether he would budge on LDTs, Pal­lone re­spond­ed with, "When­ev­er the Sen­ate takes ac­tion on any­thing, we have to take no­tice."