Hub ap­peal: As­traZeneca is mar­shal­ing 350-plus R&D troops in new South San Fran­cis­co cam­pus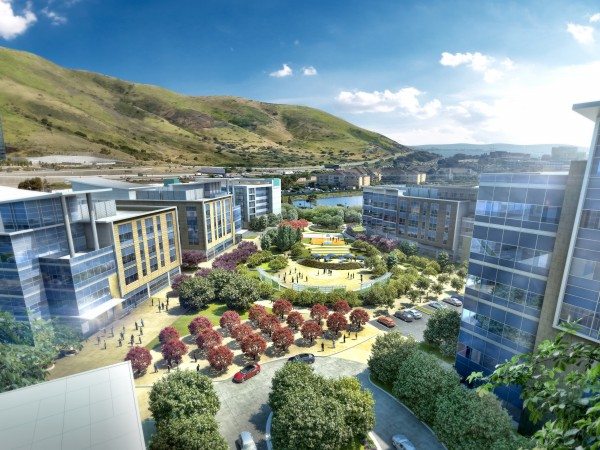 In bio­phar­ma, the big glob­al hubs have be­come ir­re­sistible at­trac­tions as tro­phy lo­ca­tions suck in thou­sands of R&D jobs from the gi­ants as well as star­tups. And As­traZeneca, which has been push­ing an R&D makeover for years now, is once again help­ing to dri­ve that trend by pulling most of its Bay Area ops in­to a gleam­ing new fa­cil­i­ty now un­der con­struc­tion in the South San Fran­cis­co hub.
As­traZeneca, which has been build­ing a $500 mil­lion HQ in the UK's Gold­en Tri­an­gle, is re­lo­cat­ing more than 350 staffers in­to the li­on's share of a new 230,000 square foot project. That will in­clude re­searchers for As­traZeneca, its big sub­sidiary Med­Im­mune, Ac­er­ta Phar­ma (As­traZeneca paid $4 bil­lion for a 55% stake) and the Pearl res­pi­ra­to­ry ops it ac­quired in 2013.
An­oth­er re­cent­ly ac­quired out­fit, ZS Phar­ma, will take a look at join­ing the mi­gra­tion at some point next year.
The staff can now plan to work out of the Cove at Oys­ter Point be­gin­ning in a lit­tle more than a year from now. They'll be close to Genen­tech, hun­dreds of biotechs and an­oth­er sprawl­ing biotech cam­pus now un­der con­struc­tion by Chi­nese in­vestors. This is the same zone where Mer­ck is scout­ing a new cen­tral cam­pus for all its staffers in the re­gion — part of its own on­go­ing R&D re­or­ga­ni­za­tion.
As­traZeneca, which has been clos­ing of­fices and culling staffers in a va­ri­ety of East Coast fa­cil­i­ties as part of an ini­tia­tive to hunt up $1 bil­lion in cost-sav­ings, billed the move as a clas­sic up­grade. Em­ploy­ees get some cut­ting-edge labs to work in, along with a pack­age of good­ies that in­cludes an on-site bowl­ing al­ley, and the phar­ma gi­ant gets to in­te­grate it­self in­to a bio­phar­ma com­mu­ni­ty where ex­ter­nal re­search ties are viewed as a valu­able com­mod­i­ty.
That strat­e­gy has helped make Boston/Cam­bridge, the Bay Area and Lon­don/Ox­ford/Cam­bridge the three go-to hubs for R&D and the ven­ture cash that sus­tains biotech. Every­one ly­ing out­side the pre­spec­i­fied R&D zones might want to pon­der the longterm im­pli­ca­tions.