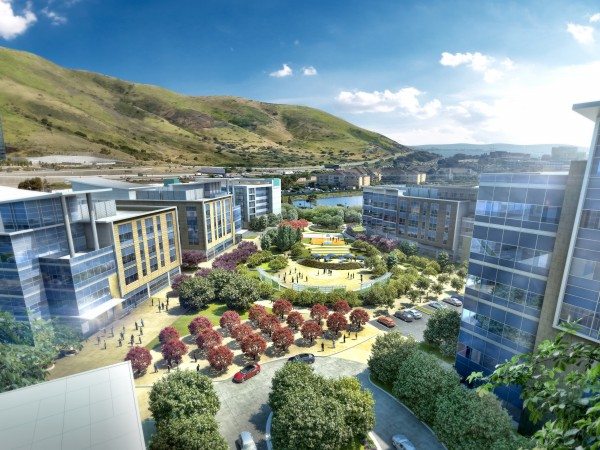 In biopharma, the big global hubs have become irresistible attractions as trophy locations suck in thousands of R&D jobs from the giants as well as startups. And AstraZeneca, which has been pushing an R&D makeover for years now, is once again helping to drive that trend by pulling most of its Bay Area ops into a gleaming new facility now under construction in the South San Francisco hub.
AstraZeneca, which has been building a $500 million HQ in the UK's Golden Triangle, is relocating more than 350 staffers into the lion's share of a new 230,000 square foot project. That will include researchers for AstraZeneca, its big subsidiary MedImmune, Acerta Pharma (AstraZeneca paid $4 billion for a 55% stake) and the Pearl respiratory ops it acquired in 2013.
Another recently acquired outfit, ZS Pharma, will take a look at joining the migration at some point next year.
The staff can now plan to work out of the Cove at Oyster Point beginning in a little more than a year from now. They'll be close to Genentech, hundreds of biotechs and another sprawling biotech campus now under construction by Chinese investors. This is the same zone where Merck is scouting a new central campus for all its staffers in the region — part of its own ongoing R&D reorganization.
AstraZeneca, which has been closing offices and culling staffers in a variety of East Coast facilities as part of an initiative to hunt up $1 billion in cost-savings, billed the move as a classic upgrade. Employees get some cutting-edge labs to work in, along with a package of goodies that includes an on-site bowling alley, and the pharma giant gets to integrate itself into a biopharma community where external research ties are viewed as a valuable commodity.
That strategy has helped make Boston/Cambridge, the Bay Area and London/Oxford/Cambridge the three go-to hubs for R&D and the venture cash that sustains biotech. Everyone lying outside the prespecified R&D zones might want to ponder the longterm implications.
---
The best place to read
Endpoints News

? In your inbox.

Comprehensive daily news report for those who discover, develop, and market drugs. Join 44,800+ biopharma pros who read Endpoints News by email every day.

Free Subscription
---
---
---