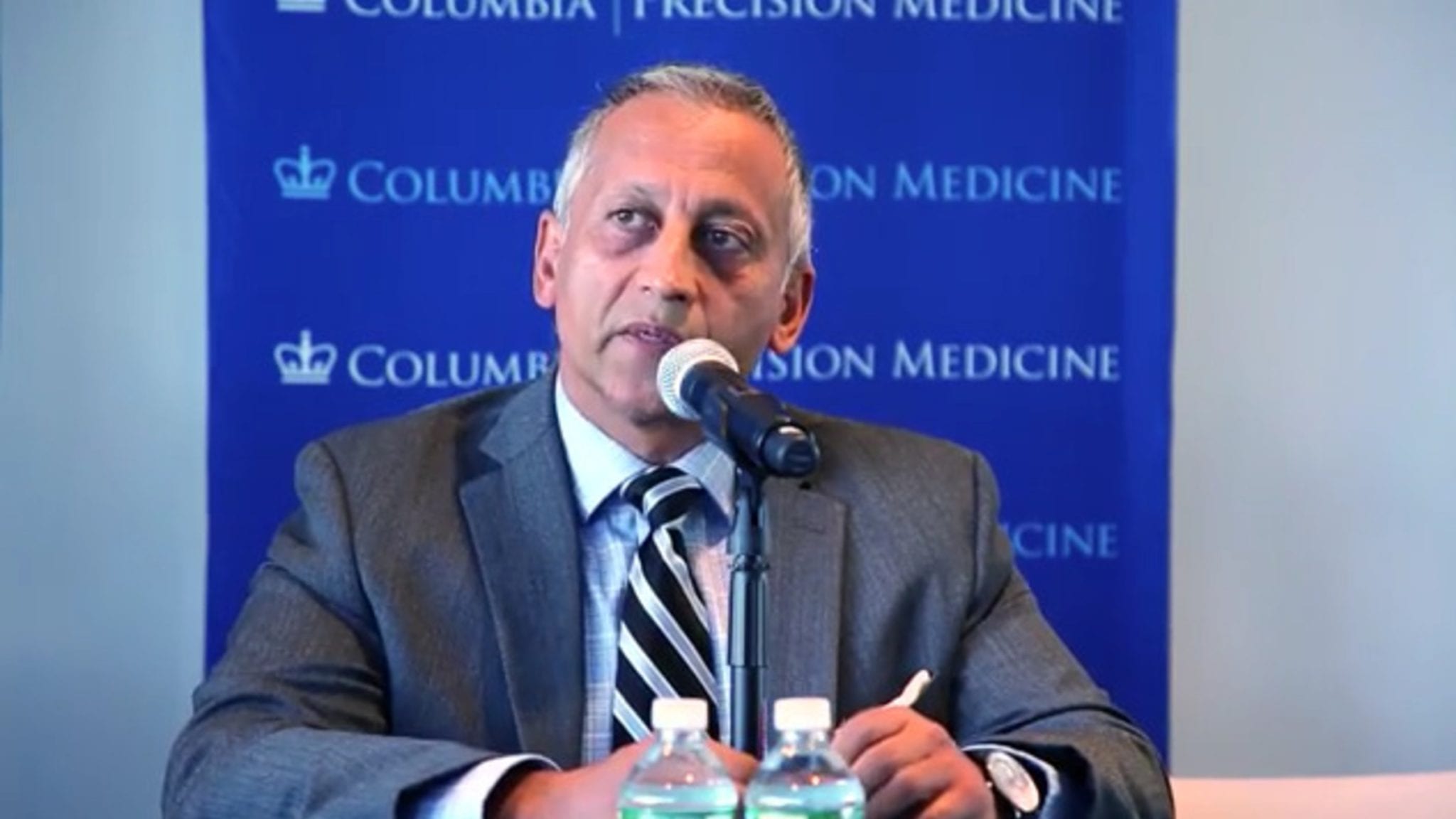 Cameron Durrant, Humanigen CEO (Columbia University Technology Ventures via YouTube)
Hu­mani­gen mo­men­tum barges on as Covid-19 can­di­date is se­lect­ed for NI­AID tri­al
One of "Phar­ma Bro" Mar­tin Shkre­li's for­mer biotechs came back from the dead dur­ing the Covid-19 pan­dem­ic thanks to its drug can­di­date tar­get­ing cy­tokine storms. Now, that com­pa­ny has scored it­self a place in a NI­AID-spon­sored tri­al.
Hu­mani­gen $HGEN, trad­ing for 46 cents per share as re­cent­ly as mid-March, an­nounced Mon­day af­ter­noon that its lenzilum­ab will be test­ed in com­bi­na­tion with remde­sivir in NI­AID's Big Ef­fect Tri­al, ef­fec­tive­ly cat­e­go­riz­ing it as a high-pri­or­i­ty Covid-19 ther­a­peu­tic can­di­date. The drug com­bo will be test­ed against remde­sivir, a broad-spec­trum an­tivi­ral that has shown in ear­ly stud­ies to treat some symp­toms of Covid-19, and a place­bo.
Need­less to say, Hu­mani­gen CEO Cameron Dur­rant is quite ex­cit­ed by the news.
"This is ar­guably the world's fore­most re­search for pub­lic health, gov­ern­ment-sup­port­ed or­ga­ni­za­tion," Dur­rant told End­points News. "And they se­lect­ed lenzilum­ab to be a par­tic­i­pant in this pro­gram. We think that that's ex­tra­or­di­nar­i­ly val­i­dat­ing."
Dur­rant couldn't com­ment on the time­line for the tri­al, cit­ing the NIH's spon­sor­ship. NI­AID couldn't be im­me­di­ate­ly reached for re­quests to com­ment.
Be­fore the pan­dem­ic, Hu­mani­gen was last in the news about three years ago when it was de­vel­op­ing a drug to treat Cha­gas dis­ease, but got beat­en to the punch by a non­prof­it group. What had been a promis­ing pro­gram be­came a dud and sent in­vestors flee­ing.
But since mid-March, when com­pa­nies around the world were look­ing at ex­ist­ing drugs to treat Covid-19, lenzilum­ab has been in the spot­light with its stock price up to near­ly $5 per share — an al­most 1,000 per­cent in­crease — in four months. Hu­mani­gen is cur­rent­ly en­gag­ing in its own Phase III tri­al, and Dur­rant in­sists this won't be an­oth­er mishap like three years ago.
Though a fail­ure on Covid-19 here would like­ly pop this bal­loon in­stant­ly, the Cha­gas can­di­date "was a com­plete­ly dif­fer­ent pro­gram and com­plete­ly in the rearview mir­ror. So, of course, we're op­ti­mistic."
Da­ta for lenzilum­ab in Covid-19 treat­ment are fair­ly lim­it­ed thus far; a non-con­trolled preprint of 12 pa­tients with coro­n­avirus-re­lat­ed se­vere pneu­mo­nia was re­leased last month. In that study, 11 of those pa­tients saw clin­i­cal im­prove­ments with an av­er­age time to dis­charge of five days, and they did not ex­hib­it any se­ri­ous ad­verse ef­fects.
The Cal­i­for­nia-based biotech's main fo­cus is cy­tokine storm re­search and it has been study­ing the ef­fi­ca­cy of lenzilum­ab, a GM-CSF mon­o­clon­al an­ti­body, in treat­ing over­ac­tive im­mune re­spons­es seen in graft-ver­sus-host dis­ease and CAR-T can­cer ther­a­pies. This mech­a­nism has been a brighter spot in vac­cine re­search than the com­pet­ing Re­gen­eron-backed IL-6 treat­ment, which suf­fered a set­back in Phase II tri­als in late April.
Be­cause Covid-19 ex­hibits a sim­i­lar pathol­o­gy to GvHD and CAR-T re­spons­es, Dur­rant said lenzilum­ab treat­ments could be ap­plied to those in­fect­ed by the coro­n­avirus.
Back in 2015, Shkre­li and an in­vest­ment group bought a ma­jor­i­ty stake in the com­pa­ny, then known as Kalo­Bios. When Shkre­li was ar­rest­ed for se­cu­ri­ties fraud, Kalo­Bios fired him, de­clared bank­rupt­cy and re-emerged as Hu­mani­gen in 2016.
On June 2, Hu­mani­gen scored $71.8 mil­lion in pri­vate eq­ui­ty to help fund its Phase III lenzilum­ab tri­als and scale the drug should it be ap­proved.
For a look at all End­points News coro­n­avirus sto­ries, check out our spe­cial news chan­nel.