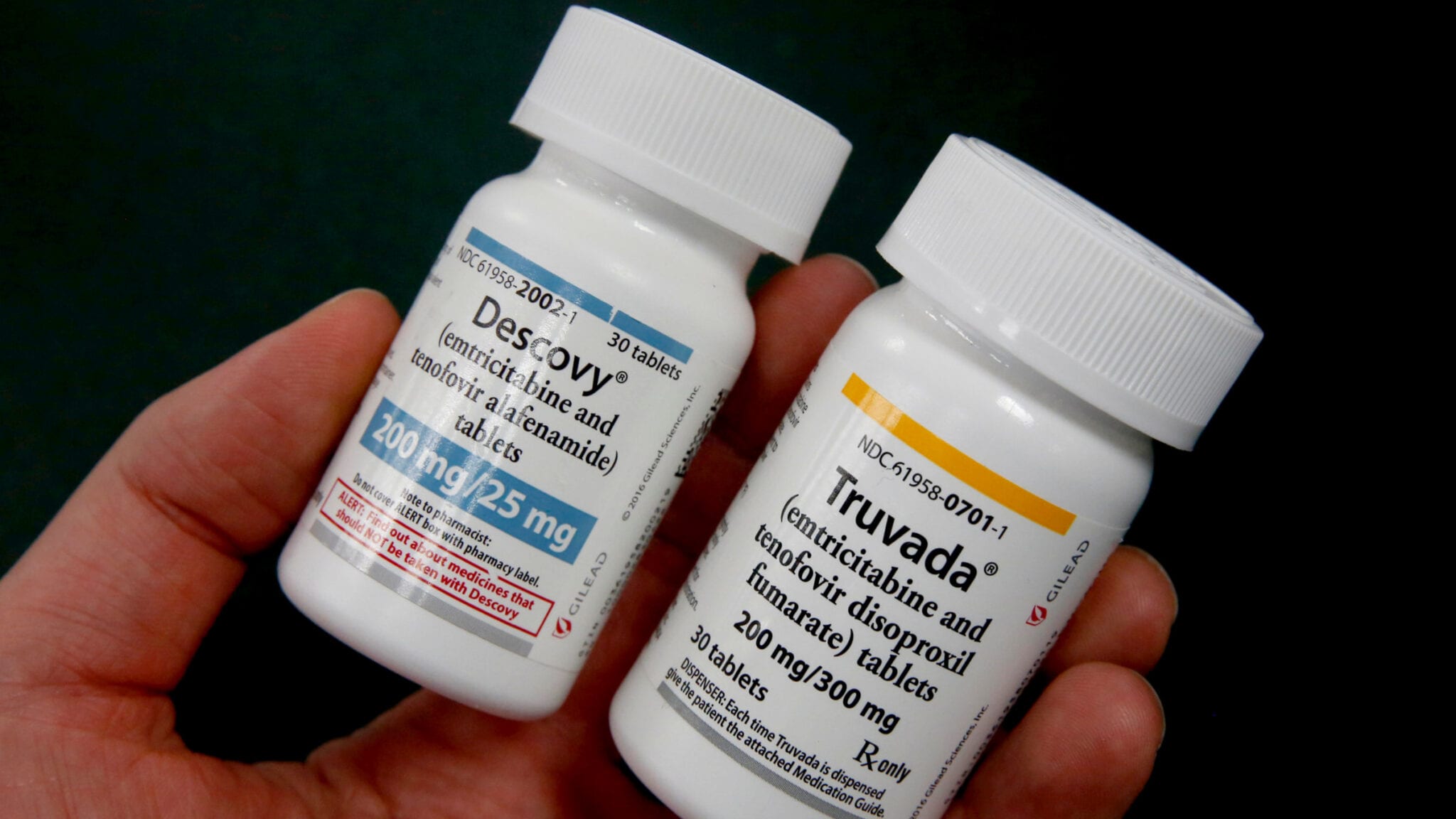 Pharmacist Clint Hopkins holds bottles of the HIV prevention drugs Descovy (L) and Truvada, Oct. 7, 2019, in Sacramento, CA (Rich Pedroncelli, AP Images)
In 60 days, most in­sur­ers will be re­quired to cov­er HIV pre­ven­tion drugs and re­lat­ed ser­vices with no cost-shar­ing
The fed­er­al gov­ern­ment is­sued guid­ance Mon­day stat­ing that al­most all health in­sur­ers must cov­er HIV pre­ven­tion drugs — such as Gilead's Tru­va­da and De­scovy — with no cost-shar­ing, as well as as­so­ci­at­ed lab test­ing and fol­low-up vis­its.
In­sur­ers were al­ready re­quired to quit charg­ing out-of-pock­et fees for the drugs, called HIV Pre­ex­po­sure Pro­phy­lax­is (PrEP), by Jan­u­ary of this year. But now in­sur­ers have 60 days to com­ply with the ad­di­tion­al re­quire­ments, in­clud­ing no-cost ser­vices like base­line and fol­low-up test­ing, as well as mon­i­tor­ing, ac­cord­ing to the guid­ance.
The news comes about two years af­ter the US Pre­ven­tive Ser­vices Task Force grant­ed an "A" rat­ing to PrEP treat­ments, re­quir­ing clin­i­cians to of­fer "ef­fec­tive an­ti­retro­vi­ral ther­a­py to per­sons who are at high risk of hu­man im­mun­od­e­fi­cien­cy virus (HIV) ac­qui­si­tion."
Tru­va­da was ap­proved back in 2004 to treat HIV, and was sanc­tioned by the FDA as a pre­ven­ta­tive treat­ment in 2012. Ac­cord­ing to the CDC, dai­ly PrEP re­duces the risk of get­ting HIV via sex­u­al in­ter­course by more than 90%.
AIDS ac­tivists, law­mak­ers and pa­tients have crit­i­cized Gilead over the years re­gard­ing the price of Tru­va­da, which cost near­ly $2,000 for a one-month sup­ply with­out in­sur­ance back in 2020. In May 2019, ad­vo­ca­cy or­ga­ni­za­tion Health GAP tes­ti­fied to the US House com­mit­tee on over­sight and re­form that gener­ic ver­sions in oth­er coun­tries were be­ing sold for as lit­tle as $6 per month.
"While un­der-uti­liza­tion of PrEP is caused by mul­ti­ple fac­tors, it is clear that price is a bar­ri­er that in­hibits broad ac­cess," the group said.
Gilead spent a pri­or­i­ty re­view vouch­er to clear De­scovy for PrEP back in 2019, just be­fore Tru­va­da gener­ics were set to hit the mar­ket in 2020. Last year, Gilead's HIV prod­ucts raked in $16.9 bil­lion, up 3% from 2019. Te­va launched the first gener­ic ver­sion of Tru­va­da in Oc­to­ber, charg­ing $48.51 per tablet.
In No­vem­ber 2020, the HIV+He­pati­tis Pol­i­cy In­sti­tute re­port­ed that come 2021, "many plans" would not be in com­pli­ance with the le­gal re­quire­ment to of­fer PrEP treat­ment with­out cost-shar­ing, and urged in­sur­ers to take cor­rec­tive ac­tion.
"The HIV com­mu­ni­ty and pub­lic health lead­ers have been work­ing for years to get to the day when in­sured peo­ple who are at risk of HIV can ac­cess PrEP with­out cost-shar­ing," ex­ec­u­tive di­rec­tor Carl Schmid said at the time. "Un­for­tu­nate­ly, it ap­pears that some in­sur­ers and in­sur­ance reg­u­la­tors do not share our en­thu­si­asm. I hope that will be cor­rect­ed im­me­di­ate­ly."
While PrEP will soon be read­i­ly avail­able for in­sured pa­tients, unin­sured pa­tients could still be left with no pro­tec­tion. Ac­cord­ing to an NBC News re­port, Gilead pro­vides PrEP for free to low­er-in­come peo­ple who aren't in­sured, but it doesn't cov­er as­so­ci­at­ed ser­vices. And, safe­ty net clin­ics are set to lose $100 mil­lion in an­nu­al HIV pre­ven­tion funds due to a re­cent de­ci­sion by Gilead.