In a show­down with As­traZeneca, Pfiz­er posts sol­id — and very fa­mil­iar — PhI­II breast can­cer da­ta for ta­la­zoparib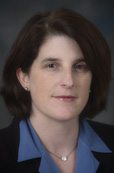 Jen­nifer Lit­ton, MD An­der­son Can­cer Cen­ter
Pfiz­er $PFE came through with pos­i­tive num­bers for its Phase III study of its PARP in­hibitor ta­la­zoparib in ad­vanced breast can­cer — lin­ing up right along­side As­traZeneca's $AZN lead­ing ri­val Lyn­parza. And the re­sults po­si­tion Pfiz­er to join the PARP line­up as the fourth play­er to toe up to the mar­ket thresh­old — though maybe not in the lead po­si­tion it was promised when the phar­ma gi­ant bought the drug last year.
An­a­lysts have been wait­ing to see how Pfiz­er's drug, bagged in the $14 bil­lion ac­qui­si­tion of Medi­va­tion, will fare rel­a­tive to the com­pe­ti­tion. It's a wide­ly frowned on ap­proach by the ex­perts, but mar­ket an­a­lysts love to match up da­ta from two dif­fer­ent stud­ies of the same dis­ease, of­fer­ing caveats on what could be im­por­tant dis­tinc­tions in tri­al de­signs, pa­tient pop­u­la­tions and end­points.
In this case, which begs for a com­par­i­son, the num­bers are close enough to Lyn­parza's read­out ear­li­er in the year that it will like­ly em­pha­size just how com­pa­ra­ble these ther­a­pies can be, in­clud­ing the com­pe­ti­tion at Tesaro $TSRO (Ze­ju­la) and Clo­vis $CLVS (Rubra­ca).
Pfiz­er's re­searchers con­clud­ed that there was a 45.8% re­duc­tion in the risk of dis­ease pro­gres­sion in the EM­BRA­CA study, which re­cruit­ed women with HER2-neg­a­tive breast can­cer with germline BR­CA mu­ta­tion. Me­di­an PFS was 8.6 months, com­pared to 5.6 months in the con­trol arm.
The over­all re­sponse rate was 62.6% in the drug arm com­pared with on­ly 27.2% in the con­trol. There were al­so 12 com­plete re­spons­es — no vis­i­ble signs of the dis­ease — for ta­la­zoparib, com­pared to none in con­trol.
"Most no­table for this study was not on­ly the im­prove­ment to date of PFS, but the time to clin­i­cal de­te­ri­o­ra­tion, which was 24.3 months for pa­tients on ta­la­zoparib, ver­sus 6.3 months for those on stan­dard-of-care chemother­a­py," MD An­der­son's Jen­nifer Lit­ton not­ed.
Com­pare that to Lyn­parza's 42% re­duc­tion in the risk of pro­gres­sion, a 7-month ver­sus 4.2-month PFS — or a gap of 2.8 months ver­sus 3 months for ta­la­zoparib — and a 59.9% ta­la­zoparib vs 28.8% chemo ORR.
Both stud­ies com­pared their drug against stan­dard of care chemo.
For­mer Medi­va­tion CEO David Hung sold this drug hard in dri­ving the deal to sell his com­pa­ny to Pfiz­er for $14 bil­lion last year, claim­ing it was clear­ly su­pe­ri­or to every­thing out there. That would be an even hard­er sales job to­day, with the late-stage da­ta on dis­play.
Michael Schmidt didn't see much day­light be­tween what Pfiz­er and As­traZeneca have on of­fer, and he con­sid­ers that a plus for Clo­vis.
Ta­la­zoparib was pre­vi­ous­ly tout­ed as po­ten­tial "best-in-class" PARP in­hibitor and most po­tent "PARP trap­per". That said, at least based on the pre­lim­i­nary da­ta dis­closed in PFE's (MP)press-re­lease this morn­ing, re­sults in breast can­cer look rather sim­i­lar to AZN's (MP) OLYMPIAD tri­al re­sults of Lyn­parza which were pre­sent­ed ear­li­er this year at AS­CO. We think this bodes well for CLVS. Pos­i­tive EM­BRA­CA da­ta pro­vides ad­dl. val­i­da­tion for PARPs in breast can­cer, how­ev­er po­ten­tial lack of mean­ing­ful clin­i­cal dif­fer­en­ti­a­tion and hence a cred­i­ble com­pet­i­tive threat by ta­la­zoparib should read through pos­i­tive­ly for CLVS.
Tesaro launched the Phase III BRA­VO study to see how their drug per­formed in a sim­i­lar breast can­cer pop­u­la­tion, but not­ed back in March that it couldn't serve as a reg­is­tra­tion study af­ter pa­tients bowed out, pre­fer­ring to get a mar­ket­ed PARP rather than chemo. The biotech went on to say that it is study­ing its drug in com­bi­na­tion with a check­point ther­a­py in breast can­cer.
Im­age: Shut­ter­stock