Bris­tol-My­ers, Clo­vis leap in­to PhI­II com­bo stud­ies in a PD-1/PARP play as ri­vals cir­cle
The check­point com­bo deal fren­zy con­tin­ues this morn­ing with a tie-up be­tween Bris­tol-My­ers Squibb and Clo­vis that will mar­ry their PD-1/PARP drugs and leap straight in­to Phase III reg­is­tra­tion stud­ies.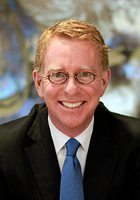 Clo­vis CEO Patrick Ma­haffy
As we learned again at the end of last week, as As­traZeneca buck­led un­der the weight of a failed pri­ma­ry end­point in its in-house com­bi­na­tion study of dur­val­um­ab and treme­li­mum­ab, piv­otal com­bi­na­tion bets loom large these days as key play­ers race to con­quer — or stay ahead of — a mega­mar­ket. This time Clo­vis will look to quick­ly check in­tense ri­val­ry from Tesaro and As­traZeneca in the PARP busi­ness, with Bris­tol-My­ers com­ing along as a part­ner.
Bris­tol-My­ers may have been bad­ly dent­ed by its own re­cent set­backs in im­muno-on­col­o­gy with key fail­ures for Op­di­vo, but it re­mains a dom­i­nant play­er in the field.
Now Bris­tol and Clo­vis will pair their drugs — Op­di­vo and Rubra­ca — in Phase III pro­grams for ad­vanced ovar­i­an can­cer as well as triple-neg­a­tive breast can­cer. A Phase II study will al­so get un­der­way for cas­tra­tion-re­sis­tant prostate can­cer. In the deal, Bris­tol-My­ers will take the lead on the breast and prostate can­cer stud­ies while Clo­vis helms the ovar­i­an can­cer work, where it is mak­ing its first big splash.
Along­side the bad news for dur­val­um­ab/treme­li­mum­ab last week, As­traZeneca al­so un­veiled a deal with Mer­ck that in­cludes an in­de­pen­dent fo­cus for both on Lyn­parza com­bi­na­tions with Keytru­da as well as As­traZeneca's dur­val­um­ab. Tesaro has its own PD-1 in a reg­is­tra­tion study now, part of a huge sec­ond wave of check­points in the clin­ic as com­pa­nies line up their own pro­grams rather than part­ner with oth­ers.
The news to­day may douse some of the buzz that's been cir­cu­lat­ing that Cel­gene may look to buy Clo­vis af­ter bag­ging rights to BeiGene's PD-1 in a rich deal.
"We are very en­thu­si­as­tic about study­ing Rubra­ca and Op­di­vo in com­bi­na­tion, and the po­ten­tial to cre­ate new treat­ment op­tions for pa­tients with mul­ti­ple tu­mor types, as well as for pa­tients be­yond those with BR­CA mu­ta­tions," said Patrick J. Ma­haffy, the CEO of Clo­vis On­col­o­gy, in a pre­pared state­ment. "This sub­stan­tial clin­i­cal col­lab­o­ra­tion in ovar­i­an, triple-neg­a­tive breast and prostate can­cers rep­re­sents a sig­nif­i­cant ef­fort by Clo­vis and Bris­tol-My­ers Squibb to re­al­ize that po­ten­tial."