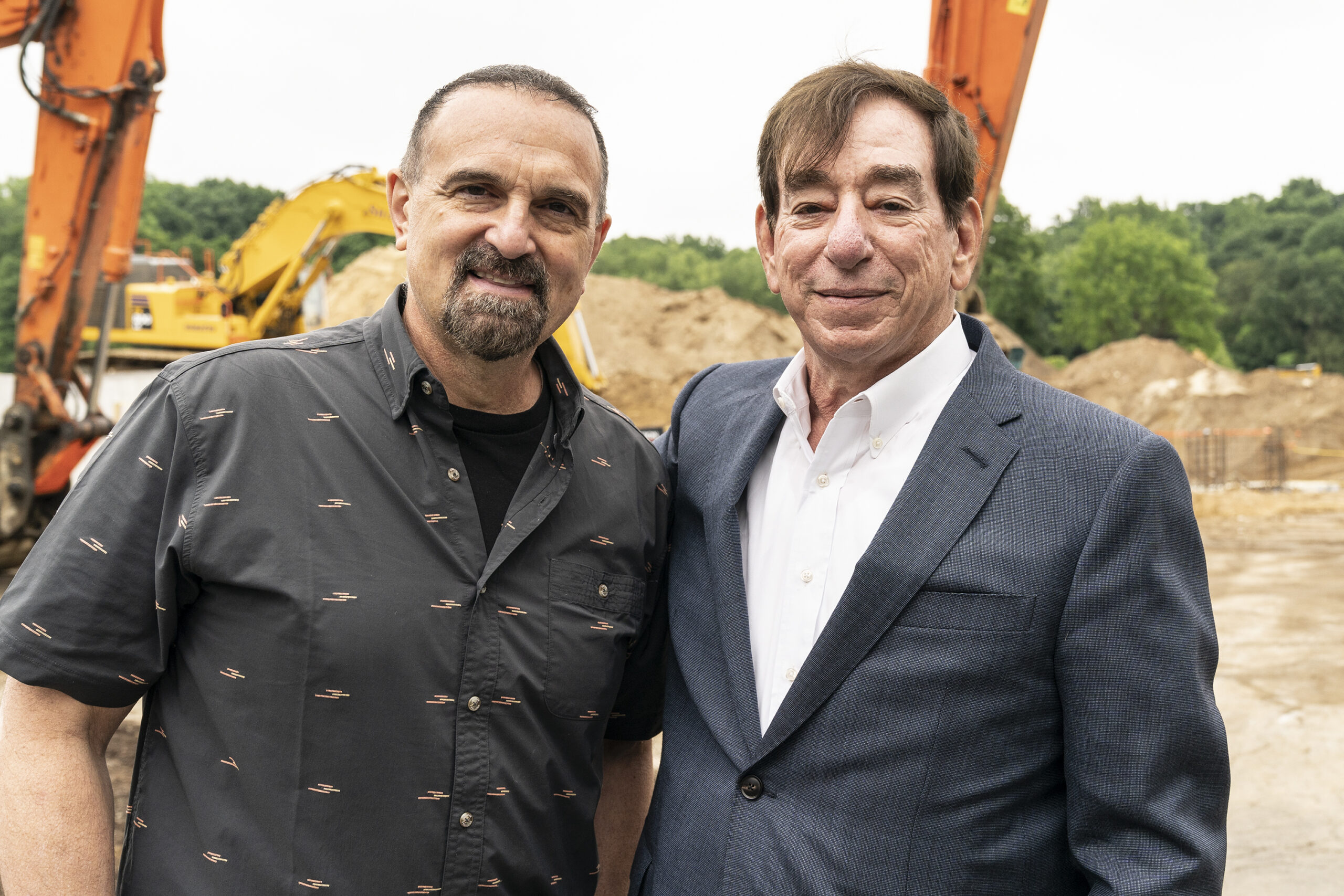 Regeneron CSO George Yancopoulos (L) and CEO Len Schleifer at a groundbreaking for its new Tarrytown, NY facility, June 2022 (Lev Radin/Pacific Press/LightRocket via Getty Images)
In show­down with Roche, Re­gen­eron gears up for po­ten­tial Eylea ex­pan­sion amid Covid de­cline
Re­gen­eron faced a sub­stan­tial slump in over­all rev­enue last year, but the fo­cus still re­mains on some of its biggest block­busters.
The phar­ma with sev­er­al high-pro­file part­ner­ships — Sanofi and Bay­er among them — said Fri­day that Q4 rev­enue was down 31% for the quar­ter, and down 24% for the en­tire year. How­ev­er, that won't stop block­buster ex­pan­sion plans.
One of those is Eylea, the Bay­er-part­nered eye dis­ease drug that has been in ma­jor com­pe­ti­tion with Roche's Vabysmo. While Eylea is cur­rent­ly on­ly ap­proved in a 2 mg dose, the com­pa­ny re­cent­ly filed for ap­proval to give a 8 mg dose, in hopes of mak­ing a longer-last­ing treat­ment.
Vabysmo, on top of block­ing the same VEGF re­cep­tor as Eylea, al­so in­hibits a growth reg­u­la­tor called an­giopoi­etin-2. Plus, Vabysmo can be dosed once every 16 weeks, com­pared to Eylea's once every eight weeks once past the load­ing dose sched­ule.
CEO Len Schleifer told an an­a­lyst who asked about Eylea plans to "give us a sec­ond, we'll dis­con­nect all the Roche peo­ple on the call so we can get you our strat­e­gy," amid a chuck­le in the back­ground.
"There's a lot of thought that's go­ing to go in — be­tween now and what we hope will be our late Au­gust ap­proval — on pric­ing, on roll­out, on tar­get­ing, on strat­e­gy, etc, etc.," Schleifer said. "But we're work­ing on that. We have to get our la­bel, we have to get it ap­proved and we'll have every­thing else ready to go. The ini­tial launch will be with a vial, and then we hope down the road not too far with a pre­filled sy­ringe."
Eylea record­ed just un­der $1.5 bil­lion in sales in the last quar­ter, down ap­prox­i­mate­ly $51 mil­lion quar­ter over quar­ter.
Dupix­ent, the Sanofi-part­nered IL-4 and IL-13 tar­get­ing ther­a­py, brought in just short of $2.5 bil­lion last quar­ter.
CSO George Yan­copou­los said Fri­day on the earn­ings call that a read­out of the Phase III BORE­AS tri­al in COPD is ex­pect­ed in the first half of 2023. The pri­ma­ry end­point of that tri­al is the an­nu­al­ized rate of acute, mod­er­ate and se­vere COPD ex­ac­er­ba­tions.
Q4 earn­ings over­all showed a 31% drop in rev­enue com­pared to Q4 in 2021, pulling in $3.4 bil­lion. When ex­pand­ed to the year, 2022 rev­enue was $12.2 bil­lion, a 24% drop com­pared to 2021.
How­ev­er, Re­gen­eron not­ed the drop was the re­sult of de­clin­ing sales of Covid prod­ucts RE­GEN-COV and Ron­apreve, the mon­o­clon­al an­ti­body cock­tail that went by dif­fer­ent names in the US and in Eu­rope. The EUA for RE­GEN-COV was pulled ear­ly last year when the ther­a­py was found to be in­ef­fec­tive against the Omi­cron vari­ant.
This fol­lows a trend men­tioned on Re­gen­eron's pre­vi­ous earn­ings call, where ex­ecs point­ed to a 15% drop in rev­enue that quar­ter com­pared to the year be­fore — cit­ing lost rev­enue from Covid-re­lat­ed mAbs.
De­spite the drop, Re­gen­eron was quick to point out that out­side Covid, rev­enue was up for both the quar­ter and the year: 14% and 17% re­spec­tive­ly.
An­a­lysts with Cowen wrote af­ter the con­fer­ence call Fri­day that they "were com­fort­ed to hear mgmt's com­ments with re­spect to com­pet­i­tive mar­ket dy­nam­ics for Eylea ahead of the HD Eylea launch. The Dupi per­for­mance was very strong (yet again), and COPD da­ta could come around April. The Y/Y ex­pense in­crease was large­ly an­tic­i­pat­ed. We re­it­er­ate our Out­per­form as the fun­da­men­tals for REGN re­main strong."
Shares of $REGN went up 4% af­ter the mar­ket opened, up $30 a share and con­tin­u­ing an up­ward trend of over 25% in the last year.