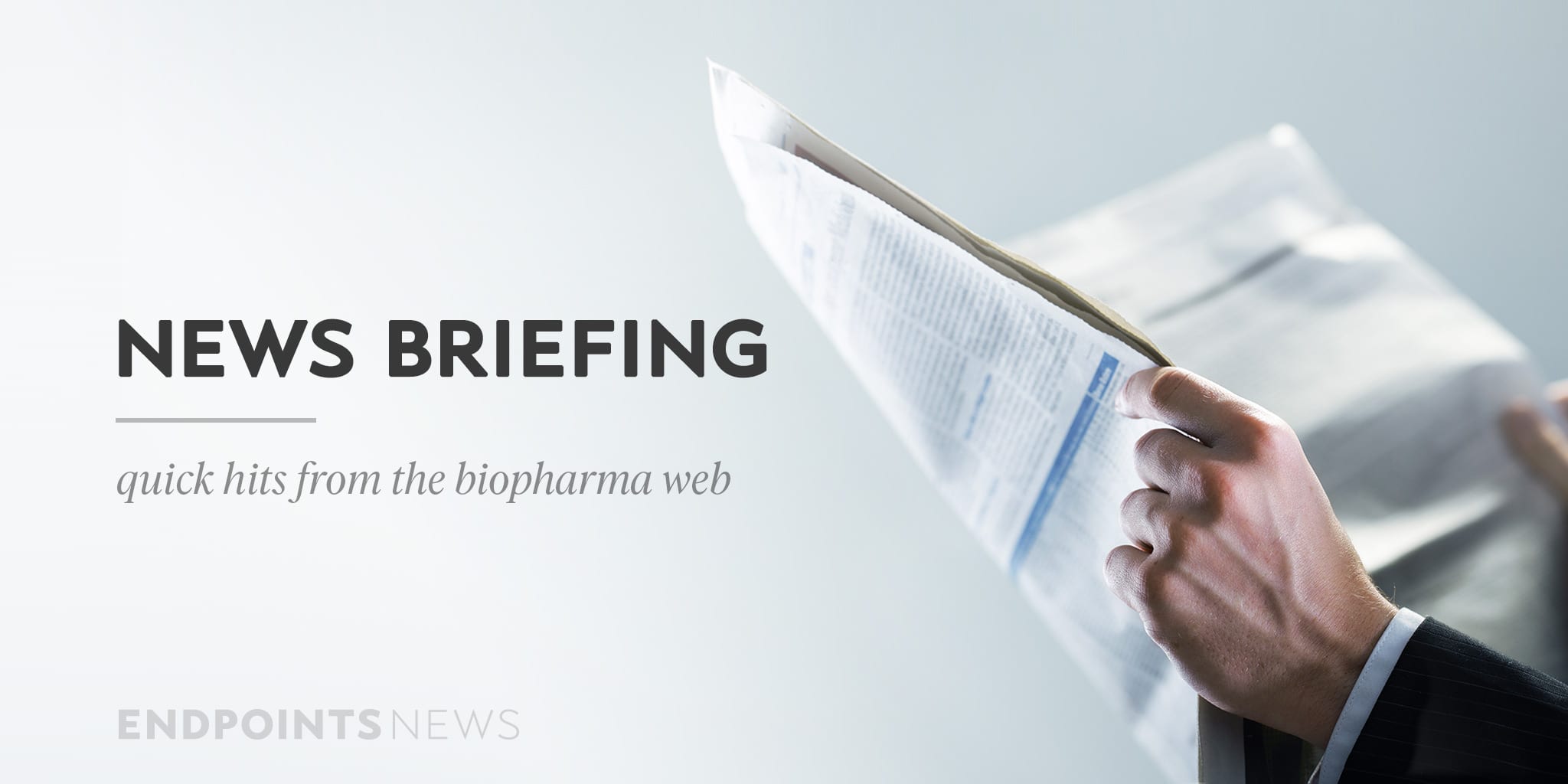 James Sabry adds an­oth­er weapon to Roche-Genen­tech ar­se­nal; Dai­ichi Sankyo adds ADC #6
James Sabry and Aviv Regev at Roche and Genen­tech have been rack­ing up ear­ly stage part­ner­ships, ty­ing up with ear­ly stage biotechs de­vel­op­ing every­thing from new AI en­gines to new ways of de­liv­er­ing gene ther­a­py. Now, they've signed on with an old­er play­er, join­ing a small mol­e­cule biotech that's al­ready col­lab­o­rat­ed with many of the biggest names in drug de­vel­op­ment.
Genen­tech and X-Chem, a biotech that spe­cial­izes in DNA-en­cod­ed li­braries, have signed an agree­ment that will al­low the big biotech to both use their tech­nol­o­gy to find new mol­e­cules and give them an ex­clu­sive li­cense on a pre-ex­ist­ing pro­gram. De­tails for that pro­gram were undis­closed, as were up­front pay­ment and mile­stones.
One of the first biotechs to spe­cial­ize in mas­sive DNA-en­cod­ed li­braries — huge sets of mol­e­cules that can be rapid­ly screened for var­i­ous prop­er­ties be­cause they're tagged with DNA iden­ti­fiers — X-Chem has racked up part­ner­ships with over a dozen ma­jor drug de­vel­op­ers. That in­cludes Servi­er, Ot­su­ka, Bris­tol My­ers Squibb, Ver­tex, Ab­b­Vie, As­traZeneca, Alex­ion, Astel­las, Bay­er, Gilead, J&J, Pfiz­er, Roche, and Sanofi.
Found­ed a decade ago by Glax­o­SmithK­line's head of dis­cov­ery chem­istry, Matt Clark, X-Chem was bought out last year for an undis­closed sum by the British firm GHO Cap­i­tal. — Ja­son Mast
Dai­ichi Sankyo finds a sixth ADC to love — hit­ting a first-in-class tar­get
Dai­ichi Sankyo's pro­lif­ic an­ti­body-drug con­ju­gate plat­form has spawned a sixth clin­i­cal can­di­date, with the first pa­tient dosed in a Phase I tri­al tar­get­ing ad­vanced re­nal cell car­ci­no­ma and ovar­i­an can­cer that pro­gressed fol­low­ing stan­dard treat­ment.
DS-6000 is di­rect­ed against CDH6, a cad­herin fam­i­ly pro­tein over­ex­pressed in sev­er­al can­cers.
Five-year sur­vival rates for re­nal cell car­ci­no­ma and ovar­i­an can­cer, Dai­ichi said, re­main low de­spite ad­vances in tar­get­ed treat­ment.
There aren't cur­rent­ly any mar­ket­ed drugs hit­ting CDH6, mak­ing theirs a po­ten­tial first-in-class play — right along­side the pro­grams against known tar­gets that As­traZeneca has bet big mon­ey to part­ner with Dai­ichi on, in­clud­ing HER2 and TROP2.
This new drug is the third de­vel­oped in col­lab­o­ra­tion with Sarah Can­non Re­search In­sti­tute in Nashville, TN, Dai­ichi added. — Am­ber Tong
Jun­shi hands Co­herus back a few dol­lars
Here's an un­usu­al way to spend cash from a col­lab­o­ra­tion an­nounce­ment: hand­ing it back to your col­lab­o­ra­tor.
A day af­ter the biosim­i­lar com­pa­ny Co­herus an­nounced they would pay Jun­shi Bio­sciences $150 mil­lion for the PD-1 an­ti­body tori­pal­imab, Jun­shi an­nounced they would in­vest $50 mil­lion in­to Co­herus. Al­though the stag­gered na­ture of the move was un­usu­al, Jun­shi CEO Ning Li said it was all part of a co­gent plan.
"We view our col­lab­o­ra­tion with Co­herus as a strate­gic long-term part­ner­ship for the de­vel­op­ment and com­mer­cial­iza­tion of tori­pal­imab and promis­ing PD-1 com­bi­na­tion can­di­dates," Li said in a state­ment. "We want­ed to in­vest in Co­herus so we could share our fu­ture growth to­geth­er and mu­tu­al suc­cess with these pro­grams."
The Jun­shi deal rep­re­sent­ed a shift for Co­herus, which has fo­cused ex­clu­sive­ly on copy­cat drugs to date. Al­though de­vel­op­ing a PD-1 is hard­ly nov­el — six are al­ready ap­proved in the US — the biotech said this would be the be­gin­ning of a push in­to new can­cer drug R&D. — Ja­son Mast
Nan Fung-backed En­grail nabs a buy­out
En­grail Ther­a­peu­tics has on­ly been out of stealth for 7 months but they've al­ready se­cured a buy­out, scoop­ing up Neu­ro­Cy­cle Ther­a­peu­tics and their GA­BA-A mol­e­cules for an undis­closed sum Tues­day morn­ing.
The deal is the first pub­lic step in En­grail's larg­er strat­e­gy of iden­ti­fy­ing and li­cens­ing in promis­ing mol­e­cules for brain dis­or­ders. Found­ed in 2017 by Glax­o­SmithK­line vet Matthew Toczko and ETH Zurich sci­en­tist Jed Hubbs, Neu­ro­Cy­cle had been de­vel­op­ing a small mol­e­cule drug for the seizure dis­or­der Dravet syn­drome and oth­er dis­eases, and had large­ly re­lied on grant mon­ey. — Ja­son Mast