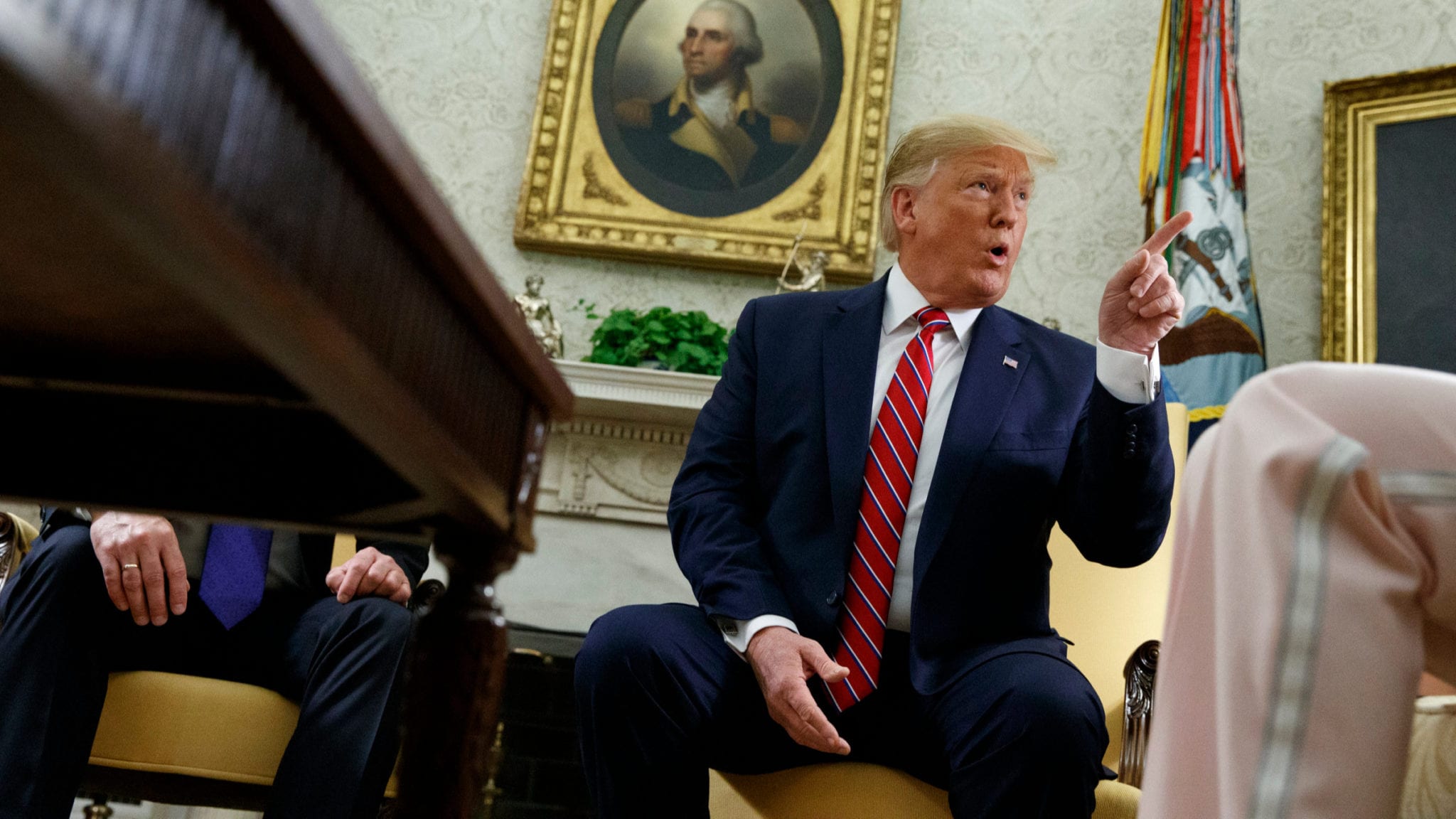 J&J gains an en­thu­si­as­tic en­dorse­ment from Pres­i­dent Don­ald Trump for their big new drug Spra­va­to
Pres­i­dent Don­ald Trump has lit­tle love for Big Phar­ma, but there's at least one new drug that just hit the mar­ket which he is en­am­ored with.
Trump, ev­i­dent­ly, has been read­ing up on J&J's new an­ti-de­pres­sion drug, Spra­va­to. And the pres­i­dent — who of­ten likes to break out in­to a full-throat­ed at­tack on greedy drug­mak­ers — ap­par­ent­ly en­thused about the ther­a­py in a meet­ing with of­fi­cials of Vet­er­ans Af­fairs, which has long grap­pled with de­pres­sion among vet­er­ans.
"Give it to any­body that has the prob­lem, be­cause you have peo­ple call­ing and our folks do a great job on the phone — but it's a tele­phone," Trump said, ac­cord­ing to a re­port from Bloomberg. "You have peo­ple call­ing for help and if those peo­ple had that, I'm hear­ing like in­stan­ta­neous­ly they're in bet­ter shape."
Spra­va­to is the re­for­mu­lat­ed ver­sion of ke­t­a­mine, a horse tran­quil­iz­er bet­ter known in par­ty cir­cles as Spe­cial K. A whole slate of de­vel­op­ers has been de­feat­ed in try­ing to field new drugs for de­pres­sion, but the phar­ma gi­ant got this one through the FDA — with­out meet­ing the agency's gold stan­dard on da­ta — in part be­cause of ke­t­a­mine's well-known quick ef­fect in peo­ple suf­fer­ing from sui­ci­dal thoughts.
Ac­cord­ing to the busi­ness news ser­vice, Trump says he's "read re­al­ly quite a bit" about this drug. And he's ready to jump in­to a meet­ing to help ne­go­ti­ate a price — some­thing the VA does but Medicare does not.
"I think they'll be very gen­er­ous with you," Trump told Vet­er­ans Af­fairs Sec­re­tary Robert Wilkie yes­ter­day. "And if you like, I'll help you to ne­go­ti­ate."
Each ini­tial treat­ment ses­sion can cost up to $885, says J&J, with the first month run­ning $4,720 to $6,785. Each sub­se­quent month can cost up to $3,540. At an an­nu­al cost the comes in just shy of $50,000 tops, some crit­ics feel that the drug isn't cost ef­fec­tive. Pa­tients re­quire care­givers to keep the pa­tient un­der ob­ser­va­tion af­ter ther­a­py to make sure the cog­ni­tive side ef­fects are con­trolled.
For Wilkie's part, the VA chief says they're al­ready ne­go­ti­at­ing on the drug and ex­pect to have it avail­able through­out the sys­tem by the end of this year.
---
Pres­i­dent Don­ald Trump speaks dur­ing a meet­ing with Pol­ish Pres­i­dent An­drzej Du­da in the Oval Of­fice of the White House, June 12, 2019, in Wash­ing­ton. AP Pho­to/Evan Vuc­ci