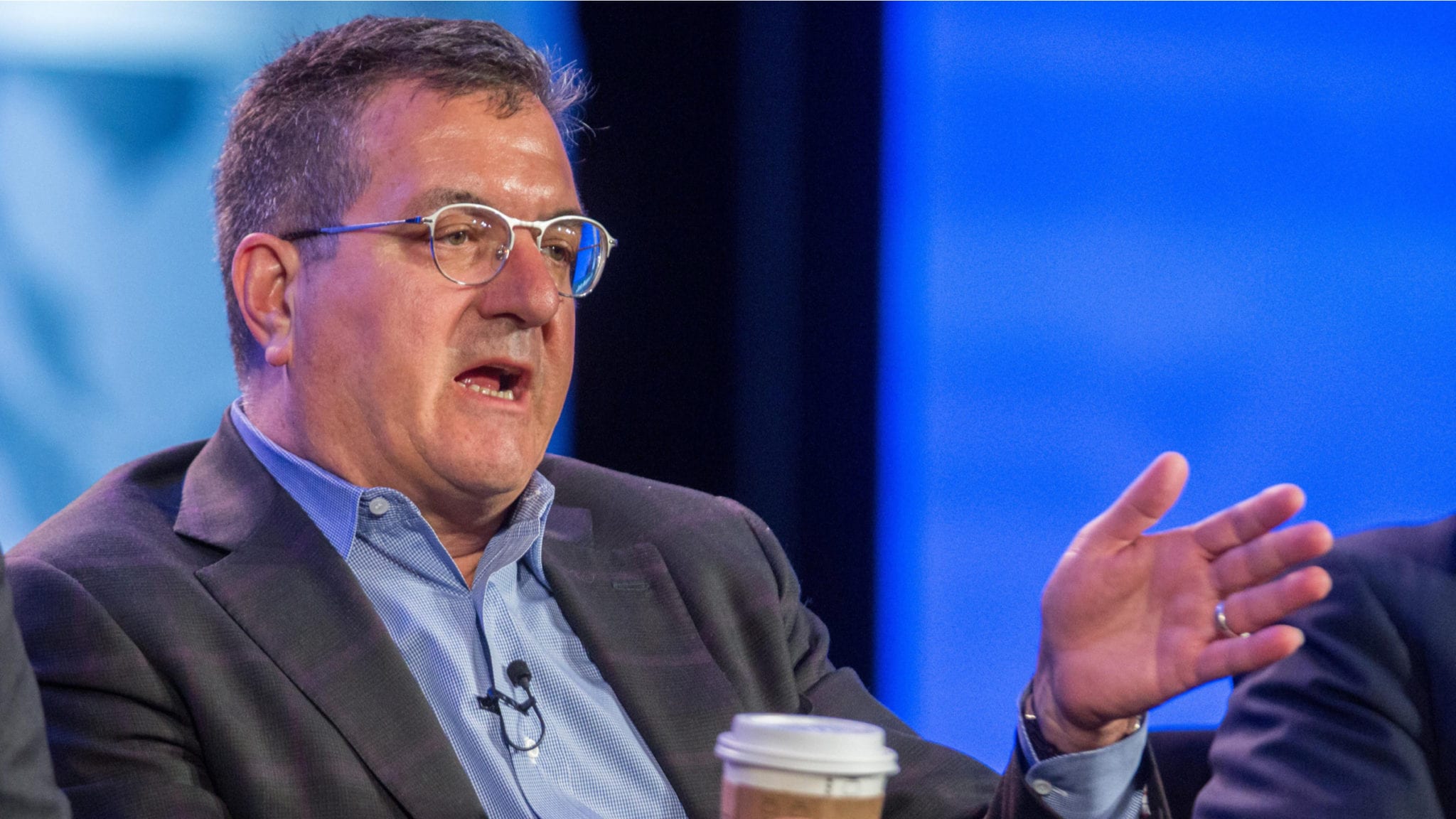 John Maraganore (Scott Eisen/Bloomberg via Getty Images)
John Maraganore want­ed to be­come a biotech grand­dad af­ter leav­ing Al­ny­lam. With his new role at RTW, it looks like he got his wish
On his way out of Al­ny­lam, out­go­ing CEO John Maraganore, who had led the biotech through thick and thin for 19 years, said late last year he want­ed to ad­vise new biotech com­pa­nies in the grand­fa­ther phase of his ca­reer.
"It's like a grand­fa­ther, right? You get the ben­e­fit of lov­ing your grand­chil­dren, but not hav­ing to take care of them all the time," Maraganore said at the time. "I want to be a grand­dad."
And with his newest ap­point­ments in biotech and ven­ture, it looks like his wish has been grant­ed — with a whirl­wind five an­nounce­ments and some big names.
One of those re­cent an­nounce­ments is the prover­bial ic­ing on the cake: Maraganore is join­ing RTW In­vest­ments as an ex­ec­u­tive part­ner.
RTW had in­vest­ed in Al­ny­lam be­fore the biotech had its first drug — On­pat­tro — ap­proved in 2018. And RTW, as a ma­jor play­er in the glob­al VC sphere, has in­vest­ed in quite a few oth­er biotechs — just shy of 40, ac­cord­ing to the in­vest­ment firm's web­site.
"When the rest of the world was skep­ti­cal of Al­ny­lam, RTW be­lieved in our vi­sion for RNAi ther­a­peu­tics and ex­hib­it­ed the long-term, sci­ence-based in­vest­ment ap­proach the firm is known for," said Maraganore in a pre­pared state­ment with RTW. "I'm join­ing RTW as ex­ec­u­tive part­ner be­cause I share that ap­proach and have seen first-hand the pow­er it can have to im­pact pa­tients' lives."
Two days be­fore his ap­point­ment was an­nounced at RTW, the n-Lorem Foun­da­tion — the brain­child of Io­n­is founder Stan­ley Crooke — an­nounced that Maraganore was join­ing the team as chair of its ad­vi­so­ry coun­cil. The an­ti­sense oligonu­cleotide med­i­cines foun­da­tion put Maraganore in charge of a team of n-Lorem ad­vi­sors to fo­cus on fundrais­ing op­por­tu­ni­ties.
The next day, bleed­ing dis­or­der out­fit Hemab Ther­a­peu­tics, led by Al­ny­lam alum Ben­ny Sorensen, an­nounced on Wednes­day that Maraganore was join­ing up as board chair — and Maraganore was all hap­py about it. Per his Twit­ter feed,
Very ex­cit­ed to join @hemab_tx as chair! Ma­jor op­por­tu­ni­ty to con­quer rare bleed­ing dis­or­ders with in­no­va­tion! Get­ting "band back to­geth­er" w/ @ben­ny_sorensen! https://t.co/DMW55Ra2nj

— John Maraganore (@JMaraganore) Jan­u­ary 5, 2022
Sorensen worked at Al­ny­lum for sev­er­al years, work­ing his way up to se­nior di­rec­tor of clin­i­cal re­search be­fore leav­ing in 2016.
Sev­er­al hours af­ter that an­nounce­ment, At­las Ven­ture fol­lowed suit — an­nounc­ing via Twit­ter that Maraganore has joined up with At­las as a ven­ture ad­vi­sor. This made his sec­ond po­si­tion in the VC realm and his fifth po­si­tion since he an­nounced his im­mi­nent de­par­ture from Al­ny­lam — of­fi­cial­ly re­tir­ing from the biotech gi­ant on De­cem­ber 31.
Ex­cit­ed to an­nounce that John Maraganore has joined At­las as a Ven­ture Ad­vi­sor, to help our en­tre­pre­neurs build the next gen­er­a­tion of great biotechs. Af­ter work­ing with @JMaraganore close­ly in the first decade of $AL­NY, At­las is thrilled to wel­come him "back" in­to the fam­i­ly!

— At­las Ven­ture (@at­lasven­ture) Jan­u­ary 5, 2022
And as of 6:45 am this morn­ing, Maraganore is part­ner­ing with cell ther­a­py out­fit SQZ Biotech­nolo­gies as a strate­gic ad­vi­sor.
So far, the past 48 hours and five newest posts put Maraganore in a head-spin­ning eight ap­point­ments. Be­fore the ap­point­ment del­uge, Maraganore an­nounced he was leav­ing Al­ny­lam in late Oc­to­ber and had part­nered with:
Beam Ther­a­peu­tics, a gene ther­a­py up­start out of David Liu's lab. CEO John Evans timed the an­nounce­ment of Maraganore join­ing the biotech's board in ear­ly No­vem­ber with Beam's an­nounce­ment of reg­u­la­to­ry clear­ance for their very first IND for BEAM-101, a po­ten­tial one-time treat­ment for sick­le cell, which marked a shift in Beam no longer be­ing just a pre­clin­i­cal biotech with po­ten­tial — but now a clin­i­cal-stage com­pa­ny with high ex­pec­ta­tions;
Sali­o­Gen, a small gene cod­ing biotech that emerged out of a stretch in stealth with $20 mil­lion in March. Maraganore joined up as one of three heavy­weight ad­vi­sors to the com­pa­ny and CEO Ray Tabib­i­azar, along­side fi­nan­cial en­gi­neer An­drew Lo — the one who helped es­tab­lish Bridge­Bio and Roivant — and for­mer FDA com­mish Mark Mc­Clel­lan. At the time, Tabib­i­azar told End­points that to get John on board, "I thought it would be a mir­a­cle to get him," he said. "To us, he was a celebri­ty." And when John agreed, he told Ray: "I am here to share my scars with you."
ARCH Ven­ture as a new ven­ture part­ner, his first for­ay post-Al­ny­lam in­to VC — join­ing oth­er biotech big­wig names such as ex-FDA of­fi­cial Lu­ciana Bo­rio, Ax­el Bou­chon (for­mer head of Leaps by Bay­er), Jake Bauer (pre­vi­ous­ly at MyoKar­dia) and Sabah Oney (of Alec­tor fame). The Bob Nel­son-led VC has ac­cess to its largest-ever fund of $1.85 bil­lion, giv­ing more op­por­tu­ni­ties to in­vest in gene edit­ing, cell ther­a­py and men­tal health.
With some­one as well-known as Maraganore, it would not sur­prise peo­ple who keep close tabs on the in­dus­try if he took at least five board po­si­tions — with room for even more on the VC side of biotech. And now that he has eight new roles in biotech, it's on­ly a mat­ter of time to see what else hap­pens — and who's next in line for the "Maraganore touch" and en­su­ing pub­lic­i­ty.