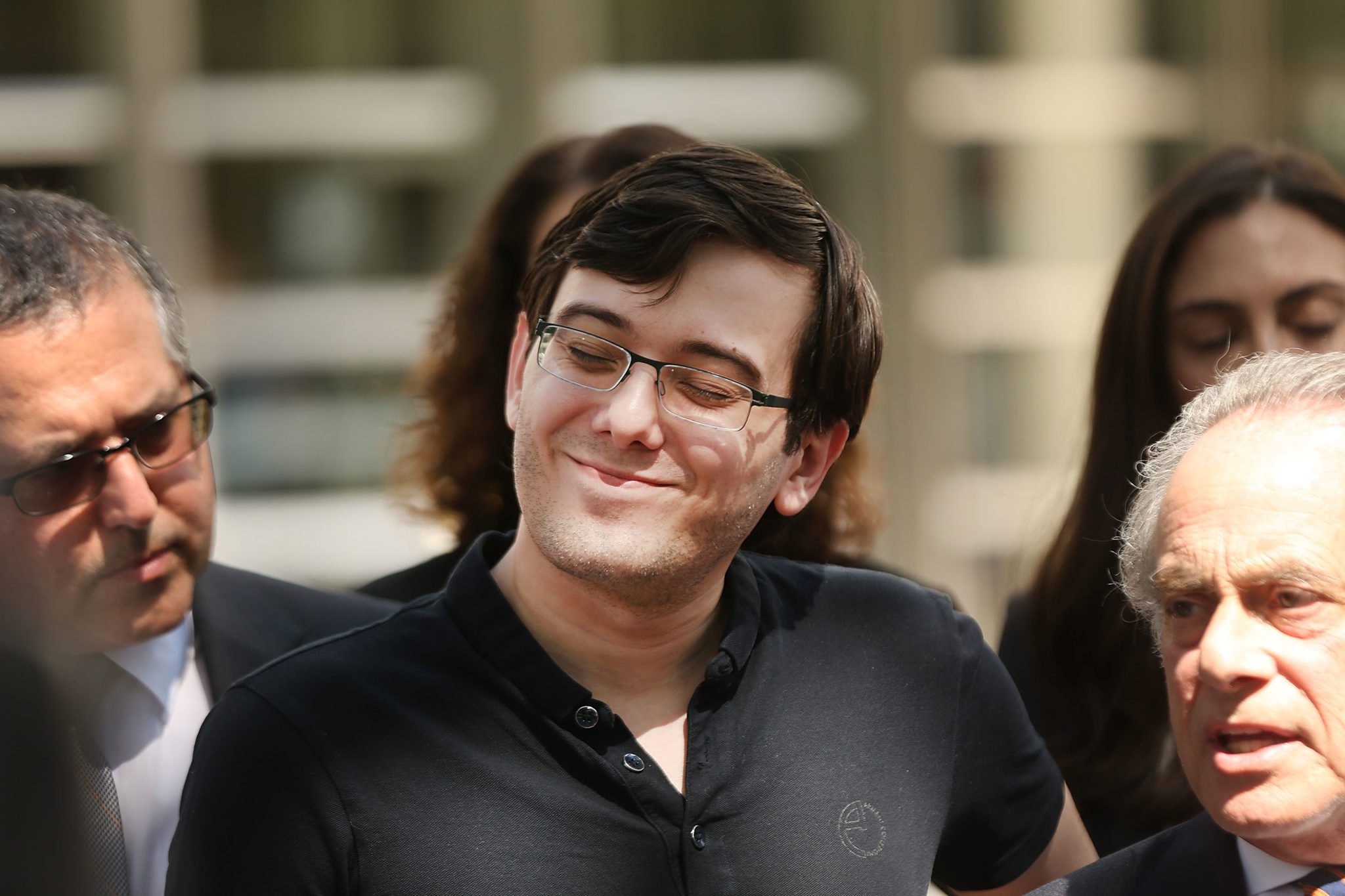 Ju­ry finds Mar­tin Shkre­li guilty on 3 counts of se­cu­ri­ties fraud — and he's 'de­light­ed'
A ju­ry has found Mar­tin Shkre­li guilty on three of the 8 felony fraud charges he faced, putting the young biotech ex­ec­u­tive in front of a prison sen­tence that could run for years.
Af­ter 5 full days of de­lib­er­a­tions, the ju­ry con­clud­ed that Shkre­li was guilty of two of the se­cu­ri­ties fraud changes and one count of con­spir­a­cy to com­mit fraud.
#Shkre­li­Tri­al ver­dict: guilty on 3 counts, not guilty on 5 pic.twit­ter.com/JroCuyg9zD

— Meg Tir­rell (@megtir­rell) Au­gust 4, 2017
Ever un­re­pen­tant, Shkre­li will not be throw­ing him­self on the mer­cy of the court. Nev­er one to shy away from self-con­grat­u­la­tions, Shkre­li emerged from the cour­t­house and de­clared a re­sound­ing vic­to­ry.
"I think we're de­light­ed in many ways with this ver­dict," he told re­porters. The case against him was an "epic witch hunt" and all the pros­e­cu­tors did was find some old broom­sticks. The key, as far as he and de­fense at­tor­ney Ben Braf­man were con­cerned, was get­ting off on count 7 re­lat­ed to loot­ing Retrophin of mil­lions.
"I think we would love to have a com­plete sweep but 5 out of 8 counts not guilty is in our view a very good ver­dict," said Braf­man. The case, he added, was made dif­fi­cult by an­ti-Shkre­li sen­ti­ment, but he sound­ed con­fi­dent that Shkre­li will be let off with a "very le­nient" sen­tence.
Shkre­li head­ed straight to his lap­top and a ren­dezvous with his fol­low­ers on YouTube. And he quick­ly scoffed at the idea that he would get more than a year-long sen­tence in prison.
"Those pun­ish­ments are go­ing to be close to nil," he said about be­ing con­vict­ed of ly­ing to in­vestors, af­ter re­view­ing the sen­tenc­ing guide­lines. "You can add up all the points of an of­fense and de­ter­mine what the pun­ish­ment would be." Prison sen­tences are di­rect­ly re­lat­ed to fi­nan­cial loss, he added. "My in­vestors didn't lose any mon­ey, they tripled their mon­ey."
And: "No jail time would be def­i­nite­ly ide­al. If the charges stand it's pos­si­ble it's a 6 month or a one-year sen­tence." A few months in "Club Fed," he boast­ed, and he would be back on the streets.
Shkre­li faced 8 counts ac­cus­ing him of de­fraud­ing in­vestors in his hedge funds, then pay­ing them back with stock he loot­ed from Retrophin, a biotech com­pa­ny he found­ed. Some of those in­vestors were al­so hand­ed pho­ny con­sult­ing agree­ments to help cov­er his moves, ac­cord­ing to pros­e­cu­tors.
Shkre­li be­came a wide­ly hat­ed poster child for phar­ma greed af­ter rais­ing the price of an old, cheap drug he bought by more than 5000%. But while it proved loath­some to mil­lions, and a wide va­ri­ety of law­mak­ers in both par­ties, there's no law against it in the US.
In fact, Shkre­li still owns a big chunk of Tur­ing, which in turn sells dara­prim. He re­cent­ly fend­ed off an at­tempt­ed board coup, lin­ing up the elec­tion of a slate of new di­rec­tors with whom he has close ties.
For much of the past two years Shkre­li has mocked and taunt­ed jour­nal­ists who cov­ered his sto­ry, as well as a le­gion of crit­ics who took pot shots at him on the so­cial me­dia out­lets he avid­ly em­ployed. Shkre­li was re­cent­ly banned from Twit­ter, though, and won't have much ac­cess to his on­line streams on YouTube if he winds up in jail.
Shkre­li has re­peat­ed­ly tried to get back on to Twit­ter af­ter they re­peat­ed­ly blocked ear­li­er at­tempts. This evening, his lat­est stab@SamThe­ManTP went down abrupt­ly, blocked af­ter he used it to de­fend his con­vic­tion as a win.
---
Im­age: Mar­tin Shkre­li right af­ter his ver­dict was an­nounced. Cred­it: Get­ty