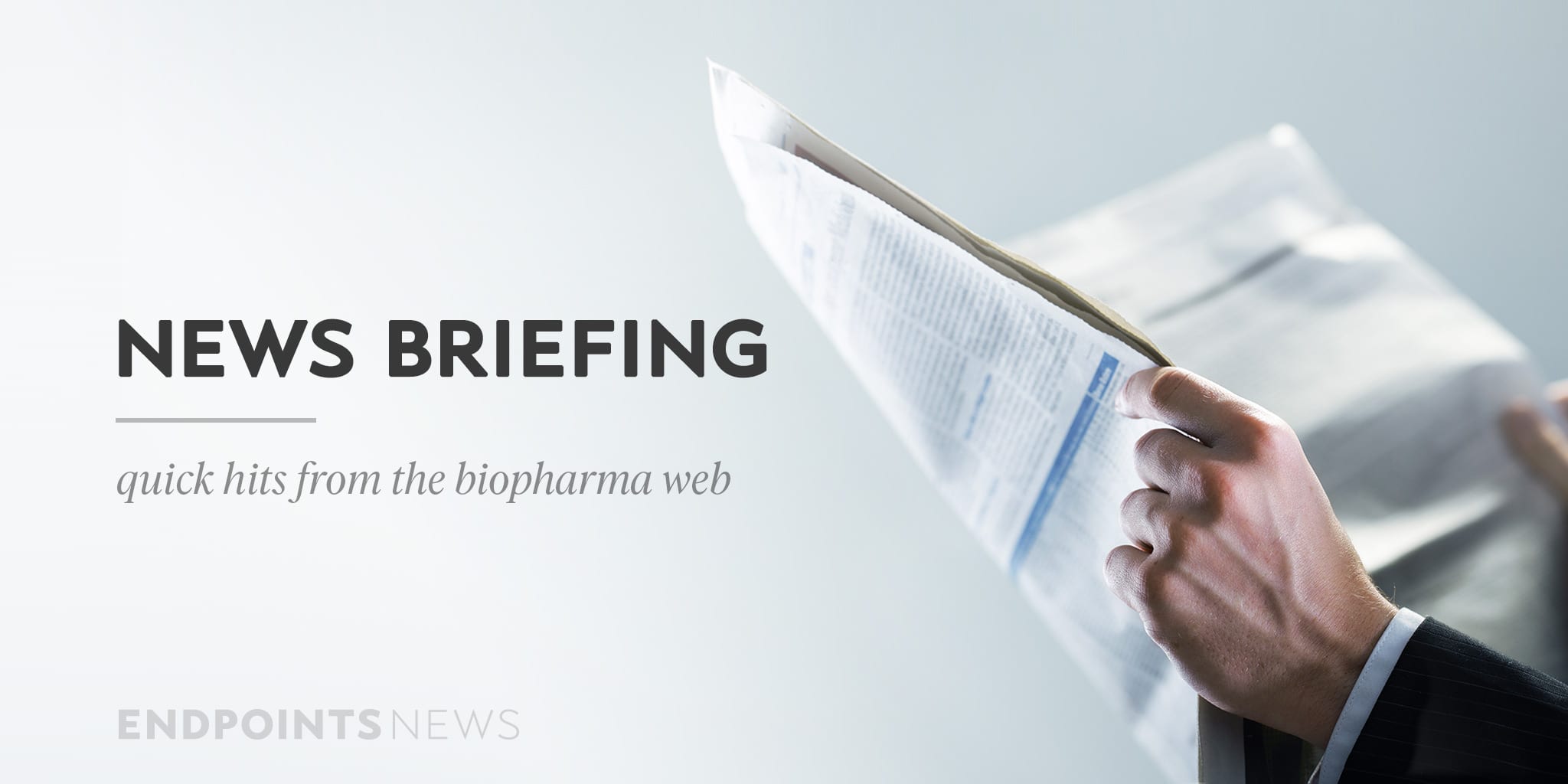 Lead­ing pro­teomics play­er gets a trio of new part­ners; GV tries to pre­vent cer­vi­cal can­cer
A lit­tle over 6 months ago, John Bak­er got on a call from a CEO with a strange re­quest.
Bak­er is head of in­no­va­tion at Ab­cam, a British com­pa­ny that pro­vides life sci­ence re­search tools to labs and com­pa­nies around the world. A lot of the firm's work in­volves sup­ply­ing high­ly spe­cif­ic an­ti­bod­ies that al­low sci­en­tists to de­tect the pres­ence of or fish out a spe­cif­ic pro­tein in a sam­ple.
Su­jal Pa­tel, CEO of Nau­tilus Biotech­nol­o­gy, want­ed ba­si­cal­ly the op­po­site. "Their first call to us was, 'Hey, guys, we're look­ing for some re­al­ly bad an­ti­bod­ies,'" Bak­er re­called. "'What have you got be­yond trench­ing in a freez­er for things that had failed?'"
A bad an­ti­body is one that binds to a wide set of tar­gets. To most re­searchers, such a mol­e­cule would be use­less: Put them in a sam­ple and you wouldn't know if they were bind­ing to the pro­tein you want­ed, or a com­plete­ly un­re­lat­ed pro­tein.
Nau­tilus, though, is one of a hand­ful of com­pa­nies try­ing to win the grow­ing, mul­ti-bil­lion dol­lar pro­teomics race. Sev­er­al well-fi­nanced biotechs are try­ing to de­vise meth­ods to find the ex­act num­ber and type of pro­tein in any giv­en cell or sam­ple, in hopes that it can then point the path to new treat­ments.
Nau­tilus claims the method they're build­ing, de­signed by Stan­ford pro­fes­sor and now Nau­tilus chief sci­en­tist Parag Mallick, can of­fer greater de­tail than its com­peti­tors. It does so, Mallick said, by im­mo­bi­liz­ing all the pro­teins in a sam­ple, al­low­ing them to be in­ter­ro­gat­ed more close­ly. (Some oth­er meth­ods, such as pep­tide se­quenc­ing, ac­tu­al­ly de­stroy the pro­teins they're mea­sur­ing.)
Al­though the plat­form is as yet un­proven, the com­pa­ny is work­ing with Genen­tech to an­a­lyze pro­teins on an undis­closed tar­get. They an­nounced two more such part­ner­ships with Am­gen and an undis­closed in­ves­ti­ga­tor at MD An­der­son on Mon­day, the lat­ter of which will fo­cus on a par­tic­u­lar pro­tein tar­get in can­cer.
The idea is that, for ex­am­ple, a can­cer drug may work dif­fer­ent­ly on two pa­tients with the same mu­tant pro­tein be­cause of small dif­fer­ences in the con­for­ma­tion — or shape — of the pro­teins. By un­der­stand­ing those dif­fer­ences, you might de­sign bet­ter pro­teins.
"The rea­son why some of these ther­a­peu­tics work may come down to that lev­el of de­tail," Mallick said.
To im­mo­bi­lize enough pro­teins in a sam­ple, though, they need­ed an­ti­bod­ies that could bind a long list of them, a dif­fer­ent prob­lem than the one Ab­cam and oth­er re­search com­pa­nies are used to solv­ing. But once Bak­er un­der­stood the is­sue, he agreed it was a fun chal­lenge. The two com­pa­nies are now be­gin­ning to try to de­sign and iso­late the best worst an­ti­bod­ies. — Ja­son Mast
GV backs a biotech aimed at pre­vent­ing cer­vi­cal can­cer
The vir­tu­al biotech An­ti­va closed a new round of fi­nanc­ing Tues­day morn­ing. An­ti­va raised $31 mil­lion in a Se­ries D eq­ui­ty fi­nanc­ing, the com­pa­ny said, aim­ing to ad­vance its treat­ments for pre­can­cer­ous le­sions caused by HPV.
Tues­day's raise was led by Ad­ju­vant Cap­i­tal and joined by oth­er promi­nent in­vestors such as Google's GV. The com­pa­ny said pro­ceeds will go to­ward the lead can­di­date, in­clud­ing ad­vanc­ing it in­to Phase I and Phase IIa clin­i­cal tri­als for high-grade cer­vi­cal in­traep­ithe­lial neo­plasias.
An­ti­va said the mol­e­cule, known as ABI-2280, is a pro­drug of an acyclic nu­cle­o­side phos­pho­nate that di­rect­ly blocks HPV repli­ca­tion.
"As a non-sur­gi­cal treat­ment, ABI-2280 has the po­ten­tial to of­fer a ther­a­peu­tic that can pre­serve women's re­pro­duc­tive health, be self-ad­min­is­tered at home, and im­prove ac­cess to care in un­der­served com­mu­ni­ties where OB/GYN re­sources are scarce," CEO Gail Maderis said in a state­ment. — Max Gel­man
Metacrine un­veils more NASH da­ta af­ter re­treat­ing from the field
When Metacrine an­nounced that it will halt de­vel­op­ment of its FXR ag­o­nist MET642 in NASH and fo­cus on the in­flam­ma­to­ry bow­el dis­ease ap­pli­ca­tion in­stead, the biotech in­sist­ed the drug had per­formed well in a Phase IIa tri­al.
Now, the biotech said a sim­i­lar can­di­date — MET409 — has al­so passed a Phase IIa test on safe­ty, tol­er­a­bil­i­ty and phar­ma­col­o­gy.
In the 12-week tri­al, a com­bi­na­tion of MET409 and the SGLT2 in­hibitor Jar­diance spurred a re­duc­tion in liv­er fat con­tent among pa­tients with type 2 di­a­betes and NASH. A to­tal of 132 pa­tients were ran­dom­ized in­to four groups: One of them re­ceived a com­bo while the oth­er three got the in­di­vid­ual treat­ments and place­bo, re­spec­tive­ly.
For Metacrine, the da­ta sup­port a com­bi­na­tion ap­proach that it says will be nec­es­sary to tack­le NASH.
"NASH is close­ly linked to sev­er­al co-mor­bidi­ties, with an es­ti­mat­ed 65% of type 2 di­a­betes pa­tients al­so hav­ing NASH," CMO Hu­bert Chen said in a state­ment. "These re­sults show­case the mul­ti­ple mech­a­nisms that dri­ve NASH and the promise of nov­el com­bi­na­tion ap­proach­es in bring­ing new ther­a­pies to pa­tients."