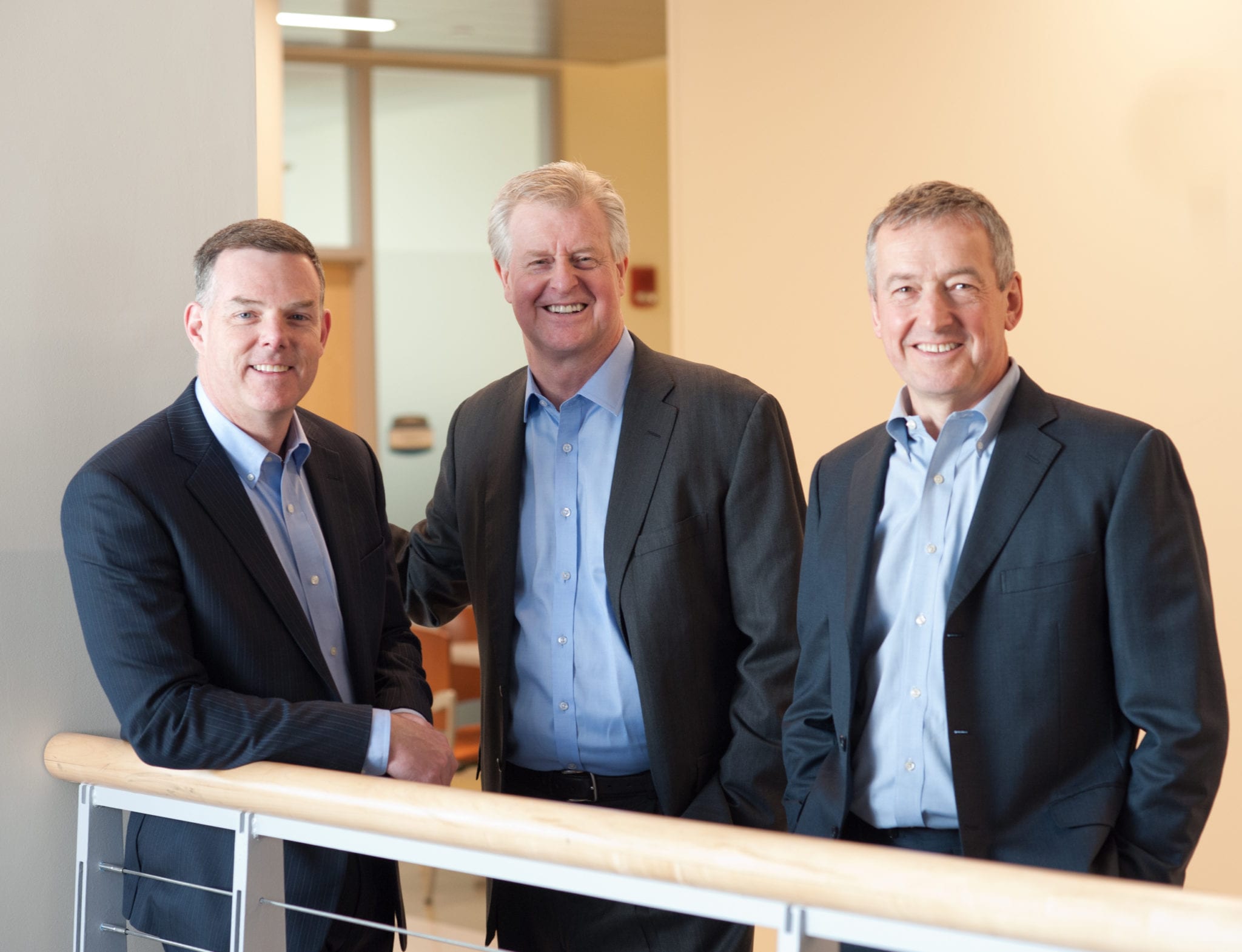 Rallybio founders (left to right): Jeff Fryer, Martin Mackay and Steve Uden
Mar­tin Mack­ay's rare dis­ease start­up gets $145 mil­lion as it en­ters the clin­ic
Two years ago, Mar­tin Mack­ay took a cou­ple of fel­low ex­iles from Alex­ion's 2017 culling and, af­ter 3 decades in Big Phar­ma and big biotech, struck out on his own, with a vague vi­sion that was as small as it was broad. They called it Rally­bio and it was go­ing to fo­cus on rare dis­eases — they just didn't say which of the thou­sands of those rare dis­eases that would be.
To­day, they did, dis­clos­ing the first of what they say will even­tu­al­ly be a list of pro­grams. And the trio — which al­so in­cludes for­mer Alex­ion re­search head Stephen Uden and Alex­ion tax chief Jeff Fry­er — raised $145 mil­lion in Se­ries B fund­ing to take in­to the clin­ic, grab­bing cap­i­tal from the apt­ly named Piv­otal bioVen­ture Part­ners and 10 oth­er in­vest­ment firms.
First up is FNAIT, or fe­tal and new-neona­tal al­loim­mune throm­bo­cy­tope­nia, a rare con­di­tion in which a fe­tus has anti­gen on platelet cells that a moth­er lacks. The moth­er, rec­og­niz­ing those anti­gens as for­eign, can mount an im­mune at­tack, de­vel­op­ing an­ti­bod­ies that tar­get the fe­tus' platelets, lead­ing to bleed­ing, in­clud­ing some­times in the brain. The dis­ease is gen­er­al­ly treat­ed with close mon­i­tor­ing of the ba­by af­ter birth, but Rally­bio wants to pre­vent it, giv­ing moth­ers an an­ti­body that will turn down the im­mune re­sponse ear­ly in the preg­nan­cy.
"The trick will be iden­ti­fy­ing moth­ers at risk," Uden told End­points News, adding they can do that with a sim­ple test al­ready in use. "It would be a case of re­pur­pos­ing."
Should the ther­a­py work, the goal would be to have the screen­ing be­come part of the rou­tine rare dis­ease tests women re­ceive dur­ing preg­nan­cy.
The goal "is not to use this to treat the dis­ease but to fun­da­men­tal­ly erad­i­cate it," Uden said.
The tri­al will be­gin in the sec­ond half of this year, at a sin­gle site in Ger­many, one of the coun­tries that has done sig­nif­i­cant epi­demi­o­log­i­cal work on the dis­ease, with talks un­der­way for how to screen a min­i­mum num­ber of moth­ers.
"It's not like we're a big com­pa­ny run­ning hun­dreds of tri­als — they have un­doubt­ed­ly been hit," Mack­ay said. "The fact that we're fo­cused on a small num­ber will help us steer our way through."
When Rally­bio launched in 2018, the founders had ideas for the dis­ease they want­ed to fo­cus on, but the search picked up af­ter the Se­ries A in April. They es­tab­lished a net­work of es­sen­tial­ly drugs scouts in coun­tries from Is­rael to Japan, hop­ing to find se­ri­ous ill­ness­es whose bi­ol­o­gy was un­der­stood, a so­lu­tion that seemed fea­si­ble but which sim­ply hadn't got­ten suf­fi­cient at­ten­tion from peo­ple with mon­ey and de­vel­op­ment ex­pe­ri­ence.
Late that fall, Uden met with biotechs from Nordic coun­tries on a win­try day in New York City, in­clud­ing the CEO of Pro­phylix, a biotech fo­cused on FNAIT. Pro­phylix's ex­pe­ri­ence was large­ly aca­d­e­m­ic, with few re­sources or his­to­ry in busi­ness, but the dis­ease and the treat­ment were fair­ly straight­for­ward. A sim­i­lar ap­proach has long been in rhe­sus dis­ease, a sim­i­lar con­di­tion that matched red blood cells in­stead of platelets. It matched Rally­bio's cri­te­ria for a good can­di­date.
"How bad is the dis­ease, how good is the bi­ol­o­gy, and can we come in with an in­ter­ven­tion that will make a dif­fer­ence?" Mack­ay said, de­scrib­ing their cri­te­ria.
Rally­bio ac­quired Pro­phylix and signed deals with two oth­ers, but the goal is to ul­ti­mate­ly have 4 to 8 pro­grams at dif­fer­ent stages of de­vel­op­ment. The busi­ness mod­el de­pends on it, said Mack­ay. If you can bring in ex­per­i­men­tal drugs for sev­er­al of these dis­eases, you can treat more pa­tients, ex­pand your rev­enue and de­risk the plat­form.
"We want to build a sus­tain­able com­pa­ny, we see that as the way to make the most mean­ing­ful dif­fer­ence in these rare and se­vere dis­eases," he said. "To be a sus­tain­able com­pa­ny you need a port­fo­lio."