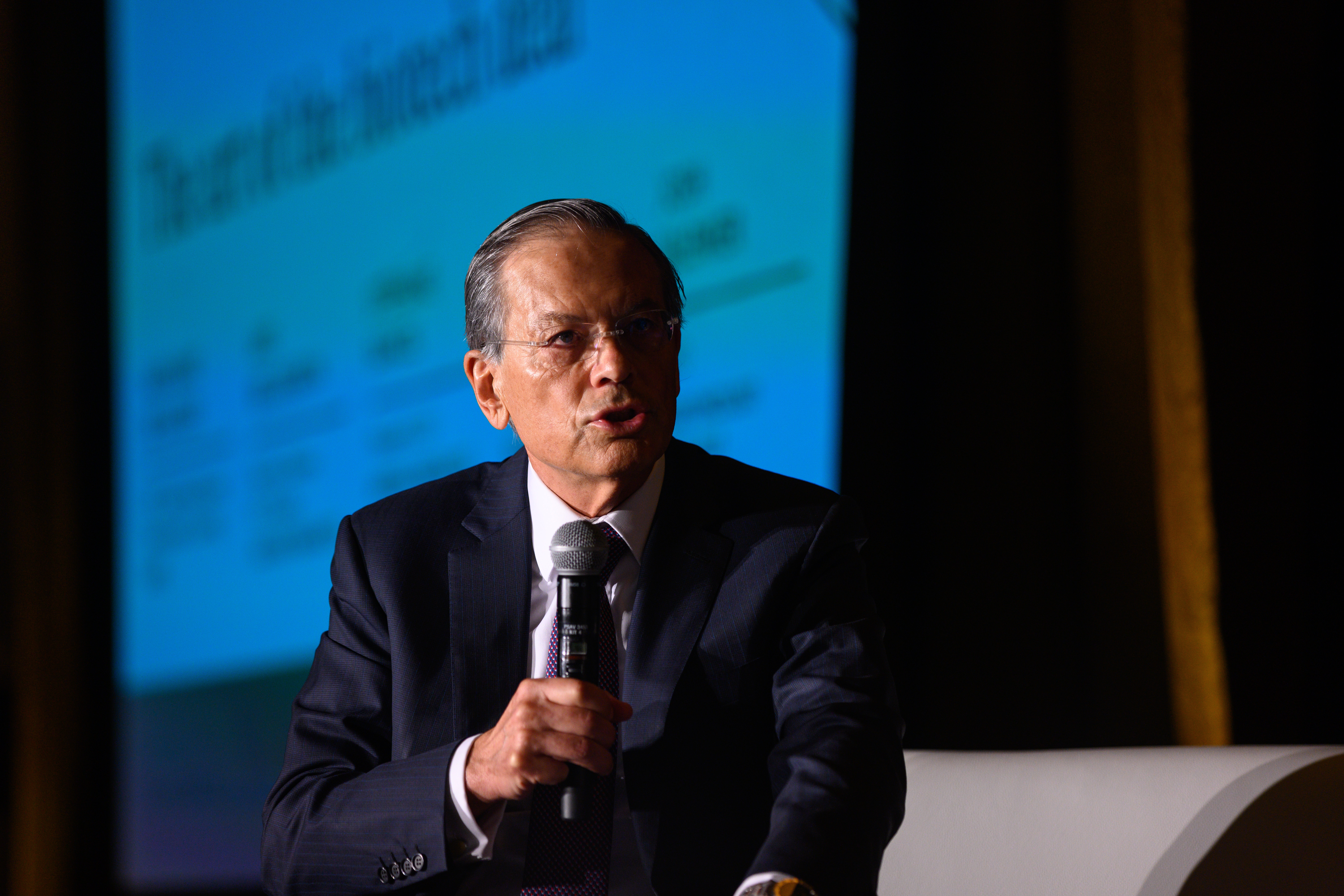 Arie Belldegrun, Endpoints @ JPM20 Breakfast Panel. Photography by Jeff Rumans.
Mo­tion de­nied: Gilead still on the hook for $1.5B in dam­ages over CAR-T patent dis­pute with Bris­tol My­ers Squibb
Gilead's bid to over­turn a ju­ry ver­dict that or­dered it to pay Bris­tol My­ers Squibb about $752 mil­lion for CAR-T patents owned by its sub­sidiary Juno Ther­a­peu­tics has end­ed in vain.
The rul­ing leaves Gilead vul­ner­a­ble to an even big­ger $1.5 bil­lion pay­ment that Bris­tol is now de­mand­ing — adding fu­el to the fiery crit­i­cism some an­a­lysts are al­ready heap­ing on its $11.9 bil­lion Kite buy­out.
In a 30-page doc­u­ment un­sealed on Mon­day, Judge James Otero of the dis­trict court in Los An­ge­les struck down sev­er­al dif­fer­ent ar­gu­ments for a new de­ci­sion. Here are Mor­gan Stan­ley an­a­lysts' take­aways:
The court, in par­tic­u­lar, de­nied Kite's con­tentions (1) that Juno's patent is in­valid, (2) the dam­ages award was un­rea­son­able, and (3) that a new tri­al should take place. The court al­so de­nied Kite's ar­gu­ment that its in­fringe­ment was not will­ful.
Gilead is like­ly to ap­peal to the fed­er­al cir­cuit, they not­ed, but the odds are not in their fa­vor as the same stan­dard for ev­i­dence will be ap­plied in that court. Ap­peals typ­i­cal­ly take 16 months.
Be­fore that, the low­er court is due to rule on Juno's own post-tri­al mo­tion to dou­ble the dam­ages from $585 mil­lion to $1.5 bil­lion, and raise the run­ning roy­al­ty rate payable to Bris­tol My­ers from 27.6% to 33.1%.
The num­bers are as­tro­nom­i­cal on their own, but es­pe­cial­ly so con­sid­er­ing that Yescar­ta has on­ly earned $456 mil­lion in sales last year — which is al­ready a jump from $264 mil­lion in 2018. Gilead will have to pay roy­al­ties un­til Juno's patents ex­pire in Au­gust 2024, which "makes Yescar­ta po­ten­tial­ly a neg­a­tive-mar­gin busi­ness."
It is yet un­clear whether, or how much, the patent is­sues will af­fect the oth­er CAR-T prod­ucts in Kite's pipeline. Un­der CEO Kristi Shaw, the group has scored pri­or­i­ty re­view for a sec­ond CAR-T dubbed KTE-X19.
At the crux of the dis­pute is the claim that Steve Rosen­berg of the Na­tion­al Can­cer In­sti­tute copied MSK in­ves­ti­ga­tor Michel Sade­lain's CAR back­bone in cre­at­ing the CD19-tar­get­ing con­struct that he lat­er li­censed to Kite.
Dur­ing the pro­ceed­ings the in­ter­ac­tion be­tween Arie Bellde­grun, who co-found­ed Kite and has since moved on­to pi­o­neer­ing al­lo­gene­ic CAR-T ther­a­pies, and Memo­r­i­al Sloan Ket­ter­ing ex­ecs were thrust in­to the spot­light. The court again high­light­ed those episodes as part of the "suf­fi­cient ev­i­dence of will­ful­ness."
Plain­tiff's fact wit­ness Dr. Dash tes­ti­fied that Dr. Bellde­grun was so des­per­ate to pur­sue a li­cense to the '190 Patent that he ap­peared at her of­fice, de­spite not hav­ing a meet­ing. Dr. Jakobovitz sim­i­lar­ly tes­ti­fied that Dr. Bellde­grun met with Plain­tiffs in an at­tempt to li­cense the '190 Patent. Plain­tiffs fur­ther ar­gued that De­fen­dant's fil­ing of the IPR against the '190 Patent demon­strat­ed the im­por­tance of the '190 Patent to De­fen­dant.