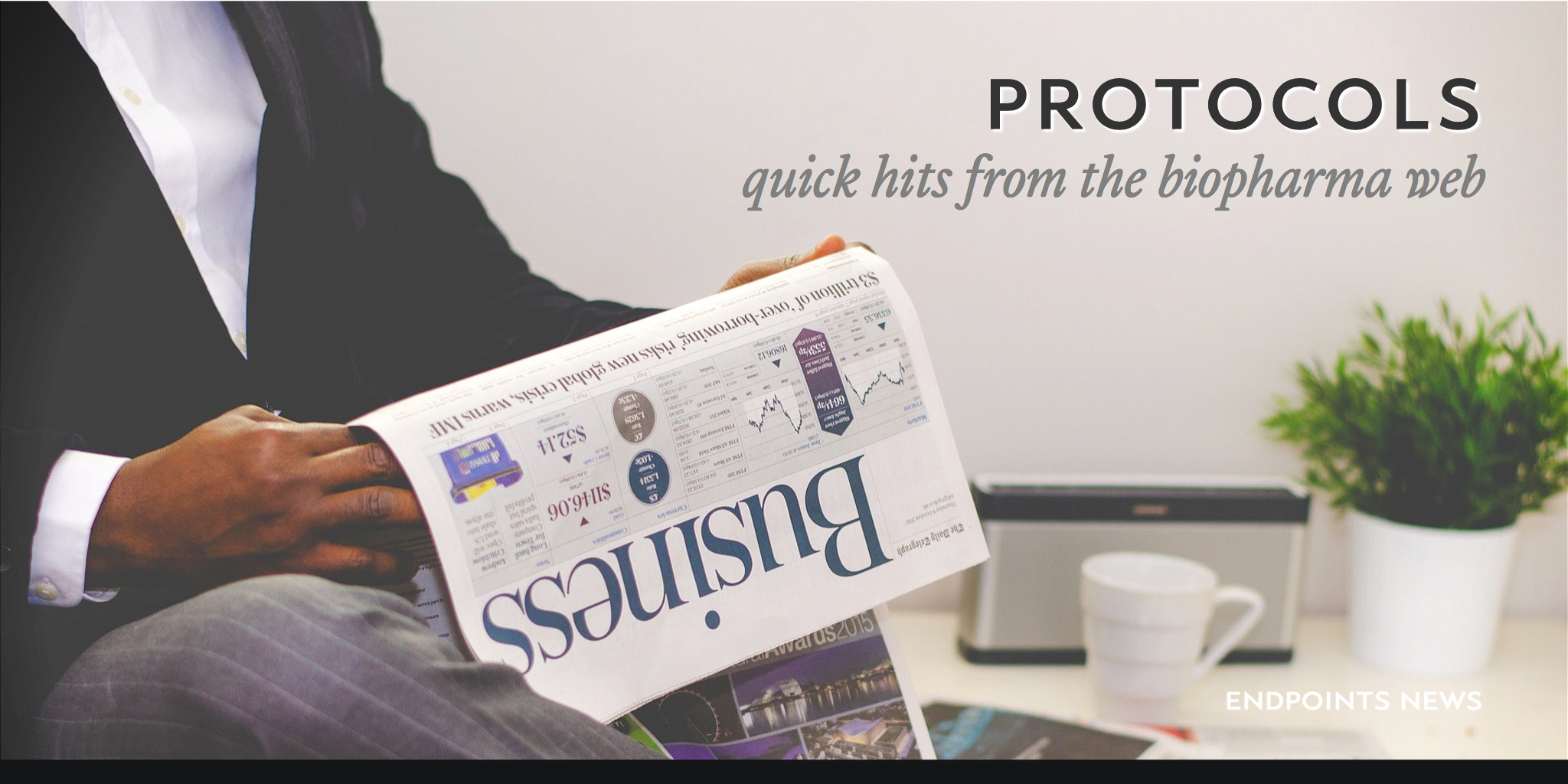 Neu­rotrope bat­tered in lat­est Alzheimer's flop; Platelet Bio­Gen­e­sis rais­es $26M-plus
→ Neu­rotrope be­came the lat­est ca­su­al­ty in the high-risk Alzheimer's R&D field. The biotech re­port­ed that their Phase II study of Bryo­statin-1 failed to show any im­prove­ment over place­bo us­ing the Se­vere Im­pair­ment Bat­tery (SIB) to­tal score at week 13. In fact, the drug arm did a lit­tle worse than a sug­ar pill, with an av­er­age in­crease of 1.3 points for the drug and 2.1 points for place­bo. Their shares $NTRP cratered in the rout that fol­lowed, plung­ing 78%. It's cur­rent­ly a pen­ny stock.
The Alzheimer's R&D field hasn't record­ed a suc­cess in chang­ing the tra­jec­to­ry of the dis­ease, with re­cent piv­otal fail­ures forc­ing all the play­ers to re­con­sid­er their strate­gies.
→ Platelet Bio­Gen­e­sis (PBG) — a com­pa­ny fo­cused on stem cell-de­rived, on-de­mand hu­man platelets and platelet-based ther­a­peu­tics — has raised more than $26 mil­lion in Se­ries A-1 fi­nanc­ing. In com­bi­na­tion to this round, as well as Se­ries A fi­nanc­ing and grants, the com­pa­ny's to­tal fund­ing is brought to about $45 mil­lion. The fi­nanc­ing was co-led by Ziff Cap­i­tal Part­ners and Qim­ing Ven­ture Part­ners USA in ad­di­tion to ex­ist­ing in­ves­tures Nest.Bio Ven­tures and eCoast An­gels.
The com­pa­ny said that it "will use the funds from the Se­ries A-1 round to ac­cel­er­ate the de­vel­op­ment of its donor-in­de­pen­dent platelet man­u­fac­tur­ing ca­pa­bil­i­ties and ad­vance its proof of con­cept work around platelet-based ther­a­peu­tics." PBG plans to dou­ble its staff to ap­prox­i­mate­ly 50 em­ploy­ees in 2020.
→ Stu­art Levy, co-founder of Paratek Phar­ma­ceu­ti­cals, passed away last week.
"Stu­art was a dis­tin­guished physi­cian who was the fore­front of an­tibi­ot­ic de­vel­op­ment and a ded­i­cat­ed cham­pi­on for the pru­dent use of an­tibi­otics," said Evan Loh, Paratek CEO. "More im­por­tant­ly, he was a dear friend and men­tor to so many and his pas­sion lives on in each of us as we work to con­tin­ue his mis­sion of com­bat­ing the dai­ly threat of life-threat­en­ing in­fec­tions. We will great­ly miss him."
Levy co-found­ed Paratek more than 20 years ago along with Wal­ter Gilbert. He was in­stru­men­tal in the de­vel­op­ment of the com­pa­ny's lead an­tibi­otics, Nuzyra and Seysara. Levy dis­cov­ered the ef­flux mech­a­nism for drug (tetra­cy­cline) re­sis­tance and was among the first sci­en­tists to doc­u­ment the trans­fer of re­sis­tant bac­te­ria from an­i­mals to farm­work­ers. His 1992 book, The An­tibi­ot­ic Para­dox: How Mir­a­cle Drugs Are De­stroy­ing the Mir­a­cle, has been cit­ed wide­ly and trans­lat­ed in­to four lan­guages.
The news comes a few weeks af­ter the com­pa­ny pub­lished pos­i­tive Phase III da­ta for Nuzyra for pa­tients with AB­SS­SI.
→ In the midst of a sur­prise in­ter partes re­view by the US Patent Tri­als Ap­peal Board (PT­AB) for Alex­ion's Soliris, the com­pa­ny and Bridge­Bio's sub­sidiary Ei­dos Ther­a­peu­tics have inked an agree­ment grant­i­ng Alex­ion an ex­clu­sive li­cense to de­vel­op and com­mer­cial­ize their oral­ly-ad­min­is­tered small mol­e­cule AG10 — de­signed to treat transthyretin amy­loi­do­sis (AT­TR) by bind­ing and sta­bi­liz­ing transthyretin (TTR) in the blood— in Japan.
"Ei­dos is cur­rent­ly eval­u­at­ing AG10 in a Phase III study in the US and Eu­rope for AT­TR car­diomy­opa­thy (AT­TR-CM) – a pro­gres­sive, fa­tal dis­ease caused by the ac­cu­mu­la­tion of mis­fold­ed TTR amy­loid in the heart – and plans to be­gin a Phase III study in AT­TR polyneu­ropa­thy (AT­TR-PN) – a pro­gres­sive, fa­tal dis­ease caused by the ac­cu­mu­la­tion of mis­fold­ed TTR amy­loid in the pe­riph­er­al ner­vous sys­tem."
→ A few months af­ter Ac­celeron and its part­ner at Cel­gene se­cured pri­or­i­ty re­view for their red blood cell boost­ing drug, lus­pa­ter­cept — to man­age ane­mia re­sult­ing from myelodys­plas­tic syn­drome (MDS) as well as be­ta tha­lassemia — the com­pa­ny has an­nounced an­oth­er win. This time they've gained an or­phan drug des­ig­na­tion by the FDA for its in­ves­ti­ga­tion­al ther­a­py so­tater­cept for the treat­ment of pa­tients with pul­monary ar­te­r­i­al hy­per­ten­sion (PAH).