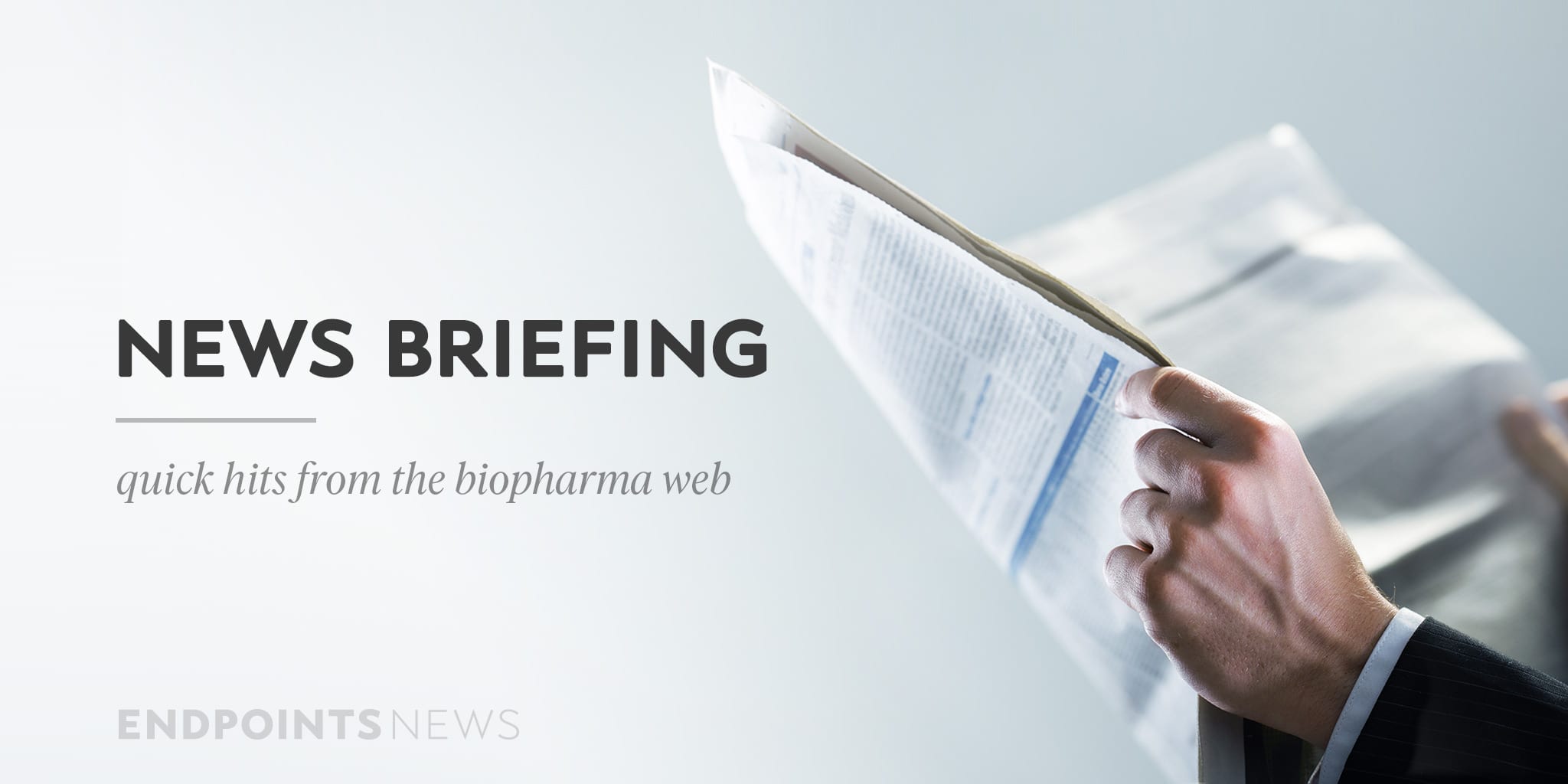 News brief­ing: Ab­b­Vie se­lects first tar­get for Drag­on­fly part­ner­ship; Cog­ni­to nets BDD for Alzheimer's treat­ment de­vice
Drag­on­fly's part­ner­ship with Ab­b­Vie is be­gin­ning to bear fruit.
Ab­b­Vie has se­lect­ed its first NK cell en­gager-based im­munother­a­py as part of the deal, trig­ger­ing an undis­closed opt-in pay­ment, the com­pa­nies an­nounced Tues­day. Ab­b­Vie will gain ex­clu­sive world­wide rights to de­vel­op and com­mer­cial­ize prod­ucts di­rect­ed to this first tar­get, which is al­so undis­closed, and Drag­on­fly be­comes el­i­gi­ble for fu­ture mile­stones and roy­al­ties.
"This opt-in, so soon af­ter launch­ing our col­lab­o­ra­tion, is a great vote of con­fi­dence," Drag­on­fly CEO Bill Haney said in a state­ment. "We look for­ward to con­tin­ued suc­cess and rapid progress with the Ab­b­Vie team."
The pair signed their col­lab­o­ra­tion back in No­vem­ber 2019. So far, all of Drag­on­fly's col­lab­o­ra­tions have net­ted $800 mil­lion in up­front pay­ments and ear­ly mile­stones. The biotech is el­i­gi­ble for up to $17 bil­lion in to­tal mile­stones should it achieve them all.
Tues­day's se­lec­tion comes out of Drag­on­fly's TriN­KET plat­form, build­ing tri-spe­cif­ic NK cell en­gager ther­a­pies. Drag­on­fly has al­so signed on to three deals with Bris­tol My­ers Squibb, the most re­cent of which came last Ju­ly, and two with Mer­ck. — Max Gel­man
FDA grants Cog­ni­to break­through des­ig­na­tion in Alzheimer's
Cog­ni­to Ther­a­peu­tics has re­ceived a break­through de­vice des­ig­na­tion for one of the tough­est fields in the in­dus­try — Alzheimer's dis­ease.
The FDA hand­ed down the des­ig­na­tion Tues­day morn­ing, Cog­ni­to an­nounced, say­ing the agency is plan­ning to re­view its lead prod­uct for the treat­ment of cog­ni­tive and func­tion­al symp­toms as­so­ci­at­ed with Alzheimer's.
Cog­ni­to says it has de­vel­oped a non-in­va­sive de­vice that us­es gam­ma fre­quen­cy tech­nol­o­gy to stem Alzheimer's symp­toms. Re­searchers at the com­pa­ny say they found stim­u­lat­ing the brain at a spe­cif­ic fre­quen­cy had the ef­fect of re­ac­ti­vat­ing the im­mune sys­tem in the brain, cor­re­lat­ing with a re­duc­tion in amy­loid plaques and tau tan­gles.
In prac­tice, this could look like an Alzheimer's pa­tient be­ing ex­posed to strobe lights and click­ing sounds. A study in mice ap­peared to show im­prove­ments in cog­ni­tive and mem­o­ry skills, per the New York Times.
With­in that study, light and sound de­liv­ered to mice at 40 hertz, or 40 flash­es or clicks per sec­ond, os­ten­si­bly syn­chro­nized with the rhythm of the brain's gam­ma waves. That led to an in­crease in trash-clear­ing and im­mune-reg­u­lat­ing func­tions with­in the brains. — Max Gel­man
BIO chief Michelle Mc­Mur­ry-Heath con­demns Capi­tol vi­o­lence, paus­es po­lit­i­cal con­tri­bu­tions
BIO pres­i­dent and CEO Michelle Mc­Mur­ry-Heath has been clear about the as­so­ci­a­tion's po­si­tion on the mob vi­o­lence on Capi­tol Hill last week. On Mon­day, she took it one step fur­ther, an­nounc­ing that BIO will pause its po­lit­i­cal con­tri­bu­tions for the time be­ing.
"As of to­day BIO will be paus­ing our po­lit­i­cal giv­ing so we can re­assess the cri­te­ria up­on which we sup­port po­lit­i­cal can­di­dates in the fu­ture. As a mem­ber­ship or­ga­ni­za­tion we owe it to our mem­bers to hear their voic­es in this im­por­tant de­ci­sion," Mc­Mur­ry-Heath said in the state­ment.
"One of the five new strate­gic pil­lars that BIO an­nounced last fall is to be the voice of and for sci­ence and at its core sci­ence is the search for truth based on ev­i­dence. So it is very con­cern­ing that some elect­ed lead­ers last week chose to ig­nore facts and em­brace wide­ly dis­cred­it­ed con­spir­a­cies which in part led to the hor­rif­ic events at the Capi­tol," she con­tin­ued.
Last week, the CEO joined many oth­er bio­phar­ma lead­ers in con­demn­ing the vi­o­lence. "It is sim­ply un­con­scionable for an an­gry mob, up­set by an elec­tion out­come to try to dis­en­fran­chise the votes of mil­lions of Amer­i­cans sim­ply be­cause their cho­sen can­di­date lost," she said.
Je­re­my Levin, chair­man of BIO, post­ed a sim­i­lar­ly heat­ed re­sponse on Twit­ter on Jan 6.
I am rag­ing. Tell me why the great­est democ­ra­cy in the world would elect a cryp­to-dic­ta­tor, al­low him lie to the na­tion for 4 years, then launch a full out phys­i­cal as­sault on our in­sti­tu­tions- and un­til now not one of his Cab­i­net re­signed???? #cab­i­ne­tre­sign­now

— Je­re­my Levin (@jmaxlevin) Jan­u­ary 6, 2021
"Our mem­bers take this se­ri­ous­ly and so do we," Mc­Mur­ry-Heath said in the state­ment. — Nicole De­Feud­is
Ada­gene and NHLBI dis­cov­er new CAR-T can­di­date
Ada­gene and the Na­tion­al Heart, Lung, and Blood In­sti­tute say they've come up with a new kind of CAR-T can­di­date for re­nal cell car­ci­no­ma, based on an­ti­bod­ies dis­cov­ered by the Suzhou, Chi­na-based biotech.
The part­ners say the can­di­date is the first — that they're aware of — to tar­get a hu­man en­doge­nous retro­virus (HERV) ex­pressed in the ma­jor­i­ty of clear cell kid­ney tu­mors. HERVs are rem­nants of an­cient germ-line in­fec­tions with ex­oge­nous retro­virus­es, and are es­ti­mat­ed to com­prise up to 8% of the hu­man genome.
The can­di­date was de­vel­oped in the lab of Richard Childs, chief of the NHLBI's Lab­o­ra­to­ry of Trans­plan­ta­tion Im­munother­a­py. From here, the NIH will take over man­u­fac­tur­ing and clin­i­cal de­vel­op­ment.
"This is an en­cour­ag­ing de­vel­op­ment that builds on decades of re­search in our quest to find ways to adapt and en­hance im­mune cells to tar­get and kill even the most ag­gres­sive can­cers," Childs said in a state­ment. "I look for­ward to the eval­u­a­tion and hope­ful­ly the de­vel­op­ment of this nov­el CAR-T cell and oth­er an­ti­body-based ther­a­pies in clin­i­cal tri­als."
The can­di­date was dis­cov­ered us­ing Ada­gene's NEO­body tech, which is part of its Dy­nam­ic Pre­ci­sion Li­brary. Last Jan­u­ary, Ada­gene nabbed a $69 mil­lion Se­ries D to ad­vance its an­ti­body work. — Nicole De­Feud­is