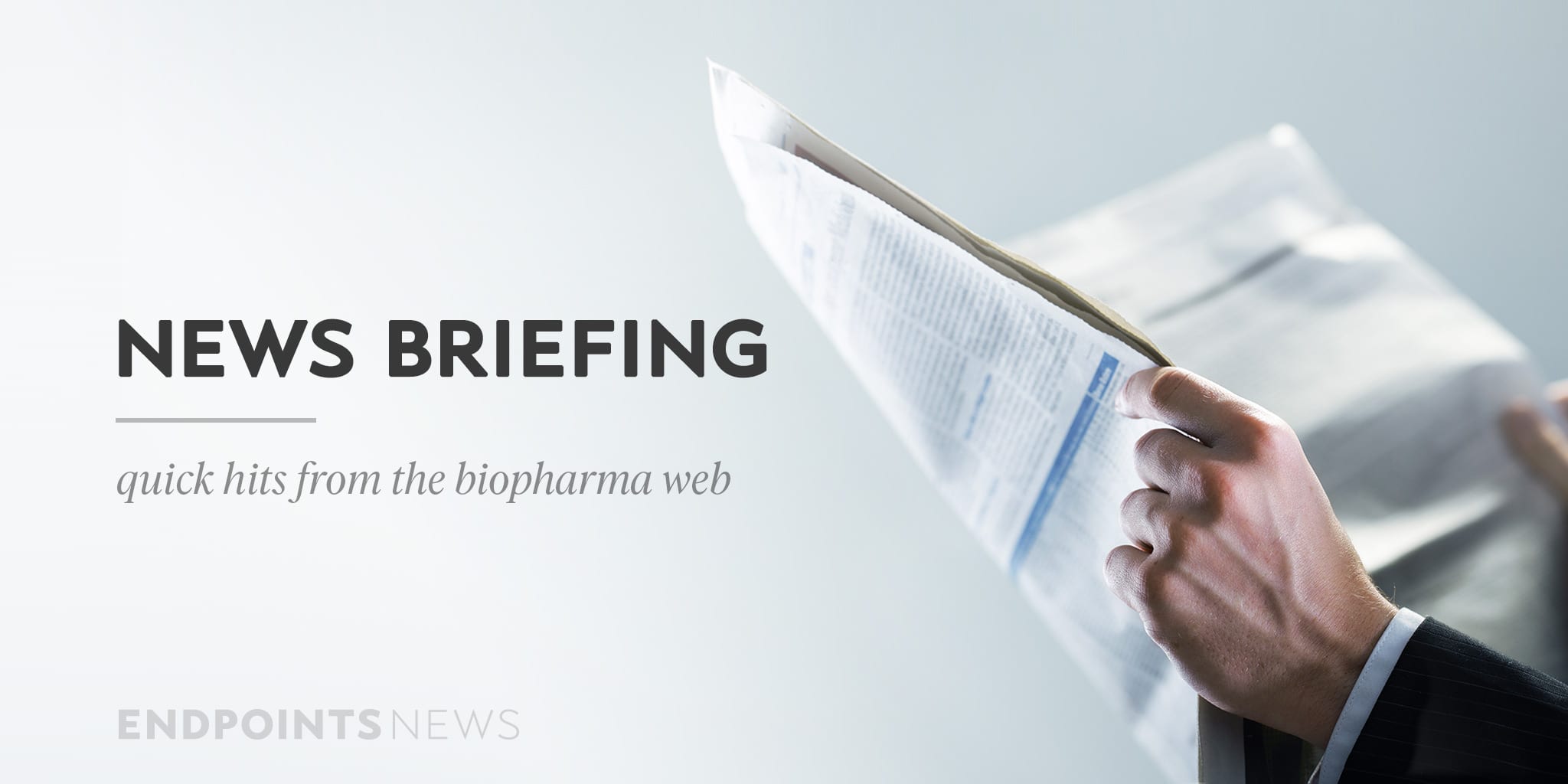 News brief­ing: Chi­nese can­cer play­er gets $124M+ Se­ries C; IN8bio sets terms for $86M IPO
A lit­tle less than two years af­ter a nine-fig­ure Se­ries B, Apol­lomics has re­turned to the ven­ture well.
This time, the com­pa­ny has come out with even more mon­ey, pulling in $124.2 mil­lion for a Se­ries C round. The fund­ing will go main­ly to­ward de­vel­op­ing Apol­lomics' lead pro­grams APL-101 and APL-106.
Ping An Cap­i­tal led the fund­ing, and sev­er­al new and ex­ist­ing in­vestors par­tic­i­pat­ed, though Apol­lomics did not dis­close any oth­er sources. The com­pa­ny was in­cu­bat­ed by Or­biMed Asia.
APL-101 is an oral­ly ad­min­is­tered c-MET in­hibitor cur­rent­ly en­rolling the Phase II por­tion of an in­ter­na­tion­al Phase I/II tri­al. Re­searchers are study­ing whether the ex­per­i­men­tal drug works in non-small cell lung can­cer, rare brain can­cers and oth­er types of sol­id tu­mors.
APL-106, al­so known as up­ro­le­se­lan, is an E-se­lectin an­tag­o­nist that has re­ceived break­through ther­a­py des­ig­na­tion from the FDA in re­lapsed and re­frac­to­ry acute myeloid leukemia. Apol­lomics is plan­ning to launch a Phase III bridg­ing tri­al in Chi­na soon, as well as a Phase I tri­al in par­al­lel. — Max Gel­man
IN8bio sets terms for $86 mil­lion IPO
IN8bio, a New York-based com­pa­ny fo­cused on ge­net­i­cal­ly mod­i­fied gam­ma delta T cell ther­a­pies, has set the terms for its IPO. The biotech is seek­ing an $86 mil­lion raise, plan­ning to to of­fer 4.7 mil­lion shares be­tween $15 and $17 apiece.
IN8bio's lead can­di­date re­cent­ly en­tered Phase I for new­ly di­ag­nosed glioblas­toma, as the first pa­tient was dosed in June. Dubbed INB-200, the pro­gram is ex­pect­ed to see its first da­ta read­out in 2021. The com­pa­ny is hop­ing it can com­bine con­ven­tion­al chemother­a­py with gam­ma delta T cells to al­ter the tu­mor mi­croen­vi­ron­ment.
The sec­ond pro­gram, called INB-100, fo­cus­es on leukemia with da­ta from a Phase I ex­pect­ed to­ward the end of 2022. IN8bio pre­vi­ous­ly said in its SEC fil­ings that it plans to com­plete the two Phase I stud­ies and ini­ti­ate Phase II in both pro­grams with the ex­pect­ed IPO raise.
Through the end of Oc­to­ber, there had been 72 biotech and bio­phar­ma IPOs so far in 2020, ac­cord­ing to Nas­daq head of health­care list­ings Jor­dan Saxe, good for a com­bined raise of $13.2 bil­lion. He es­ti­mat­ed that there could be 75 IPOs be­fore the year is out, with the com­pa­nies to­tal­ing just un­der $14 bil­lion in mon­ey raised. — Max Gel­man
Cor­rec­tion: A pre­vi­ous ver­sion of this ar­ti­cle in­cor­rect­ly stat­ed that IN8bio's es­ti­mat­ed IPO raise was re­vised down­ward to $75 mil­lion. It re­mains at $86 mil­lion.