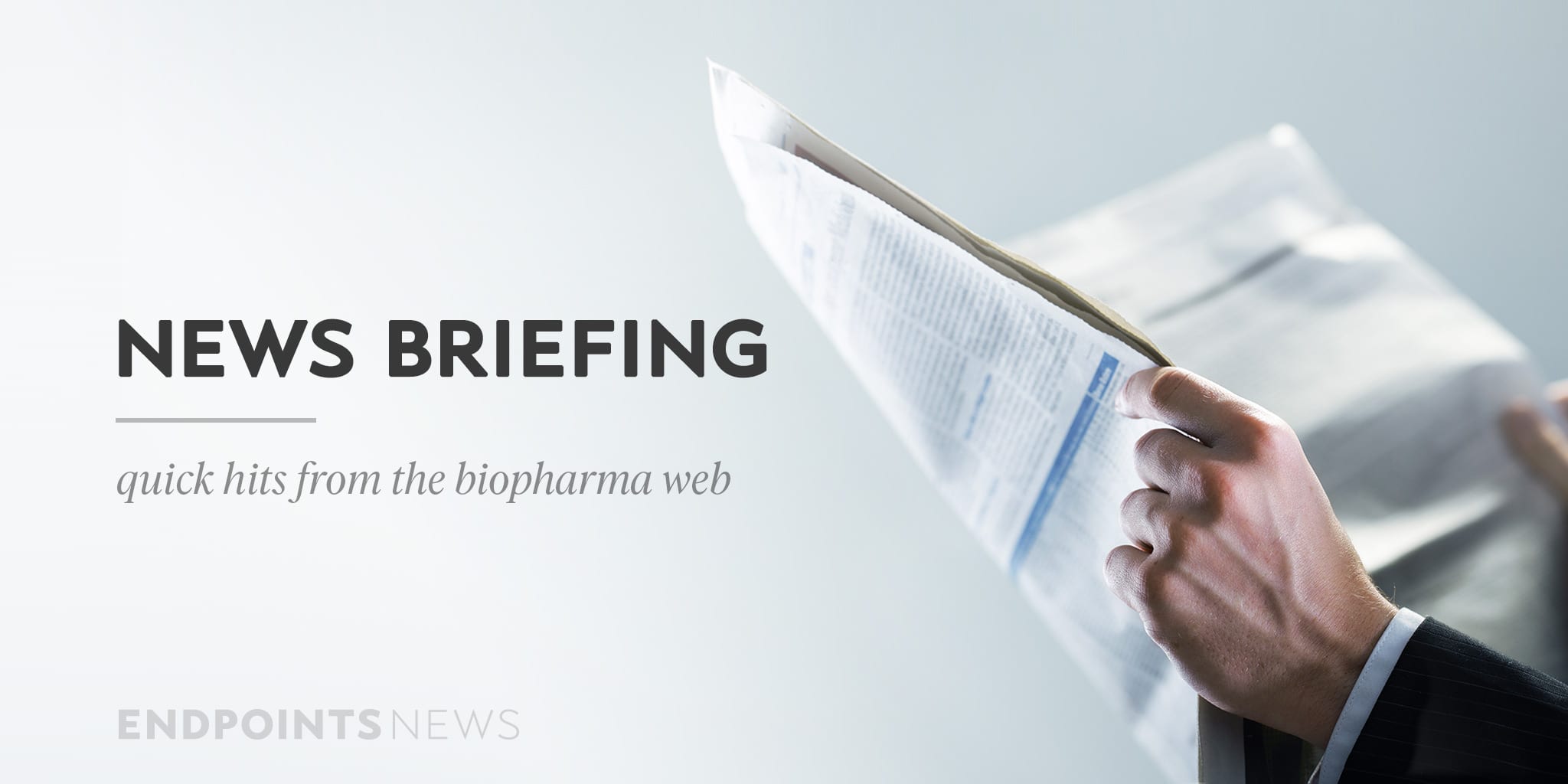 News brief­ing: Small merg­er to ad­vance an­ti-ag­ing pro­gram; Sanger In­sti­tute spin­out nabs $50M from Se­ries C
Small-cap play­er Ak­ers Bio­sciences $AK­ER has en­gi­neered a re­verse merg­er with pri­vate com­pa­ny MyMD Phar­ma­ceu­ti­cals.
The new com­bined biotech, which will re­tain the name MyMD, is ex­pect­ed to trade un­der the new tick­er $MYMD once the trans­ac­tion clos­es. MyMD will ob­tain an 80% stake in Ak­ers, and the deal comes with an $18 mil­lion pri­vate place­ment that val­ues the Ak­ers at $1.85 per share, a rough­ly 7.5% pre­mi­um above Wednes­day's clos­ing price.
MyMD is aim­ing to fo­cus on its MYMD-1 pro­gram, a syn­thet­ic plant al­ka­loid be­ing de­vel­oped to treat au­toim­mune and age-re­lat­ed dis­eases, in­clud­ing ag­ing it­self. The com­pa­ny claims the ex­per­i­men­tal drug is the first oral small mol­e­cule reg­u­la­tor of tu­mor necro­sis fac­tor al­pha ca­pa­ble of cross­ing the blood-brain bar­ri­er.
Two Phase II tri­als for the pro­gram are ex­pect­ed to be­gin some­time in the first quar­ter of 2021, and MyMD seeks to con­tin­ue launch­ing oth­er Phase II stud­ies through­out the year.
MyMD is al­so work­ing on its SU­PERA-1R plat­form, which based on a syn­thet­ic de­riv­a­tive of CBD that seeks to tar­get key cannabi­noid re­cep­tors. The com­pa­ny hopes to ad­dress anx­i­ety, chron­ic pain and seizures and is ex­pect­ed to be­gin hu­man tri­als as a ther­a­py for epilep­sy, fol­lowed by chron­ic pain. — Max Gel­man
Sanger In­sti­tute spin­out gets a $50M Se­ries C
When a hand­ful of en­tre­pre­neurs and sci­en­tists de­cid­ed to spin a ge­nomics start­up out of the Well­come Trust Sanger In­sti­tute, they had a plat­form that ad­vanced pro­gram­mers could use and rough­ly no one else.
In the six years since, said Con­geni­ca CEO David Atkins, they've de­vel­oped soft­ware vir­tu­al­ly any spe­cial­ists can use to quick­ly di­ag­nose rare and ul­tra-rare dis­eases and drug de­vel­op­ers can use to spot con­nec­tions be­tween dif­fer­ent genes and dif­fer­ent symp­toms. And now, for the first time, they've got a sig­nif­i­cant amount of cash to ex­pand.
Con­geni­ca an­nounced Mon­day a $50 mil­lion Se­ries C led by Ten­cent and Le­gal Gen­er­al, more than dou­bling the amount they cash raised to date. They'll use the mon­ey to ex­pand in­to di­ag­nos­tics for can­cer — quick­ly find­ing genes for tar­get­ed ther­a­pies — and gen­er­al well­ness, while al­so con­tin­u­ing their of­fer on rare dis­ease. So far, they've reached clients in 18 dif­fer­ent coun­tries.
"When it came out of Sanger, it was a very ad­vanced re­search soft­ware pro­gram: the pro­gram­mers could run it but you couldn't give it to a third par­ty," Atkins told End­points News. "It's come a long way." —Ja­son Mast