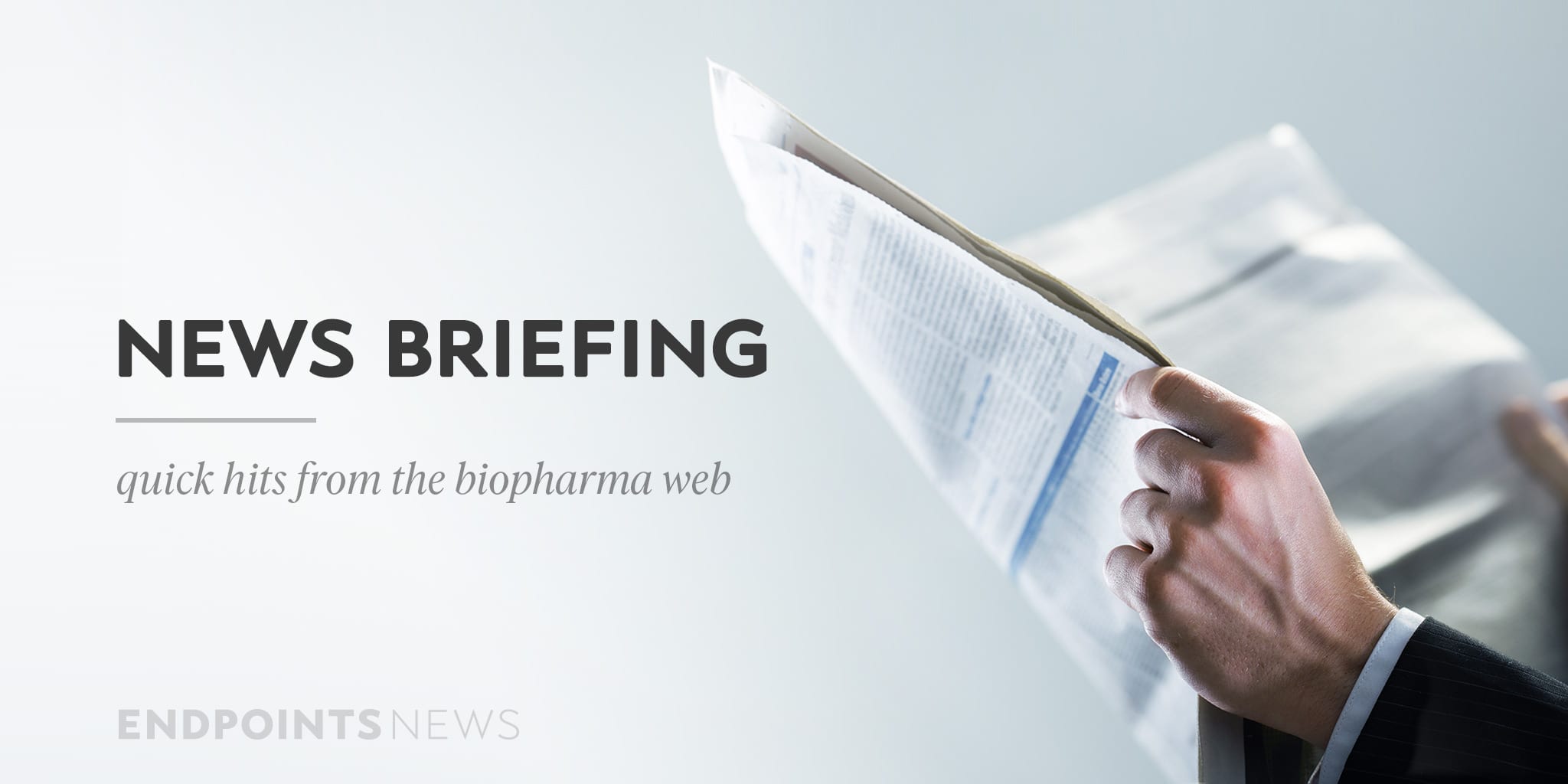 News brief­ing: Ve­rastem CMO ex­its two weeks af­ter join­ing com­pa­ny; Ther­mo Fish­er inks $550M M&A deal
Two weeks af­ter join­ing Ve­rastem On­col­o­gy as chief med­ical of­fi­cer, Frank Neu­mann is leav­ing the com­pa­ny for an­oth­er job.
Neu­mann had joined Ve­rastem af­ter leav­ing blue­bird bio, which sur­pris­ing­ly split in­to two com­pa­nies last week, one in on­col­o­gy and one in rare dis­eases. It's not yet clear to where Neu­mann is head­ed next, but he not­ed in a state­ment that Ve­rastem's da­ta and strat­e­gy were "tru­ly ex­cit­ing."
"This de­ci­sion to leave is dif­fi­cult and based sole­ly on con­tin­u­ing my work in cell ther­a­py," Neu­mann said. "I am con­fi­dent that Ve­rastem will con­tin­ue to make a pos­i­tive im­pact on pa­tients' lives."
Be­fore his tenure at blue­bird, Neu­mann de­vot­ed five years to Take­da, lead­ing clin­i­cal de­vel­op­ment across their cell ther­a­py spec­trum in his fi­nal year there. He was Take­da's glob­al clin­i­cal lead for pona­tinib and med­ical team lead for ix­a­zomib. — Max Gel­man
Ther­mo Fish­er inks $550M M&A deal for rapid test­ing com­pa­ny
Ther­mo Fish­er is shelling out $450 mil­lion in cash and promis­ing $100 mil­lion in mile­stones to snap up Mesa Biotech, a di­ag­nos­tics out­fit that makes rapid tests for in­fec­tious dis­eases — in­clud­ing Covid-19.
Mesa was one of the first com­pa­nies to roll out a quick test for SARS-CoV-2.
Mark Steven­son, ex­ec­u­tive VP and COO of Ther­mo Fish­er Sci­en­tif­ic, had this to say in a pre­pared state­ment:
"The ad­di­tion of Mesa Biotech's easy-to-use, rapid PCR-based test is high­ly com­ple­men­tary to our ex­ist­ing of­fer­ing and will fur­ther help us meet the con­tin­u­ing de­mand for COVID-re­lat­ed test­ing while we work to rapid­ly scale and de­vel­op point-of care tests for oth­er in­fec­tious dis­eases in the fu­ture." — John Car­roll
SCO­TUS de­clines to take up Mer­ck patent ap­peal for so­fos­bu­vir
Mer­ck's fi­nal hope to re­vive a mas­sive dam­ages award has been quashed.
The Big Phar­ma had sought in­ter­ven­tion from the US Supreme Court to re­store a de­ci­sion that would have grant­ed the com­pa­ny more than $2.5 bil­lion in dam­ages re­lat­ed to a patent fight with Gilead. But the jus­tices de­clined to take up the case, leav­ing the low­er court's rul­ing in place and Mer­ck with­out fur­ther re­course.
Tues­day's de­ci­sion stems from a bat­tle over Gilead's so­fos­bu­vir, which Mer­ck had claimed in­fringed on a patent held by Mer­ck sub­sidiary Idenix Phar­ma­ceu­ti­cals. A fed­er­al court ruled in fa­vor of Mer­ck in 2016 and or­dered Gilead to pay $2.54 bil­lion in penal­ties.
But a fed­er­al judge threw out the ver­dict in 2018, de­ter­min­ing that the patent in ques­tion was in­valid. The US Court of Ap­peals for the Fed­er­al Cir­cuit up­held that rul­ing the next year, giv­ing Mer­ck one last chance to ap­peal to the Supreme Court. Their ef­forts came up short Tues­day.
So­fos­bu­vir, sold as So­val­di in the US, is used in com­bi­na­tion with rib­avirin ei­ther with or with­out in­jectable pegin­ter­fer­on al­fa to treat chron­ic he­pati­tis C in­fec­tion in pa­tients old­er than 3. — Max Gel­man
As­traZeneca, Dai­ichi's En­her­tu earns EU nod for HER2-pos­i­tive breast can­cer
A day af­ter earn­ing the FDA's trust for its ap­pli­ca­tion in stom­ach can­cer, As­traZeneca and Dai­ichi Sankyo's an­ti­body-drug con­ju­gate En­her­tu has snared an EU nod for metasta­t­ic breast can­cer.
The tar­get­ed pop­u­la­tion has been di­ag­nosed with tu­mors that ex­press the HER2 gene, En­her­tu's spe­cial­ty. The EMA based its re­view on da­ta from the piv­otal Phase II DES­TINY-Breast01 tri­al, in which En­her­tu post­ed an ob­jec­tive re­sponse rate of 61.4% at the 20.5-month fol­lowup mark, in­clud­ing a 6.5% com­plete re­sponse rate and a 54.9% par­tial re­sponse rate.
The drug al­so in­duced an es­ti­mat­ed me­di­an du­ra­tion of re­sponse of 20.8 months in pa­tients who had re­ceived at least two pre­vi­ous lines of ther­a­py.
Ear­li­er this week, En­her­tu scored an FDA nod in gas­tric can­cer to match its ear­li­er ap­proval in breast can­cer. That ap­proval made it the first ADC with the go-ahead to treat ad­vanced stom­ach can­cer, a dif­fi­cult-to-treat dis­ease with a poor prog­no­sis. — Kyle Blanken­ship