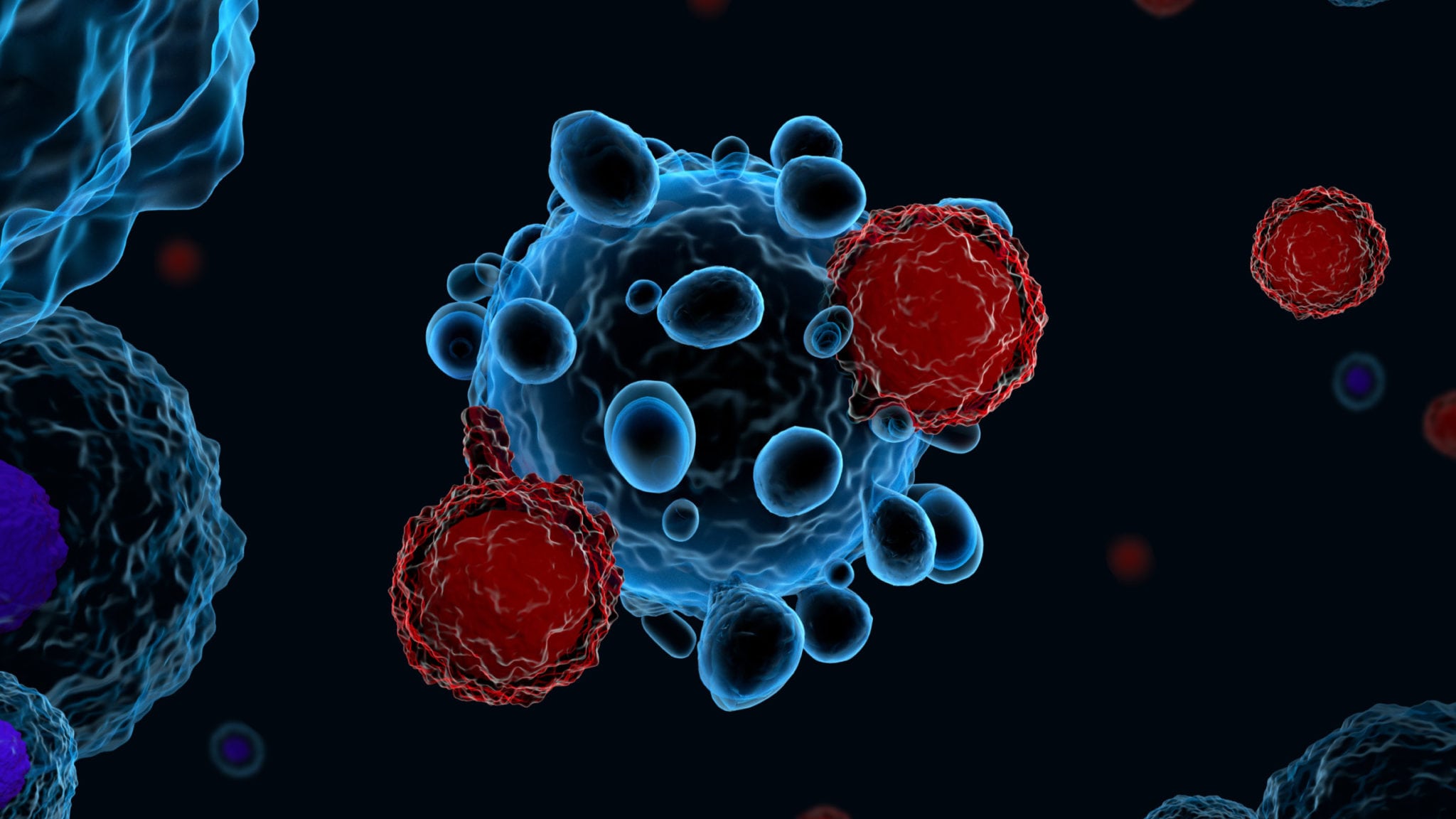 CAR-T illustration (Shutterstock)
Penn re­searchers find a way through the labyrinth keep­ing CAR-T from sol­id tu­mors
Blood ves­sels are sup­posed to act like trees, pump­ing in oxy­gen tis­sues need to grow and im­mune cells re­quired to clear out pathogens. But in tu­mors, the for­est can go a bit hay­wire. Ves­sels grow prodi­gious­ly and bulge and twist at abrupt points, mak­ing it dif­fi­cult to even tell what's a vein and what's an artery. It starts to look less like a for­est and more like a gnarled root floor. "A dis­or­ga­nized labyrinth," one on­col­o­gist has called it.
For can­cer, chaos is a virtue. That gnarled root floor in­su­lates sol­id tu­mors from im­mune cells and, in re­cent years, has flus­tered drug de­vel­op­ers' best at­tempts at de­vel­op­ing ther­a­pies meant to rev up the im­mune sys­tem and di­rect it to­ward the tu­mors.
Re­searchers at the Uni­ver­si­ty of Penn­syl­va­nia, how­ev­er, think they may have stum­bled on­to a so­lu­tion, a way of whip­ping the blood ves­sels back in­to prop­er shape. If it works, ex­perts say, it could pave the way for CAR-T treat­ments that at­tack sol­id tu­mors and po­ten­tial­ly im­prove the ef­fec­tive­ness for more tra­di­tion­al ap­proach­es, such as ra­di­a­tion and chemother­a­py.
Patrick Wen
"It's a re­al­ly nov­el and po­ten­tial­ly im­por­tant ap­proach," Patrick Wen, a neu­ro-on­col­o­gist at Dana-Far­ber who was not in­volved in the work, told End­points News. "They re­al­ly did good work. This is a very dif­fer­ent way of im­prov­ing im­munother­a­py."
Yi Fan, a ra­di­a­tion on­col­o­gist at Penn's School of Med­i­cine, has been work­ing for the last few years to un­der­stand why the labyrinth ap­pears in the first place. Re­searchers had pre­vi­ous­ly cir­cled in on the so-called growth fac­tors that stim­u­late blood ves­sel for­ma­tion. At­tempts to block these fac­tors, though, dis­ap­point­ed; Avastin, an an­ti­body against the fac­tor VEGF, be­came a block­buster but has con­tin­u­al­ly failed to im­prove sur­vival on a range of ma­lig­nan­cies.
Sci­en­tists would have to go more fun­da­men­tal. In a pair of 2018 pa­pers, Fan showed that part of the prob­lem is a process called "en­dothe­lial cell trans­for­ma­tion." Cells lin­ing the blood ves­sels around the tu­mor ac­quire stem cell-like prop­er­ties that al­low them to re­pro­duce and ex­pand rapid­ly, as stem cells do.
Yi Fan
"There's a ge­net­ic re­pro­gram­ming," Fan told End­points. "They'll be­come re­al­ly ag­gres­sive."
But how did that re­pro­gram­ming hap­pen? If Fan could pin down the path­way, he fig­ured he could then de­vise a way to block it. He start­ed knock­ing out ki­nas­es — the cel­lu­lar en­gines that can dri­ve epi­ge­net­ic change, or "re­pro­gram­ming" — one by one in en­dothe­lial cells iso­lat­ed from pa­tients with an ag­gres­sive brain can­cer called glioblas­toma. Out of 518, 35 pre­vent­ed trans­for­ma­tion and one did so par­tic­u­lar­ly well: PAK4.
Then they in­ject­ed tu­mors in­to mice, some who had PAK4 and some who had the ki­nase ge­net­i­cal­ly re­moved: Eighty per­cent of the mice who had PAK4 re­moved lived for 60 days, while all of the wild-type mice died with­in 40. Fan's team al­so showed that T cells in­fil­trat­ed the tu­mors more eas­i­ly in the PAK4-less mice.
It was a for­tu­itous find­ing: Drug com­pa­nies had de­vel­oped sev­er­al PAK in­hibitors a decade ago, when ki­nase in­hibitors were the flashiest thing in phar­ma. Many had been aban­doned, but Karyopharm had re­cent­ly brought a PAK4 block­er in­to Phase I.
To see whether drug de­vel­op­ers could ex­ploit this find­ing, Fan and his team re­moved T cells from mice and de­vel­oped a CAR-T ther­a­py to at­tack the tu­mors.
They gave mice three dif­fer­ent reg­i­mens. The CAR-T ther­a­py on its own failed to re­duce tu­mor size, ap­par­ent­ly un­able to reach through the ves­sels. The Karyopharm drug al­so had lit­tle ef­fect on its own. But com­bined, they man­aged to re­duce tu­mor size by 80% af­ter five days. They pub­lished the re­sults in Na­ture Can­cer this week.
"It is a re­al­ly eye-open­ing re­sult," Fan said. "I think we see some­thing re­al­ly dra­mat­ic."
That, of course, is just in mice, but Fan al­ready has strong sup­port­ing ev­i­dence for PAK4's role in can­cer. Last De­cem­ber, while Fan was still com­plet­ing his ex­per­i­ment, Na­ture Can­cer pub­lished a pa­per from An­toni Ribas' UCLA lab sug­gest­ing that PAK4 in­hibitors can help T cells in­fil­trate around var­i­ous sol­id tu­mors. They showed that the same Karyopharm in­hibitor could boost the ef­fects of PD-1 in­hibitors in mice, al­low­ing ac­ti­vat­ed T cells to bet­ter reach tu­mors.
That work has al­ready trans­lat­ed in­to the clin­ic; weeks af­ter it came out, Karyopharm added an arm to their Phase I study of the drug that will look at the PAK4 in­hibitor in com­bi­na­tion with the PD-1 block­er Op­di­vo.
Ribas said that Fan's work is com­pelling and helps con­firm the role of PAK4, but he said a CAR-T ther­a­py would face a much longer path to the clin­ic. It's sim­ply much eas­i­er to com­bine an ap­proved drug with an ex­per­i­men­tal one than to de­vise a new CAR-T ther­a­py, mix it with the un­ap­proved in­hibitor (and all the oth­er things, such as bone mar­row-clear­ing chemother­a­py, CAR-T re­cip­i­ents re­ceive) and then de­duce what ef­fect each is hav­ing.
"It will a take a while," Ribas told End­points. "But I hope this is right and it's de­vel­oped clin­i­cal­ly."
There are al­so oth­er un­re­solved ob­sta­cles for CAR-T in sol­id tu­mors, Wen said. De­vel­op­ers still strug­gle to find tar­gets that won't al­so send the su­per-charged T cells af­ter healthy tis­sue. And tan­gled blood ves­sels are just one of sev­er­al mech­a­nisms tu­mors have of de­fend­ing them­selves. They can, for ex­am­ple, turn tu­mor-eat­ing im­mune cells in­to tu­mor-de­fend­ing ones.
Still, Wen said, in the short term, the ap­proach of­fered a path to­ward boost­ing the ef­fi­ca­cy of ra­di­a­tion, chemother­a­py and oth­er small mol­e­cule drugs. Al­though Fan fo­cused on glioblas­toma, re­searchers agreed PAK4 like­ly plays the same ves­sel-warp­ing role in many oth­er sol­id tu­mors.
"There's a lot of things you could look at," he said.
In a Jan­u­ary re­view, Jes­si­ca Fessler and Thomas Gajew­s­ki at the Uni­ver­si­ty of Chica­go said Ribas' pa­per point­ed to­wards a path for im­prov­ing PD-1 and over­com­ing re­sis­tance in some tu­mors. But they al­so raised ques­tions about the Karyopharm drug, not­ing that it hits oth­er pro­teins be­sides PAK4. That could mean oth­er mech­a­nisms are al­so at play and that the drug could af­fect oth­er tis­sues in hu­mans.
Ribas agreed that Karyopharm's drug might not be the per­fect mol­e­cule but said oth­ers could be on their way. He serves as a sci­en­tif­ic ad­vi­sor to Ar­cus, the Ter­ry Rosen start­up that is now work­ing on de­vel­op­ing its own PAK4 in­hibitor.
"If they can de­vel­op a very se­lec­tive PAK4 in­hibitor," he said, "it may be a more di­rect way of test­ing the role of PAK4."
Tests with that drug, in turn, could help clear up a bi­o­log­i­cal mys­tery that emerged out of Fan's and Ribas' pa­pers. Al­though both in­ves­ti­ga­tors ze­roed in on PAK4, each of them sug­gest­ed very dif­fer­ent mech­a­nisms by which PAK4 kept im­mune cells out of the tu­mor. Ribas sug­gest­ed it di­rect­ly sup­press­es T cells, while Fan found it led to those trans­for­ma­tions in­side the blood ves­sels near the tu­mor.
Ki­nas­es are ver­sa­tile pro­teins and both re­searchers said it's pos­si­ble that PAK4 is do­ing both. It's al­so pos­si­ble, they said, that one is more im­por­tant than the oth­er, or sim­ply that one of them is just wrong.
"When you start with com­plete­ly new bi­ol­o­gy, it's hard to get it right the first time," Ribas said.