Pfiz­er biotech spin­out nabs $125M megaround as Bain-backed syn­di­cate bets on its late-stage game plan
Spring­Works Ther­a­peu­tics launched in the fall of 2017 with a whop­ping $103 mil­lion round and some well-de­vel­oped Pfiz­er as­sets that the com­pa­ny had high hopes for. And now Bain, Pfiz­er and the rest of the found­ing in­vestors have joined hands with an even big­ger group of in­vestors led by Per­cep­tive to bankroll a pair of late-stage stud­ies ready to be­gin in a mat­ter of weeks.
The Se­ries B weighs in at a heavy­weight $125 mil­lion, bring­ing their to­tal raise to $228 mil­lion, with ac­cess to more if need­ed.
The fo­cus of this lat­est megaround is cen­tered on two drugs that are be­ing re­pur­posed for rare dis­eases: nirogace­s­tat, a gam­ma sec­re­tase in­hibitor for the treat­ment of desmoid tu­mors (rare soft tis­sue tu­mors), and PD-0325901, a MEK in­hibitor for the treat­ment of neu­rofi­bro­mato­sis type 1-as­so­ci­at­ed plex­i­form neu­rofi­bro­mas.
Both of these tar­gets are well de­fined, with mul­ti­ple tri­als for re­lat­ed drugs over the past decade or more. The gam­ma sec­re­tase in­hibitor was born in the Alzheimer's field, where Eli Lil­ly ex­pe­ri­enced a colos­sal dis­as­ter years ago. That MEK in­hibitor, Spring­Works ex­ecs say, al­so has po­ten­tial to make good as a back­bone com­bi­na­tion drug in on­col­o­gy, fol­low­ing oth­er ap­proved ther­a­pies.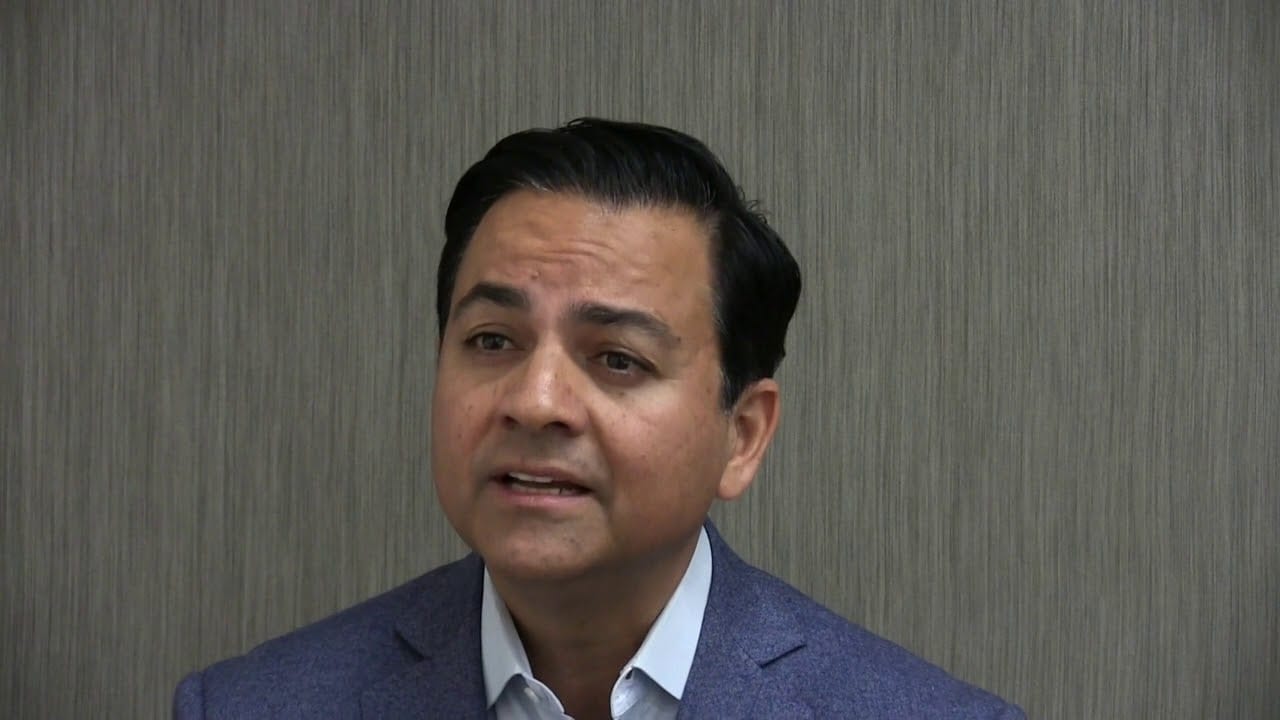 Im­age: Saqib Is­lam. CHECK­RARE via YOUTUBE
The big fi­nanc­ing takes the com­pa­ny all the way through the two late-stage stud­ies, says CEO Saqib Is­lam, with a clas­sic cross­roads that could ar­rive in H2 of next year if they do an in­ter­im analy­sis and if it's pos­i­tive, set­ting up a pos­si­ble FDA ap­pli­ca­tion. The gam­ma sec­re­tase study should read out in ear­ly 2021.
The com­pa­ny, which now has 41 staffers head­ed to about 70 at the end of the year, says the CEO, has the ca­pac­i­ty to go the dis­tance by it­self in rare dis­eases. And as a vet of Alex­ion, Is­lam — who more re­cent­ly did deals for Mod­er­na — says they are ready to do what's nec­es­sary to launch com­mer­cial op­er­a­tions. Larg­er in­di­ca­tions could be cov­ered with part­ner­ships, and he point­ed to a tie-up they have with BeiGene, com­bin­ing their RAF dimer in­hibitor li­fi­rafenib (BGB-283) with the MEK.
More deals are clear­ly in the works, he adds, which could trig­ger a faster ex­pan­sion of the staff and ca­pa­bil­i­ties at Spring­Works, which has the re­search team in RTP and the cor­po­rate staff now head­quar­tered in Stam­ford, CT.
I asked Is­lam the ob­vi­ous ques­tion: With a syn­di­cate this size with these play­ers, and plans to push through piv­otal tri­als, an IPO would seem to be in the cards as long as the mar­ket holds up. He laughed a lit­tle and lim­it­ed him­self to the stan­dard re­frain: All fi­nanc­ing op­por­tu­ni­ties are un­der re­view.
Pfiz­er has helped craft sev­er­al new com­pa­nies like this re­cent­ly. There's Bain-backed Cerev­el as well as Al­lo­gene from Arie Bellde­grun and David Chang. In every case, Pfiz­er ex­ecs of­floaded as­sets they no longer want­ed in the pipeline, but which they felt had re­al com­mer­cial prospects in the right hands. Is­lam al­so not­ed that they are in­clud­ed in Pfiz­er's port­fo­lio re­view process, which could al­so trig­ger more deals down the road as Pfiz­er con­tin­ues to shed projects.
Per­cep­tive Ad­vi­sors led the show for the Se­ries B. New in­vestors par­tic­i­pat­ing in this fi­nanc­ing in­clude Box­er Cap­i­tal of Tavi­s­tock Group, HBM Health­care In­vest­ments, BVF Part­ners, Sur­vey­or Cap­i­tal, Sam­sara Bio­Cap­i­tal, Ar­row­Mark Part­ners, Glax­o­SmithK­line, and Lau­ri­on Cap­i­tal Man­age­ment, as well as "sev­er­al oth­er long-term in­sti­tu­tion­al in­vestors." All of the com­pa­ny's ex­ist­ing in­vestors – Or­biMed, Bain Cap­i­tal, Pfiz­er, via Pfiz­er Ven­tures, and LifeArc – al­so par­tic­i­pat­ed.
It's cu­ri­ous to see GSK in­clud­ed here as a di­rect in­vestor. In re­cent months its cor­po­rate ven­ture arm SR One has been ne­go­ti­at­ing to spin out from un­der the phar­ma gi­ant, which is more in­ter­est­ed in us­ing all of its cash in di­rect line with the R&D game plan set by Hal Bar­ron.
Is­lam said he could of­fer on­ly lim­it­ed in­sight in­to GSK's cor­po­rate in­volve­ment, but added that "they could be a fab­u­lous part­ner for a cou­ple of things down the road."