SpringWorks Therapeutics launched in the fall of 2017 with a whopping $103 million round and some well-developed Pfizer assets that the company had high hopes for. And now Bain, Pfizer and the rest of the founding investors have joined hands with an even bigger group of investors led by Perceptive to bankroll a pair of late-stage studies ready to begin in a matter of weeks.
The Series B weighs in at a heavyweight $125 million, bringing their total raise to $228 million, with access to more if needed.
The focus of this latest megaround is centered on two drugs that are being repurposed for rare diseases: nirogacestat, a gamma secretase inhibitor for the treatment of desmoid tumors (rare soft tissue tumors), and PD-0325901, a MEK inhibitor for the treatment of neurofibromatosis type 1-associated plexiform neurofibromas. 
Both of these targets are well defined, with multiple trials for related drugs over the past decade or more. The gamma secretase inhibitor was born in the Alzheimer's field, where Eli Lilly experienced a colossal disaster years ago. That MEK inhibitor, SpringWorks execs say, also has potential to make good as a backbone combination drug in oncology, following other approved therapies.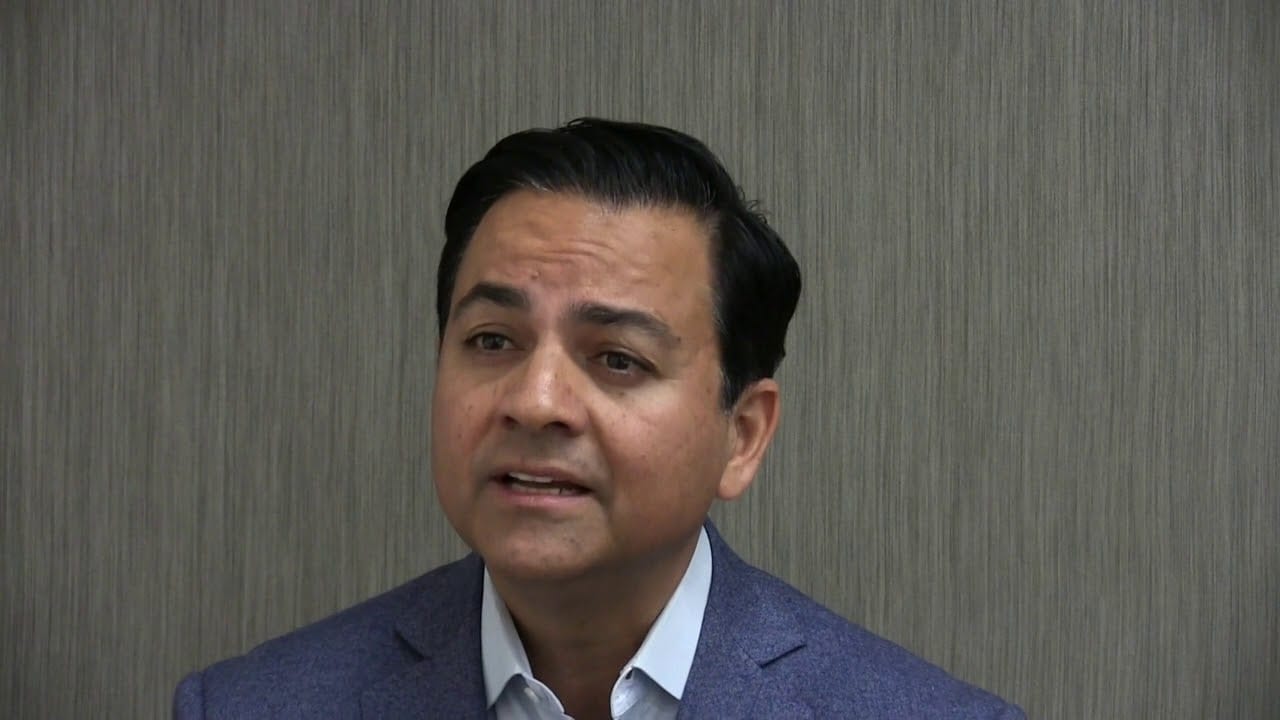 Image: Saqib Islam. CHECKRARE via YOUTUBE
The big financing takes the company all the way through the two late-stage studies, says CEO Saqib Islam, with a classic crossroads that could arrive in H2 of next year if they do an interim analysis and if it's positive, setting up a possible FDA application. The gamma secretase study should read out in early 2021.
The company, which now has 41 staffers headed to about 70 at the end of the year, says the CEO, has the capacity to go the distance by itself in rare diseases. And as a vet of Alexion, Islam — who more recently did deals for Moderna — says they are ready to do what's necessary to launch commercial operations. Larger indications could be covered with partnerships, and he pointed to a tie-up they have with BeiGene, combining their RAF dimer inhibitor lifirafenib (BGB-283) with the MEK.
More deals are clearly in the works, he adds, which could trigger a faster expansion of the staff and capabilities at SpringWorks, which has the research team in RTP and the corporate staff now headquartered in Stamford, CT.
I asked Islam the obvious question: With a syndicate this size with these players, and plans to push through pivotal trials, an IPO would seem to be in the cards as long as the market holds up. He laughed a little and limited himself to the standard refrain: All financing opportunities are under review.
Pfizer has helped craft several new companies like this recently. There's Bain-backed Cerevel as well as Allogene from Arie Belldegrun and David Chang. In every case, Pfizer execs offloaded assets they no longer wanted in the pipeline, but which they felt had real commercial prospects in the right hands. Islam also noted that they are included in Pfizer's portfolio review process, which could also trigger more deals down the road as Pfizer continues to shed projects.
Perceptive Advisors led the show for the Series B. New investors participating in this financing include Boxer Capital of Tavistock Group, HBM Healthcare Investments, BVF Partners, Surveyor Capital, Samsara BioCapital, ArrowMark Partners, GlaxoSmithKline, and Laurion Capital Management, as well as "several other long-term institutional investors." All of the company's existing investors – OrbiMed, Bain Capital, Pfizer, via Pfizer Ventures, and LifeArc – also participated.
It's curious to see GSK included here as a direct investor. In recent months its corporate venture arm SR One has been negotiating to spin out from under the pharma giant, which is more interested in using all of its cash in direct line with the R&D game plan set by Hal Barron.
Islam said he could offer only limited insight into GSK's corporate involvement, but added that "they could be a fabulous partner for a couple of things down the road."
---
The best place to read
Endpoints News

? In your inbox.

Comprehensive daily news report for those who discover, develop, and market drugs. Join 47,800+ biopharma pros who read Endpoints News by email every day.

Free Subscription
---
---
---