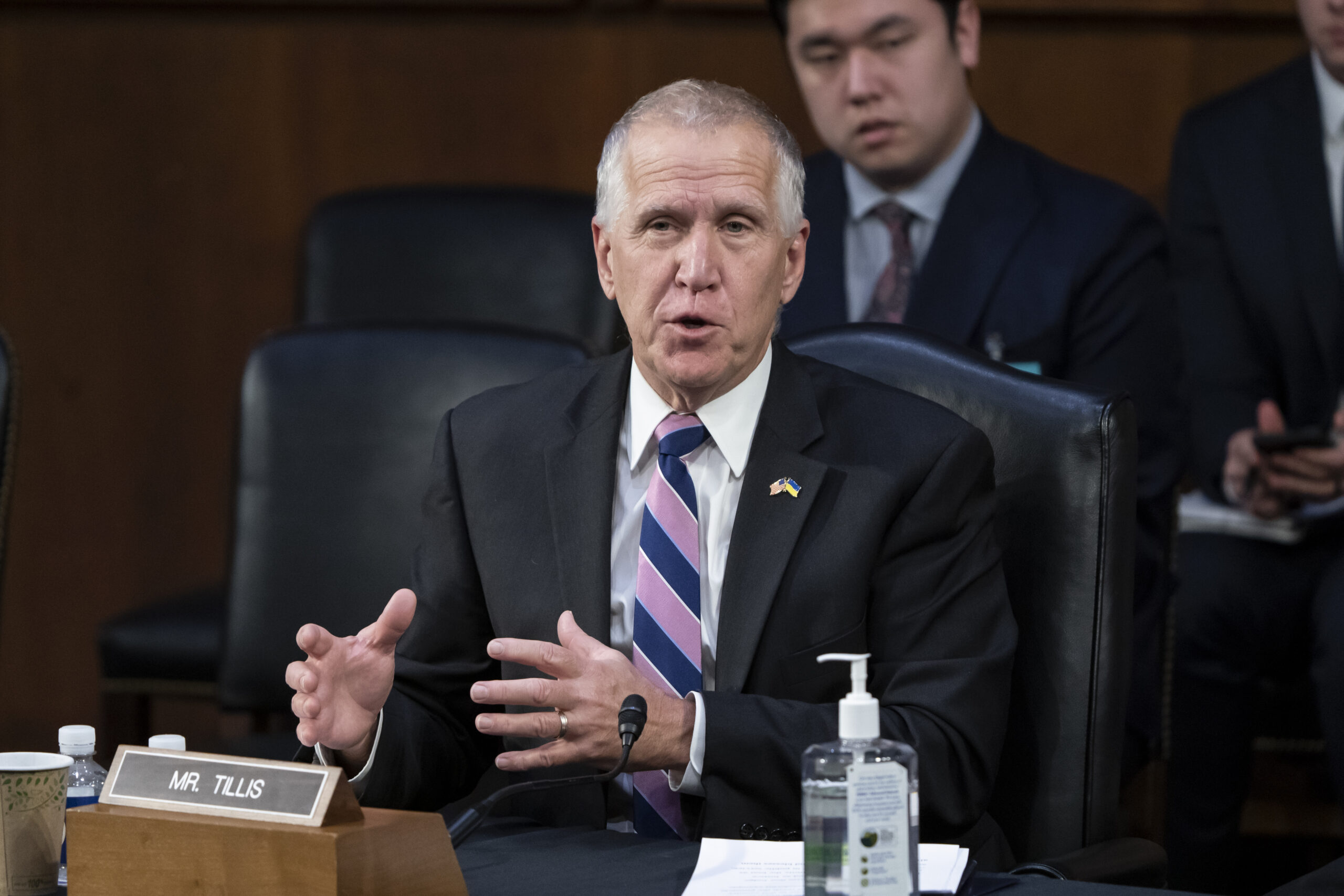 Sen. Thom Tillis (R-NC) (J. Scott Applewhite/AP Images)
Phar­ma-friend­ly sen­a­tor calls on FDA for a third time to show patent pro­tec­tions should­n't be blamed for high drug prices
North Car­oli­na Re­pub­li­can Sen. Thom Tillis made a name for him­self in the 2020 elec­tion cy­cle as the dar­ling of the phar­ma in­dus­try, ac­cept­ing hun­dreds of thou­sands in cam­paign con­tri­bu­tions, even from the likes of Pfiz­er CEO Al­bert Bourla.
Those con­tri­bu­tions have led Tillis to at­tempt to re-write patent laws in phar­ma's fa­vor, a move which failed to gain steam in 2019, and re­quest for a third time since Jan­u­ary that the FDA should help stop "the false nar­ra­tive that patent pro­tec­tions are to blame for high drug prices."
In a let­ter dat­ed Wednes­day, Tillis told FDA com­mis­sion­er Rob Califf that the FDA should con­duct "an in­de­pen­dent as­sess­ment and study" on the con­nec­tion be­tween patents and high drug prices. Pre­vi­ous­ly, Tillis wrote to lament the work of the Ini­tia­tive for Med­i­cines, Ac­cess & Knowl­edge (I-MAK), which has claimed that bio­phar­ma­ceu­ti­cals "are of­ten pro­tect­ed by dozens or hun­dreds of patents each, with an al­leged ef­fect of block­ing gener­ic com­pe­ti­tion for 30 to 50 years or longer per drug."
In­deed, drugs like Ab­b­Vie's Hu­mi­ra and Am­gen's En­brel have used fortress­es of patents to pro­tect their block­busters from com­pe­ti­tion for decades.
The FDA, ac­cord­ing to Tillis, has nev­er re­spond­ed to any of his re­quests.
Tahir Amin, co-founder of I-MAK, told End­points News that he re­spond­ed to Tillis in March, adding via email:
This is an un­for­tu­nate dis­trac­tion from the great work done by the House Over­sight Com­mit­tee cul­mi­nat­ing in the Ma­jor­i­ty Staff Re­port at the end of last year in­ves­ti­gat­ing ris­ing phar­ma­ceu­ti­cal drug prices com­pa­nies and the link to patent­ing prac­tices. It would be in the greater in­ter­est of Amer­i­cans who are strug­gling to pay for their med­i­cines if the Sen­ate would be ask­ing these ques­tions and de­mand­ing more trans­paren­cy and da­ta from the phar­ma­ceu­ti­cal com­pa­nies.