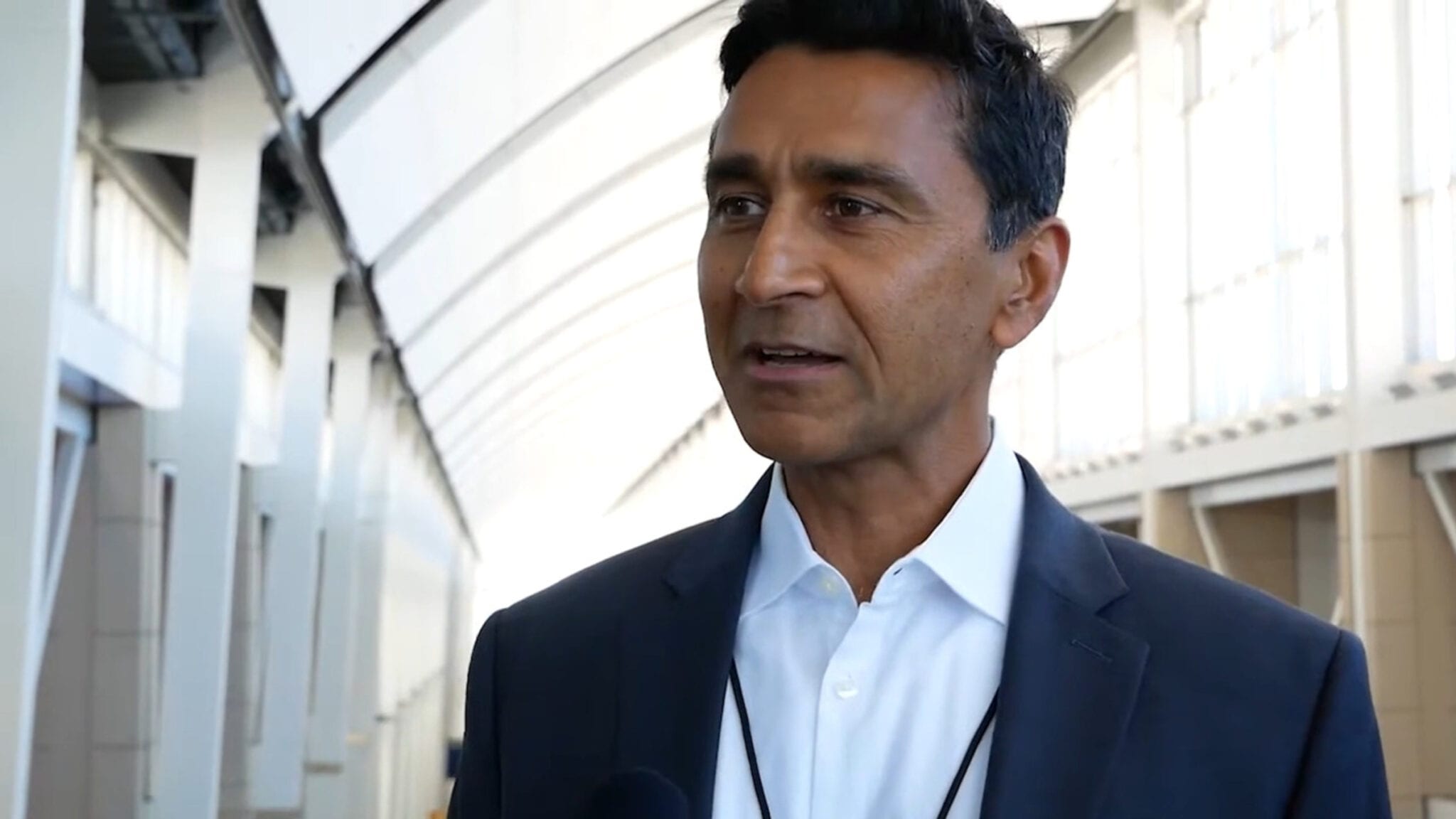 Neil Desai, Aadi Bioscience CEO (via YouTube)
Pre­ci­sion on­col­o­gy biotech agrees to $72M cash in­fu­sion as it seeks to in­crease rev­enue
Al­most a year af­ter the FDA gave the green light to LA-based Aa­di Bio­science's first drug, the biotech is look­ing to pri­vate in­vestors to keep it­self go­ing.
The on­col­o­gy play­er an­nounced Thurs­day that it has en­gaged with both new and ex­ist­ing in­vestors in a PIPE fi­nanc­ing — sell­ing 3.3 mil­lion shares at $12.50 a share, the biotech's clos­ing price at Nas­daq on Wednes­day. The com­pa­ny is al­so sell­ing off pre-fund­ed war­rants to pur­chase over 2.4 mil­lion more shares at $12.4999 per pre-fund­ed war­rant.
Aa­di said in a state­ment that it ex­pects to raise $72.5 mil­lion over­all be­fore any ex­pens­es, with the fi­nanc­ing ex­pect­ed to close Mon­day.
The biotech added it would use the funds to ad­vance its Phase II reg­is­tra­tional tri­al, called PRE­CI­SION 1, study­ing a mol­e­cule tar­get­ing sol­id tu­mors in pa­tients with spe­cif­ic mu­ta­tions of genes TSC1 and TSC2. A pre­lim­i­nary read­out is ex­pect­ed some­time in H1 next year. On top of that, the biotech plans to use some of the funds to ex­pand com­mer­cial ef­forts for its one ap­proved drug, brand­ed as Fyarro and in­di­cat­ed for a rare and ag­gres­sive type of sar­co­ma, and in­crease R&D fund­ing.
The fi­nanc­ing, ac­cord­ing to Aa­di, was led by an un­named, "life sci­ences-fo­cused in­vest­ment fund" — along with ex­ist­ing in­vestors such as Avoro Cap­i­tal, Acorn Cap­i­tal Ad­vi­sors, Alerce Med­ical Tech­nol­o­gy Part­ners, Acu­ta Cap­i­tal Part­ners and KVP Cap­i­tal.
An SEC fil­ing not­ed that cer­tain undis­closed "ex­ec­u­tive of­fi­cers and se­nior man­age­ment of the Com­pa­ny" al­so joined in on the place­ment, pur­chas­ing around $750,000 in se­cu­ri­ties be­tween the ex­ecs. Aa­di's board of di­rec­tors and its au­dit com­mit­tee were said to be made aware of the pur­chas­es by the ex­ecs, which the SEC fil­ing said was ap­proved by both the board and au­dit com­mit­tee.
"We are ex­treme­ly pleased to have the sup­port of this in­vestor group," said Aa­di founder and CEO Neil De­sai in a state­ment. The chief ex­ec­u­tive not­ed that the funds push out Aa­di's cash run­way a year more in­to 2025.
Per SEC doc­u­men­ta­tion, Aa­di's Q2 re­sults said that the biotech had about $118.7 mil­lion in cash and cash equiv­a­lents at the end of the quar­ter, down from $149.0 mil­lion as of Dec. 31, 2021. At the time of the Q2 re­port, that cash was ex­pect­ed to be enough to keep Aa­di go­ing in­to 2024. Q2 rev­enue was just $3.4 mil­lion — on­ly from Fyarro sales, and Aa­di record­ed a net loss of $18.3 mil­lion.
Shares of $AA­DI went up 3% af­ter the mar­ket opened Fri­day morn­ing. Aa­di did not re­spond to queries from End­points News be­fore press time.
The FDA ap­proved Aa­di's first drug last year, specif­i­cal­ly for pa­tients with a very rare and ag­gres­sive form of sar­co­ma that oc­curs most­ly in women. Priced at a WAC of around $468,000 a year, Fyarro was in­di­cat­ed for those with lo­cal­ly ad­vanced un­re­sectable or metasta­t­ic ma­lig­nant perivas­cu­lar ep­ithe­lioid cell tu­mor (PECo­ma).