Pre­clin­i­cal study finds Gen­mab may hold the key to a next-gen triple fol­lowup to MEK/BRAF com­bos
A Gen­mab-spon­sored study touts pre­clin­i­cal ev­i­dence that one of its tar­get­ed an­ti­body-drug con­ju­gates can be ef­fec­tive against a spe­cif­ic type of melanoma where ex­ist­ing treat­ment is fail­ing, point­ing to a po­ten­tial new triple com­bi­na­tion strat­e­gy.
The BRAF gene is a well-stud­ied path­way in melanoma, as a mu­ta­tion in it caus­es tu­mor cells to pro­lif­er­ate. Tai­lored treat­ments com­bin­ing BRAF- and MEK-in­hibitors, the cur­rent stan­dard, are of­ten ef­fec­tive (Genen­tech has a com­bo in the mar­ket, while No­var­tis is hus­tling ahead with piv­otal stud­ies for its com­bo of Tafin­lar and Mekin­ist). How­ev­er, as the pa­per pub­lished to­day by Nether­lands Can­cer In­sti­tute (NKI) in Na­ture Med­i­cine points out, many tu­mors de­vel­op re­sis­tance to them.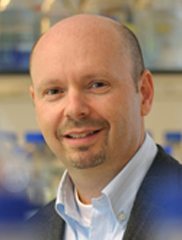 Daniel Peep­er
In their pre­vi­ous work, the NKI re­searchers — led by Daniel Peep­er — have dis­cov­ered these re­sis­tant melanomas start pro­duc­ing an­oth­er pro­tein called AXL. The fact that this pro­tein of­ten sits on the out­side of a tu­mor cell makes them prime tar­gets for the next gen­er­a­tion of melanoma drugs.
That's where Gen­mab's AXL-tar­get­ing an­ti­body-drug con­ju­gate comes in. De­vel­oped with an ADC tech­nol­o­gy plat­form li­censed from Seat­tle Ge­net­ics, Hu­Max-AXL-ADC binds to and kills tu­mor cells ex­press­ing the AXL pro­tein. The Dan­ish an­ti­body gi­ant is cur­rent­ly test­ing it in mul­ti­ple can­cer in­di­ca­tions in the clin­ic.
In melanoma, Peep­er's team found that ap­ply­ing this ADC in mice "ef­fec­tive­ly elim­i­nat­ed" AXL-high tu­mors.
The take­away here isn't sim­ply that the AXL drug could be an al­ter­na­tive to the BRAF/MEK com­bo. The re­searchers are ar­gu­ing that it is best used in com­bi­na­tion with those in­hibitors.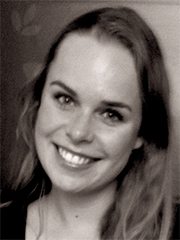 Ju­lia Boshuizen
A grad­u­ate stu­dent in the group ob­served that most tu­mors still con­tained con­sid­er­able num­bers of cells with lit­tle or no AXL (not a big sur­prise; tu­mors are of­ten made of groups of can­cer cells with dif­fer­en­tial drug sen­si­tiv­i­ties). On the oth­er hand, BRAF/MEK-in­hibitors stim­u­lat­ed the pro­duc­tion of AXL in tu­mor cells.
"The break­through here is that we demon­strate that while melanomas that progress on treat­ment sharply ac­cu­mu­late AXL+ cells, most if not all re­sis­tant melanomas re­main high­ly het­ero­ge­neous," Peep­er told End­points.
The stu­dent, Ju­lia Boshuizen, com­pared the tu­mor to a buck­et of mar­bles where yel­low ones have lit­tle AXL and are sen­si­tive to BRAF- and MEK-in­hibitors, while red mar­bles ex­press lots of AXL and don't re­spond to BRAF/MEK treat­ment.
"If you wipe out the yel­low mar­bles on­ly, the red ones re­main, and vice ver­sa," she said. "So, to get rid of both col­ors, we thought it may be a good strat­e­gy to com­bine BRAF/MEK-in­hibitors with Hu­Max-AXL-ADC."
If this mar­ble ap­proach goes through to the clin­ic, ac­cord­ing to the re­searchers, it could sig­nal the next step for per­son­al­ized can­cer med­i­cine.