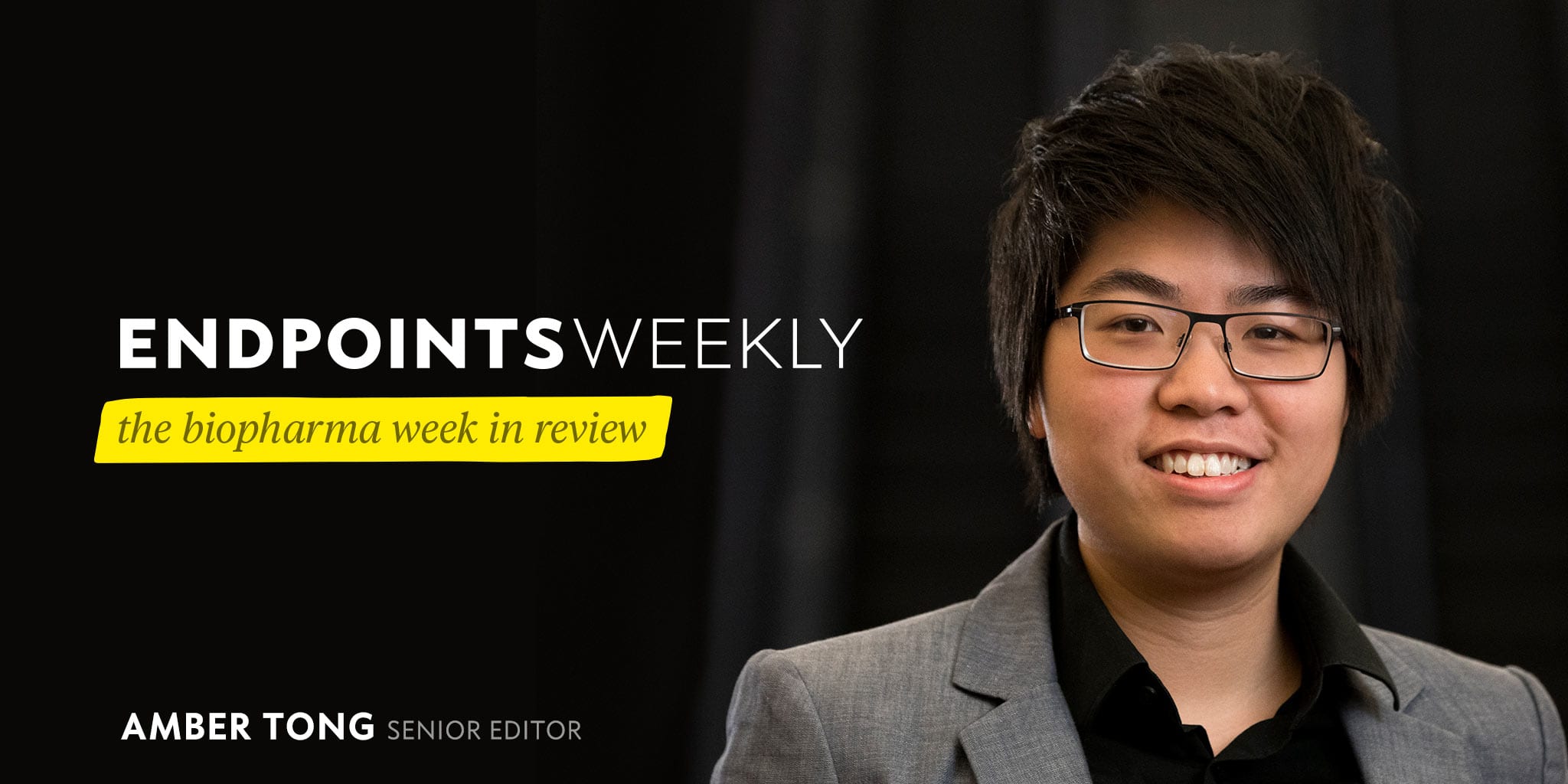 Pre­view­ing bio­phar­ma trends ahead of #BIO22; Look­ing back at #AS­CO22; Smooth flight for blue­bird?; and more
Wel­come back to End­points Week­ly, your re­view of the week's top bio­phar­ma head­lines. Want this in your in­box every Sat­ur­day morn­ing? Cur­rent End­points read­ers can vis­it their read­er pro­file to add End­points Week­ly. New to End­points? Sign up here.
With AS­CO be­hind us and BIO just ahead, we're feel­ing the heat of the biotech sum­mer. Many of my col­leagues will be in San Diego next week. Safe trav­els to every­one mak­ing the trip there.
#BIO22 spe­cial
End­points News will be host­ing our first in-per­son events at BIO in two years, and we have a full slate of pan­els lined up to dis­cuss bio­phar­ma at the cross­roads. Set­ting the stage, End­points founder John Car­roll chat­ted with BIO chair Paul Hast­ings, polled the E100 group of biotech CEOs for their sen­ti­ments as well as views on hot but­ton is­sues, and asked Deal­For­ma chief Chris Doko­ma­ji­lar to crunch the num­bers a lit­tle bit ear­ly on H1 for a look at the trends in play. The spe­cial pre­view al­so fea­tures a look in­to M&A for the sec­ond half of the year, ac­cord­ing to sea­soned play­ers, and per­spec­tives from re­al es­tate de­vel­op­ers. Here's the full line­up with more de­tails.
#AS­CO22: View from the ground
Over the past week­end, tens of thou­sands of physi­cians, clin­i­cal tri­al in­ves­ti­ga­tors, aca­d­e­mics, R&D sci­en­tists and bio­phar­ma lead­ers de­scend­ed up­on Chica­go for the first in-per­son AS­CO meet­ing since the pan­dem­ic on­set. And as Kyle LaHu­cik ob­served on the side­lines of the con­fer­ence, even as a suite of promi­nent drugs swept the head­lines with da­ta up­dates, min­gling face-to-face stole the spot­light as ex­ecs re­unit­ed with "50,000 of (their) clos­est friends." Check out our full cov­er­age here.
Smooth flight for blue­bird?
Ahead of what may be make-or-break meet­ings for blue­bird bio, the FDA re­leased brief­ing doc­u­ments on two of its gene ther­a­pies sig­nal­ing a like­ly green light for one to treat a rare blood dis­or­der and ques­tions for the oth­er — an ex­per­i­men­tal treat­ment for cere­bral adrenoleukody­s­tro­phy — due to un­cer­tain­ty in both ben­e­fit and risk. Sur­pris­ing­ly, though, the ad­comm gave a big thumbs up to both the CALD and be­ta-tha­lassemia ther­a­pies de­spite those con­cerns.
ARCH's man­u­fac­tur­ing play racks up cash, part­ners
Re­silience, the CD­MO with am­bi­tions to be­come the Fox­conn of bio­man­u­fac­tur­ing, had quite the week. It got a boost in the form of a $625 mil­lion Se­ries D, which will be used to con­tin­ue in­vest­ing in its in­fra­struc­ture through more deals, po­ten­tial ac­qui­si­tions and R&D ex­pan­sion so that it can do it all — and be ready for any­thing. Then it cracked open two part­ner­ships, first with the Uni­ver­si­ty of Texas MD An­der­son Can­cer Cen­ter then with the Park­er In­sti­tute for Can­cer Im­munother­a­py, around cell and gene ther­a­pies for can­cer.
---
PRE­MI­UM
GV plucks up No­var­tis vet for lat­est en­tre­pre­neur-in-res­i­dence
David Schenkein has added a new mem­ber to GV's still quite ex­clu­sive club of biotech CEOs-in-wait­ing. And this time the Google Ven­tures play­er is turn­ing to some­one he'd worked with for years at Agios, the com­pa­ny he built from a white sheet of pa­per. Schenkein re­cruit­ed Kevin Marks out of NI­BR, where he's been work­ing as head of the on­col­o­gy dis­cov­ery group, a move that he says rep­re­sents the "growth mode" at GV life sci­ences. While he's not rush­ing to join a start­up, Marks not­ed drug re­sis­tance is a key are­na he's fo­cused on.
---
#AS­CO22
---
PHAR­MA
---
R&D
---
PEO­PLE
---
DEALS
Beef­ing up its neu­ro pipeline in the shad­ow of Aduhelm, Bio­gen struck a deal with Cana­di­an biotech Alec­tos Ther­a­peu­tics to de­vel­op a drug aimed at restor­ing lyso­some func­tion, adding an­oth­er can­di­date to its Parkin­son's ef­forts. The deal, which cen­ters around GBA2, in­volves $15 mil­lion up­front and hun­dreds of mil­lions more in po­ten­tial mile­stones.
Suf­fer­ing biotech Yu­man­i­ty has found that "strate­gic al­ter­na­tive" it start­ed search­ing for ear­ly this year as its share price shriv­eled, forc­ing deep staff cuts. It will sell off most of its pipeline — in­clud­ing a Phase I Parkin­son's drug and dis­cov­ery-stage neu­ro­science can­di­dates — to J&J for $26 mil­lion in cash. As for the rest of the com­pa­ny, it's re­verse merg­ing with the pri­vate biotech Kine­ta, which will wind up with the pub­lic list­ing and one Mer­ck-part­nered pro­gram.
---
AI
For Alex Zha­voronkov, the re­cent biotech mar­ket down­turn is, in fact, a good thing be­cause it's crys­tal­iz­ing the win­ners in the AI drug dis­cov­ery world — his com­pa­ny, In­sil­i­co, be­ing one of them in his view. Proud as ever about the $60 mil­lion round he just raised, the CEO is adding ro­bot­ic labs to his vi­sion for the fu­ture of how drugs are made.
Sev­er­al months af­ter ty­ing the bow with Sanofi, French-US AI play­er Owkin an­nounced its next deal with Big Phar­ma, col­lab­o­rat­ing with Bris­tol My­ers Squibb in car­dio­vas­cu­lar dis­ease and us­ing its fed­er­at­ed learn­ing plat­form to im­prove the phar­ma's clin­i­cal tri­al op­ti­miza­tion and de­sign. It's grab­bing $80 mil­lion to kick things off, mon­ey that will be chan­neled in­to da­ta gen­er­a­tion.
Hav­ing been in­volved in a num­ber of at­tri­tion task force ef­forts dur­ing his tenure as Eu­ro­pean R&D chief at Pfiz­er, David Rob­lin reck­ons there's a dif­fer­ent way to go through the R&D process — with ma­chine learn­ing and new tech­nolo­gies like sin­gle-cell tran­scrip­tomics. That's why he's jump­ing on as CEO of Re­la­tion Ther­a­peu­tics, which closed a $25 mil­lion seed round to build a "sec­ond to none" plat­form of in­te­gra­tion.
---
CELL & GENE TX
---
STAR­TUPS
---
FI­NANC­ING
---
CORO­N­AVIRUS
---
LAW
With­out ad­mit­ting to any wrong­do­ing, Bris­tol My­ers Squibb agreed to pay al­most $11 mil­lion to set­tle al­le­ga­tions filed in a Cal­i­for­nia dis­trict court that it took part in an un­law­ful scheme with oth­er phar­ma com­pa­nies like Gilead and Janssen to pro­tect their HIV drug prof­its while slow­ing gener­ic com­pe­ti­tion.
No­vo Nordisk is in fed­er­al court, thanks to the Equal Em­ploy­ment Op­por­tu­ni­ty Com­mis­sion. 62-year-old Deb­o­rah Hunter, an obe­si­ty care spe­cial­ist em­ployed at the phar­ma, ac­cused No­vo of age dis­crim­i­na­tion when she orig­i­nal­ly got passed over for a lat­er­al trans­fer in 2018. While No­vo Nordisk found that a man­ag­er vi­o­lat­ed com­pa­ny pol­i­cy, Hunter was nev­er of­fered the trans­fer.
Three Re­pub­li­can and three De­mo­c­rat sen­a­tors called on the US Patent and Trade­mark Of­fice to at­tack phar­ma patent thick­ets be­fore they start. The let­ter points to these patent thick­ets, Specif­i­cal­ly, the law­mak­ers ask that the PTO con­sid­er changes to its reg­u­la­tions and prac­tices "to ad­dress these prob­lems where they start, dur­ing ex­am­i­na­tion" in the pre-is­suance stage.
---
MAR­KET­INGRX
---
FDA+
The House over­whelm­ing­ly passed a pack­age of leg­is­la­tion that will reau­tho­rize FDA user fee pro­grams — fund­ing agency re­views of drugs, med­ical de­vices, gener­ics and biosim­i­lars — as well as oth­er at­tached re­forms, set­ting up what is ex­pect­ed to be some heavy ne­go­ti­at­ing with the Sen­ate as the two sides have sev­er­al ma­jor dif­fer­ences.
It's been al­most 10 months since the FDA grant­ed Co­vis Phar­ma a hear­ing to re­view its con­tro­ver­sial preterm birth drug Mak­e­na, which won an ac­cel­er­at­ed ap­proval but failed its con­fir­ma­to­ry tri­al, and still the com­pa­ny and FDA are wran­gling over the de­tails of that hear­ing. In a new let­ter, Co­vis lawyers are now ob­ject­ing to the in­clu­sion of an un­fa­vor­able study.
The EMA re­leased a new list of crit­i­cal med­i­cines to bat­tle the on­go­ing pan­dem­ic, which will put the mar­ket au­tho­riza­tion hold­ers for these Covid-19 vac­cines and drugs on the hook for reg­u­lar­ly up­dat­ing the EMA with da­ta on po­ten­tial or ac­tu­al short­ages and avail­able stocks, fore­casts of sup­ply and de­mand. Mem­ber states will al­so have to pro­vide reg­u­lar re­ports on es­ti­mat­ed de­mand on a na­tion­al lev­el.
Mis­souri-based Nos­trum Phar­ma­ceu­ti­cals, once at the cen­ter of a Shkre­li-es­que gener­ic drug pric­ing scan­dal, just lost its chance to chal­lenge the FDA's com­plete re­sponse let­ter for its asth­ma drug as a court ruled that CRLs aren't tech­ni­cal­ly fi­nal re­jec­tions, cre­at­ing a "statu­to­ry bar­ri­er" to hear­ing Nos­trum's pe­ti­tion.
---
MAN­U­FAC­TUR­ING
---
DON'T MISS