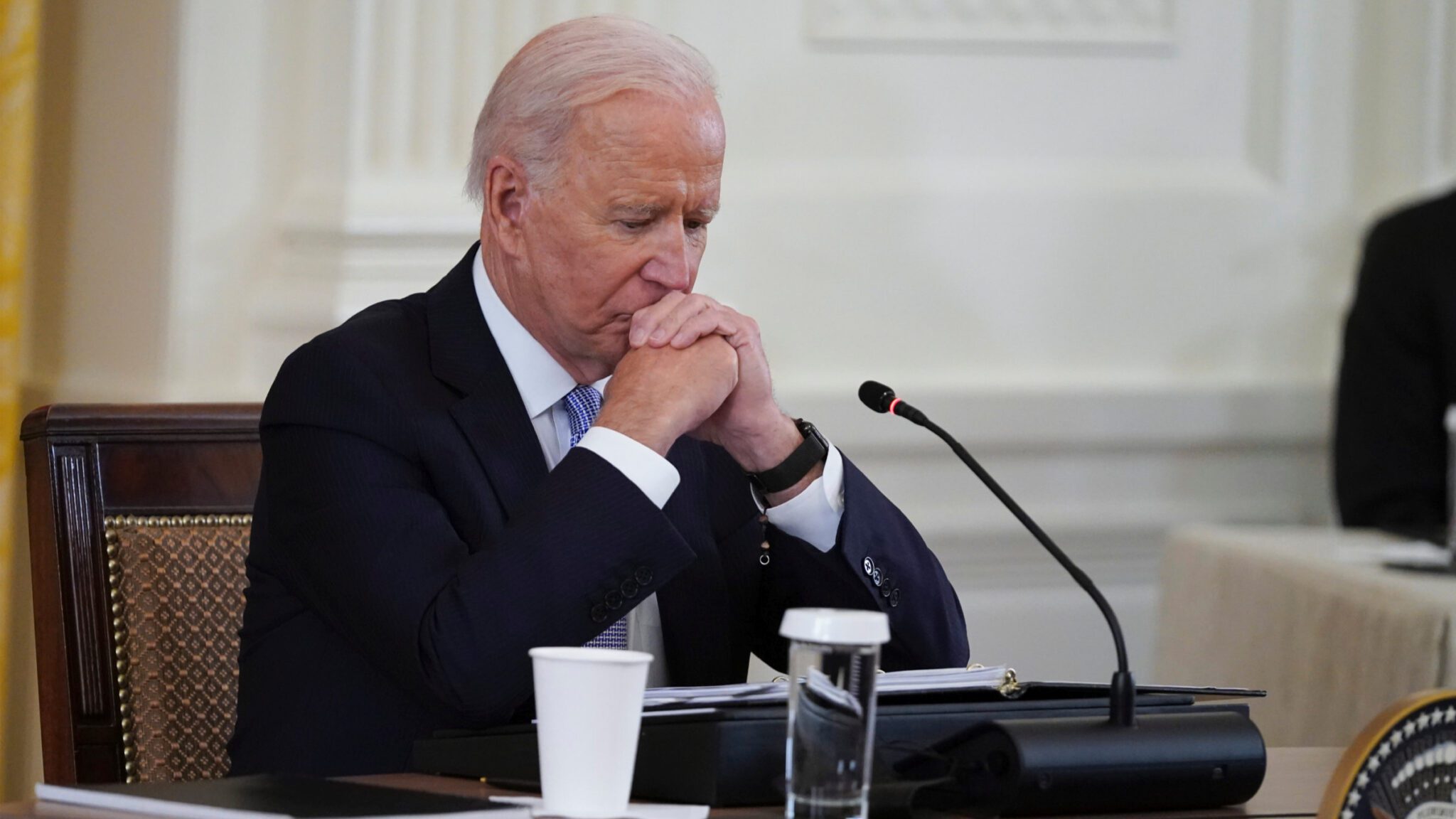 President Joe Biden (Evan Vucci/AP Images)
'Put up or shut up': Biden, Dems have one last chance to res­ur­rect drug pric­ing re­forms ahead of elec­tions
Be­fore Sen. Joe Manchin (D-WV) put the fi­nal ki­bosh on the Build Back Bet­ter Act late last year, De­moc­rats had nev­er been so close to pass­ing ma­jor drug pric­ing re­forms.
But af­ter that bill died in the Sen­ate, even as Manchin vowed to back such pric­ing re­forms, reach­ing 50 votes to pass a bill un­der rec­on­cil­i­a­tion seemed to be stretch­ing out of reach as the con­gres­sion­al sum­mer re­cess nears and as midterm elec­tions ap­proach.
Now, how­ev­er, Pres­i­dent Joe Biden is sig­nal­ing an 11th-hour push is com­ing around drug prices, with plans to not on­ly al­low Medicare to ne­go­ti­ate, but to make in­sulin af­ford­able too. The House in late March passed a bill to cap in­sulin prices at $35 per month but the Sen­ate has yet to vote on the bill.
"I think we're go­ing to be able to get a change in Medicare and a re­duc­tion in the cost of in­sulin. In­sulin — if you know any­body who has type 2 di­a­betes or has a child who has it, they need the shots dur­ing the week. It could cost them up to 1,000 bucks a week. And it may not cost more than $35 [to make]," Biden said in com­ments made yes­ter­day near his beach house in Re­hoboth, DE.
Alex Law­son, ex­ec­u­tive di­rec­tor of the non­prof­it So­cial Se­cu­ri­ty Works who's been work­ing on drug pric­ing re­forms on Capi­tol Hill, told End­points News:
It all has to hap­pen by the Au­gust re­cess. And there is still a re­al path to get­ting it done. And every­one keeps say­ing they want to get it done, but it is ab­solute­ly put up or shut up time in terms of low­er­ing drug prices for the De­moc­rats.
Mean­while, NBC News scooped to­day that AARP is air­ing ads this week in West Vir­ginia, giv­ing Manchin cov­er to con­tin­ue sup­port­ing these ma­jor drug pric­ing re­forms.
"We know we have the votes to pass Medicare ne­go­ti­a­tion through rec­on­cil­i­a­tion, and we are com­mit­ted to push­ing back when­ev­er PhRMA and their al­lies try to mis­lead the pub­lic and block Con­gress from low­er­ing pre­scrip­tion drug prices," Nan­cy Lea­Mond, the chief ad­vo­ca­cy and en­gage­ment of­fi­cer for AARP, told NBC.
House Dems al­so called on the Sen­ate late last month to quick­ly move on a rec­on­cil­i­a­tion bill with these re­forms.
Those pos­i­tive com­ments fol­low heat­ed in­ter­nal bat­tles among Dems over the use of Medicare to ne­go­ti­ate drug prices, which the phar­ma­ceu­ti­cal in­dus­try and its lob­by­ists have fierce­ly sought to de­feat.
A hand­ful of Sen­ate Dems, like New Jer­sey's Bob Menen­dez, whose state is home to many in the life sci­ences in­dus­try, have been re­luc­tant to come on board with Medicare ne­go­ti­a­tions as the in­dus­try has made clear that it could come at the cost of new drugs. And one lost Dem means any rec­on­cil­i­a­tion bill will fail.
If these bat­tles near the fin­ish line again, many will be look­ing to the Con­gres­sion­al Bud­get Of­fice for guid­ance. The CBO pre­vi­ous­ly es­ti­mat­ed the Medicare ne­go­ti­a­tions could lead to a 10% re­duc­tion in the num­ber of new drugs over 30 years, al­though it did not es­ti­mate what types of drugs might hit the cut­ting room floor.
Re­gard­less, it's now or nev­er for Biden and De­moc­rats as some who are hand­i­cap­ping this fall's elec­tion see the 50-50 Sen­ate shift­ing to Re­pub­li­can con­trol, which like­ly spells the end for Medicare ne­go­ti­a­tions.