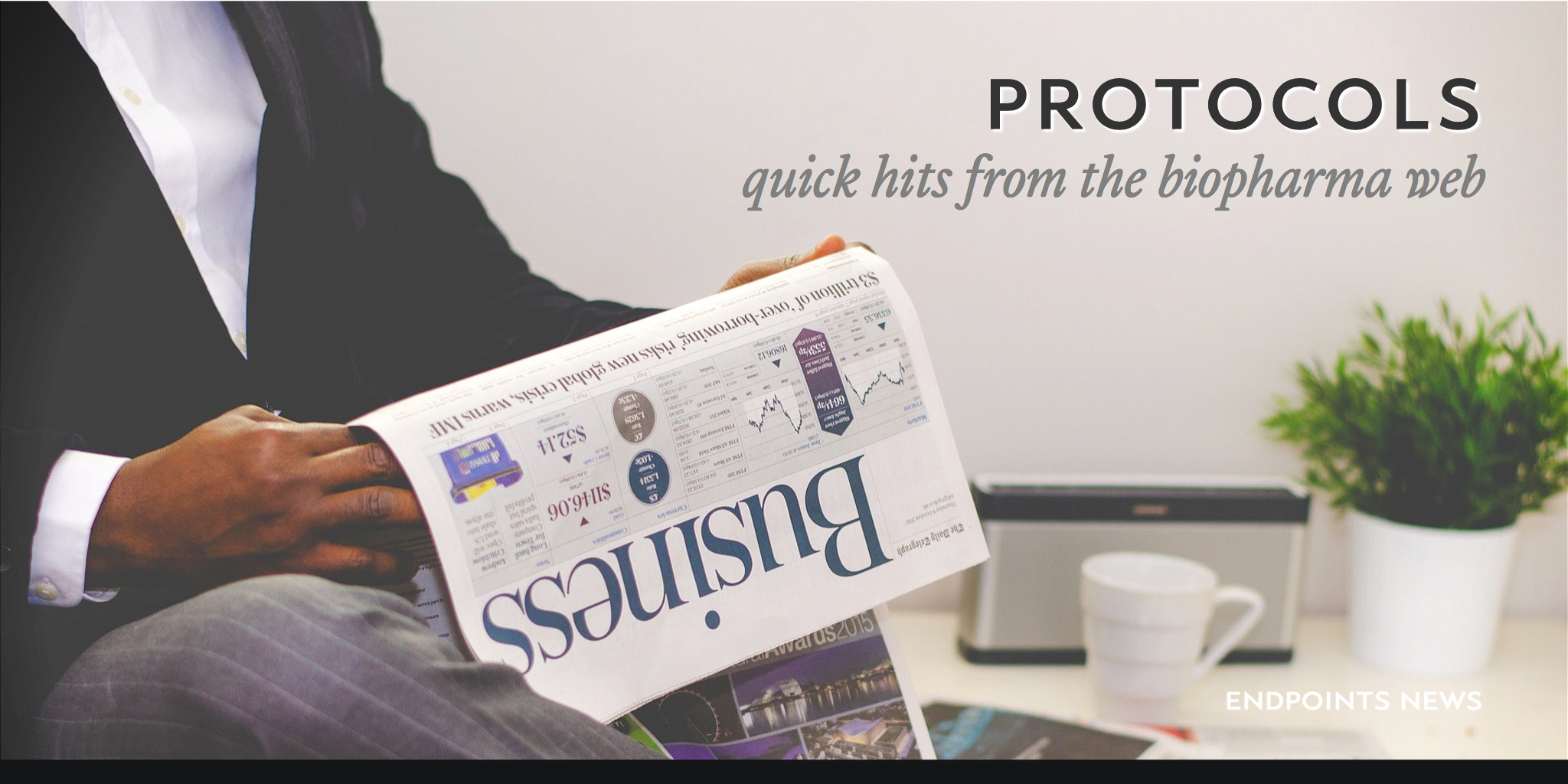 Re­gen­eron ditch­es high­er dose of pain drug fas­inum­ab in PhI­II, trig­ger­ing safe­ty scare; In a small win for Al­ny­lam, FDA de­lays re­view for Ion­is' in­ot­ersen
→ Re­gen­eron $REGN has canned its high dose arm of fas­inum­ab, an os­teoarthri­tis and back pain drug be­ing test­ed in Phase III tri­als, fol­low­ing rec­om­men­da­tions from an in­de­pen­dent da­ta mon­i­tor­ing com­mit­tee. A risk-ben­e­fit as­sess­ment was done on the high­er dose of the drug, and the com­mit­tee found it want­i­ng.
Re­gen­eron hasn't yet re­leased any de­tails about the as­sess­ment, but this isn't the first time fas­inum­ab has come un­der fire. In 2016, the FDA slapped a clin­i­cal hold on the com­pa­ny's Phase IIb study of the drug in low­er back pain. The hold was trig­gered af­ter a pa­tient in the study suf­fer­ing from ad­vanced os­teoarthri­tis de­vel­oped a case of ad­ju­di­cat­ed arthropa­thy – joint dis­ease.
Drop­ping the high dose is sur­fac­ing con­cerns about drugs like fas­inum­ab, which tar­get nerve growth fac­tor (NGF) to si­lence pain. NGF drugs were all the rage un­til a few years ago, when some of the pa­tients in clin­i­cal stud­ies be­gan to blow out their joints with meds de­signed to si­lence nerve growth fac­tors. The FDA hit J&J, Re­gen­eron, and Pfiz­er with clin­i­cal holds, which were fol­lowed by re­ports of joint re­place­ments in pa­tients tak­ing the drugs. Some spec­u­late that NGF drugs work so well at si­lenc­ing pain, that peo­ple be­come more ac­tive — ac­cel­er­at­ing the pace of car­ti­lage de­te­ri­o­ra­tion at the joints.
The safe­ty is­sues side­lined the drugs, once tapped as like­ly block­busters, but de­vel­op­ers slow­ly worked out a plan to pro­tect pa­tients, and back in­to the clin­ic. Re­gen­eron's in­vestors will be in­ter­est­ed to see how the low­er dose of fas­inum­ab moves for­ward.
→ As Al­ny­lam $AL­NY pre­pares to hear back from the FDA on its lead­ing drug patisir­an, it can now be sure that it's in the lead. The FDA has ex­tend­ed the re­view pe­ri­od for in­ot­ersen — a ri­val hered­i­tary TTR amy­loi­do­sis drug de­vel­oped by Io­n­is $IONS — and pushed the PDU­FA date back to Oc­to­ber 6. That's 90 days lat­er than the orig­i­nal date, and two months af­ter Al­ny­lam's drug will like­ly have been ap­proved. "The FDA de­ter­mined that they need ad­di­tion­al time to re­view our re­spons­es to their stan­dard in­for­ma­tion re­quests and we are work­ing close­ly with them to ad­vance the re­view of our fil­ing as quick­ly as pos­si­ble," said Sarah Boyce, pres­i­dent of Akcea $AK­CA, the Io­n­is spin­off now han­dling in­ot­ersen. That slight edge can be key in the in­tense ri­val­ry be­tween the an­ti­sense ex­perts at Al­ny­lam and Io­n­is over a block­buster mar­ket.
→ Un­der the spot­light for an ex­pect­ed surge of biotech list­ings, Hong Kong Stock Ex­change un­veiled a pan­el of biotech in­dus­try vet­er­ans it's as­sem­bled to re­view list­ing ap­pli­ca­tions. Giv­en the high hopes and se­ri­ous skep­ti­cism sur­round­ing the mar­ket's abil­i­ty to eval­u­ate pre-rev­enue biotech com­pa­nies — which be­fore this week weren't al­lowed to list on the ex­change — HKEX has as­sem­bled a star-stud­ded group. The 13-strong pan­el fea­tures Zai Lab founder Saman­tha Du as well as promi­nent VCs Jonathan Wang (of Or­biMed Asia) and Ling Su (of Lil­ly Asia Ven­tures). Oth­er mem­bers in­clude biotech ex­ecs, an­a­lysts and reg­u­la­to­ry pro­fes­sion­als, all of whom have been ap­point­ed for an ini­tial term of two years. In ad­di­tion to ad­vis­ing on ques­tions about prospec­tus dis­clo­sure, the pan­el will al­so serve as a sound­ing board for pol­i­cy rec­om­men­da­tions.
With con­tri­bu­tion by Am­ber Tong