Re­gen­eron earns mid-stage win for high­er dose of Eylea, hop­ing to re­fresh its sales pitch
Re­gen­eron has made its name on the block­buster suc­cess of eye drug Eylea, but with the ag­ing drug fac­ing a raft of com­peti­tors the drug­mak­er is look­ing for ways to keep its sales pitch fresh. And re­searchers are blaz­ing a fresh trail on that front with new mid-stage da­ta out to­day.
Forty-three per­cent of wet age-re­lat­ed mac­u­lar de­gen­er­a­tion pa­tients dosed with an 8 mg dose of Eylea re­port­ed no reti­nal flu­id af­ter four weeks com­pared with 26.4% of pa­tients re­ceiv­ing a 2 mg dose of the drug, ac­cord­ing to topline da­ta from a Phase II study un­veiled Tues­day.
The study is part of Re­gen­eron's on­go­ing clin­i­cal pro­gram to ex­pand Eylea's ap­proved dos­ing in­to the 8 mg for­mat, where the drug­mak­er thinks it can dri­ve more durable re­spons­es while keep­ing side ef­fects to a min­i­mum. The drug­mak­er has two Phase III stud­ies look­ing at the 8 mg dose in wet AMD, with ear­ly re­sults ex­pect­ed in the sec­ond half of 2022.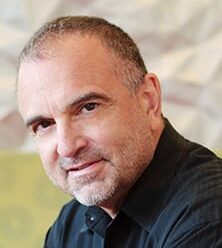 George Yan­copou­los
"We are cau­tious­ly op­ti­mistic that these ear­ly da­ta sug­gest that a high­er dose of (Eylea) may po­ten­tial­ly ben­e­fit pa­tients with wet AMD, and we look for­ward to Phase 3 da­ta next year, which will be cru­cial to un­der­stand its over­all ef­fi­ca­cy and safe­ty," Re­gen­eron CSO George Yan­copou­los said in a state­ment.
On the safe­ty front, the Phase II re­sults should be par­tic­u­lar­ly en­cour­ag­ing for Re­gen­eron. Af­ter 16 weeks, 17% of pa­tients re­ceiv­ing the 8 mg dose re­port­ed side ef­fects com­pared with 22.6% on the 2 mg dose. There were two se­ri­ous oc­u­lar side ef­fects re­port­ed, one in the 8 mg co­hort and the oth­er in the 2 mg co­hort. There were no in­stances of in­traoc­u­lar in­flam­ma­tion (in­clud­ing oc­clu­sive reti­nal vas­culi­tis), an­ti-platelet tri­al­ists' col­lab­o­ra­tion (APTC)-de­fined ar­te­r­i­al throm­boem­bol­ic events or deaths in ei­ther pa­tient group, Re­gen­eron said.
An even­tu­al ap­proval for the 8 mg dose will set up Eylea in­to the near fu­ture as a slate of com­peti­tors look to chal­lenge its ma­jor lead in wet AMD. One of those would-be com­peti­tors, No­var­tis' Beovu, has run in­to a slate of chal­lenges look­ing for an edge.
In June, No­var­tis scrapped four late-stage stud­ies for that drug af­ter in­ves­ti­ga­tors flagged high­er rates of in­traoc­u­lar in­flam­ma­tion while re­view­ing re­sults from the Phase III MER­LIN study. Pit­ted head-to-head against Eylea and dosed every four weeks fol­low­ing a load­ing phase, Beovu ac­tu­al­ly hit the pri­ma­ry end­point of non-in­fe­ri­or­i­ty in change in best cor­rect­ed vi­su­al acu­ity from base­line out to one year. But there were al­so more cas­es of reti­nal vas­culi­tis and reti­nal vas­cu­lar oc­clu­sion among those giv­en the No­var­tis drug — in some cas­es lead­ing to vi­sion loss.
As a re­sult, the Swiss drug­mak­er de­cid­ed to shut down not just MER­LIN, but two oth­er stud­ies — dubbed RAP­TOR and RAVEN — that are test­ing the four-week reg­i­men in an­oth­er in­di­ca­tion. It's al­so ad­vis­ing physi­cians not to pre­scribe the drug "at in­ter­vals less than two months be­yond the first three dos­es."