Re­lay grabs $63M to pay for a drug dis­cov­ery trip in­to the fourth di­men­sion
Two years af­ter Third Rock launched Re­lay Ther­a­peu­tics to ex­plore the drug dis­cov­ery po­ten­tial of watch­ing pro­teins in mo­tion, the Cam­bridge, MA-based biotech is back with a $63 mil­lion round to pay for the next leg of the jour­ney to­ward the clin­ic.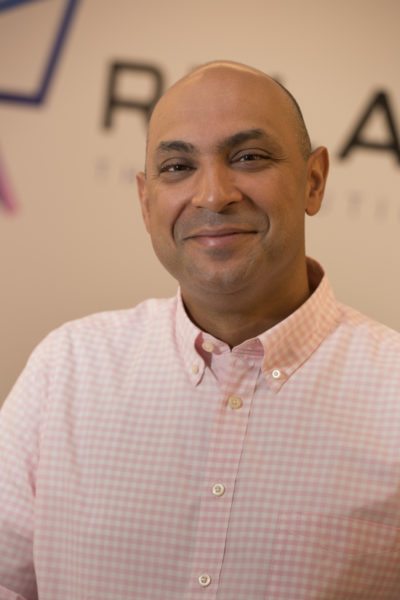 San­jiv Pa­tel
San­jiv Pa­tel joined Re­lay last April from his job as chief strat­e­gy of­fi­cer at Al­ler­gan, tak­ing over from Third Rock part­ner Alex­is Borisy. Now he's in charge of a group of 43 staffers in­volved in some­thing he feels is com­plete­ly unique.
The big idea at Re­lay is that us­ing new tech to watch how pro­teins per­form in mo­tion, rather than us­ing the still shots that have dom­i­nat­ed re­search in the field, they'll be able to come up with a whole new class of ther­a­pies.
"Cre­at­ing huge da­ta sets us­ing com­put­er pow­er al­lows us to vi­su­al­ize the mo­tion," Pa­tel tells me. And what do they see?
"It's very much like a trans­former," he says, twist­ing and turn­ing and chang­ing shapes — which he sees as the fourth di­men­sion of pro­tein re­al­i­ty that in­forms their work.
Re­lay is fo­cus­ing its in-house work on on­col­o­gy, but it's the kind of plat­form that can be turned in many dif­fer­ent di­rec­tions. Strate­gic part­ners can help there, the CEO says, while the biotech al­so looks for part­ners to sign on for ear­ly-stage work in the can­cer field.
In the mean­time Pa­tel ex­pects the staff to grow to 60 in 2018, with a dri­ve to the first clin­i­cal tri­als in 2019.
BVF Part­ners led the round with par­tic­i­pa­tion from new in­vestors GV (for­mer­ly Google Ven­tures), Cas­din Cap­i­tal, EcoR1 Cap­i­tal and Sec­tion 32, helmed by Bill Maris. Ex­ist­ing in­vestors Third Rock Ven­tures and Alexan­dria Ven­ture In­vest­ments al­so par­tic­i­pat­ed. Kan­ish­ka Pothu­la, man­ag­ing di­rec­tor at BVF Part­ners, will join the board of Re­lay Ther­a­peu­tics.