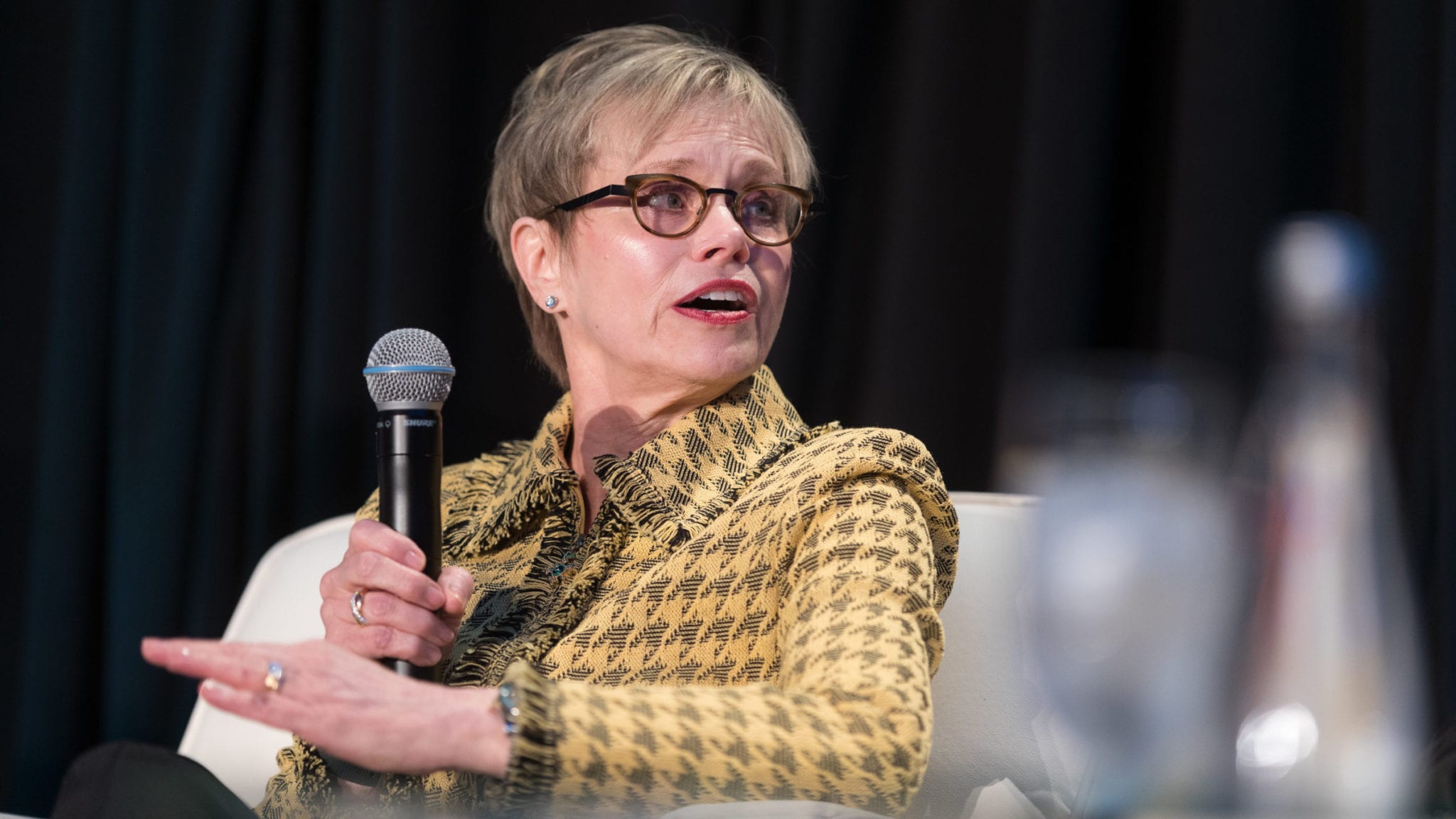 Sandra Horning speaks at an Endpoints News event during the #JPM19 healthcare conference (Jeff Rumans for Endpoints News)
Roche boosts can­cer ap­provals in Eu­rope, push­ing for a big­ger slice of the I/O pie
Roche is stack­ing up ap­provals for its flag­ship check­point in­hibitor in the lu­cra­tive field of lung can­cer. On Fri­day, the Swiss drug­mak­er re­vealed that the Eu­ro­pean Com­mis­sion had en­dorsed the use of Tecen­triq in com­bi­na­tion with chemother­a­py as the first line of de­fense in cer­tain pa­tients with ad­vanced non-squa­mous non-small cell lung can­cer (NSCLC).
The ap­proval comes on the ba­sis of the 723-pa­tient IM­pow­er130 study, which test­ed the drug plus chemo against chemo alone, in pa­tients with stage IV metasta­t­ic non-squa­mous NSCLC, who are not car­ry­ing EGFR or ALK mu­ta­tions.
Da­ta from the study showed the Tecen­triq com­bi­na­tion helped pa­tients live longer ver­sus chemo alone (me­di­an over­all sur­vival=18.6 ver­sus 13.9 months; p=0.033). The com­bo al­so sig­nif­i­cant­ly re­duced the risk of dis­ease wors­en­ing or death, com­pared with chemo alone (me­di­an PFS=7 ver­sus 5.5 months; p<0.0001).
Roche is push­ing for a big­ger slice of the lu­cra­tive im­muno-on­col­o­gy mar­ket, which is al­ready large­ly di­vid­ed be­tween lead­ers Mer­ck $MRK and Bris­tol-My­ers Squibb $BMY. In March, Mer­ck's key­stone Keytru­da — in a com­bo with chemo — scored Eu­ro­pean ap­proval for front­line use in pa­tients with metasta­t­ic squa­mous NSCLC.
Tecen­triq is ap­proved in the Unit­ed States and the Eu­ro­pean Union alone and in sev­er­al com­bi­na­tions with tar­get­ed ther­a­pies and chemother­a­pies in cer­tain lung can­cers. Months ago, Roche se­cured the FDA nod in com­bo with chemo as a first-line treat­ment for ex­ten­sive-stage small cell lung can­cer (ES-SCLC).
NSCLC ac­counts for 85% of all lung can­cers — with­in NSCLC, 40% of cas­es are ade­no­car­ci­no­mas, 25% to 30% are squa­mous cell car­ci­no­mas and 10% to 15% are large cell car­ci­no­mas. More than 228,150 Amer­i­cans will be di­ag­nosed with lung can­cer in 2019, and about 142,670 pa­tients will die over the course of the year, es­ti­mates the Amer­i­can Can­cer So­ci­ety.
Tecen­triq is al­so ap­proved for cer­tain types of metasta­t­ic urothe­lial can­cer, and in PD-L1-pos­i­tive triple-neg­a­tive breast can­cer. The drug gen­er­at­ed sales of about $790 mil­lion in the first half of this year.
Roche's out­go­ing chief med­ical of­fi­cer San­dra Horn­ing added: "To­day's ap­proval marks an­oth­er ad­vance for peo­ple liv­ing with non-squa­mous non-small cell lung can­cer, pro­vid­ing a new treat­ment op­tion for those af­fect­ed in Eu­rope." Levi Gar­raway, for­mer­ly at Eli Lil­ly, takes over from Horn­ing at the end of De­cem­ber.