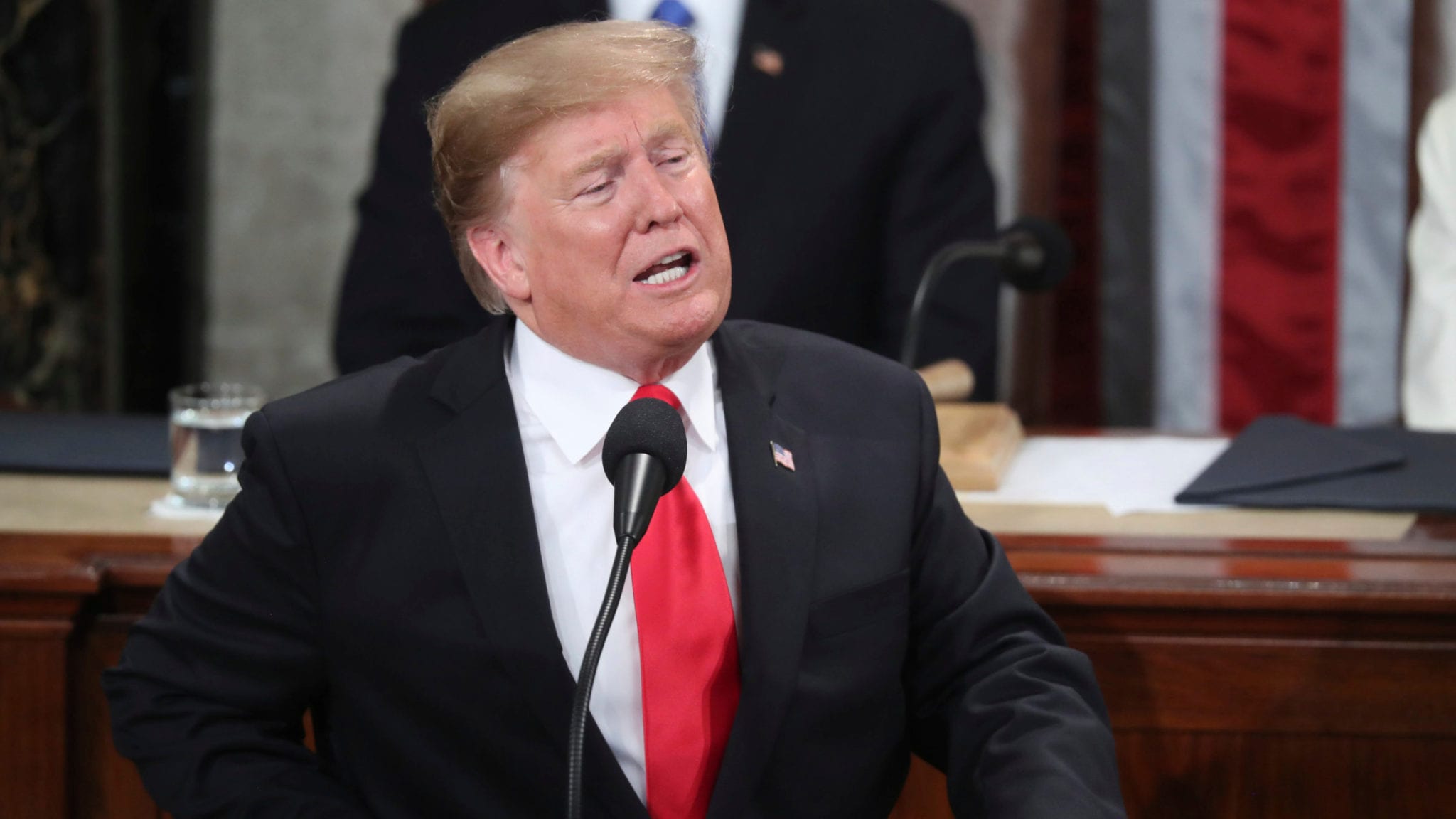 Say what? Trump de­clares a big vic­to­ry in the war on drug prices — for De­cem­ber, any­how
Pres­i­dent Don­ald Trump wants you to know he's win­ning the war on drug prices.
For one month, in any case.
"Al­ready," Trump said dur­ing the State of the Union ad­dress Tues­day night, "as a re­sult of my ad­min­is­tra­tion's ef­forts, in 2018 drug prices ex­pe­ri­enced their sin­gle largest de­cline in 46 years."
That com­ment may take a lot of peo­ple in the bio­phar­ma in­dus­try by sur­prise. Yes, drug price in­creas­es have mod­er­at­ed, as most any phar­ma ex­ec will quick­ly tell you, but there's been no rush by the drug mak­ers to slash prices.
AP fact check­ers tack­led this one quick­ly. They con­clud­ed that Trump's boast was con­nect­ed to the De­cem­ber CPI on pre­scrip­tion drug prices, which dropped 0.6% — and which scores as the biggest drop in close to half a cen­tu­ry. But if you look at all of last year, the price fig­ure jumped 1.6%.
Paul Hugh­es-Cromwick of Al­tarum, a non­prof­it re­search or­ga­ni­za­tion, told the AP: "It could be that some­thing quirky hap­pened in De­cem­ber."
An AP analy­sis al­so found "2,712 price in­creas­es in the first half of this Jan­u­ary, as com­pared with 3,327 in­creas­es dur­ing the same pe­ri­od last year."
Trump will take cred­it for the De­cem­ber num­ber. But he al­so wants Con­gress to pass leg­is­la­tion that di­rect­ly tack­les drug costs.
I am ask­ing the Con­gress to pass leg­is­la­tion that fi­nal­ly takes on the prob­lem of glob­al free­load­ing and de­liv­ers fair­ness and price trans­paren­cy for Amer­i­can pa­tients. We should al­so re­quire drug com­pa­nies, in­sur­ance com­pa­nies, and hos­pi­tals to dis­close re­al prices to fos­ter com­pe­ti­tion and bring costs down.
The ad­min­is­tra­tion has been push­ing a new pro­pos­al to strip away the safe har­bor pro­tec­tions that safe­guard the re­bates built in­to the drug pric­ing sys­tem we have now from an­ti-kick­back pro­vi­sions. Trump's health­care team is ask­ing for a new fee-based sys­tem with dis­counts di­rect to con­sumers. And HHS Sec­re­tary Alex Azar wants leg­is­la­tion that would ap­ply these changes to pub­lic and pri­vate op­er­a­tions.
Drug pric­ing has emerged as a bi­par­ti­san is­sue in a di­vid­ed Con­gress. De­moc­rats have been propos­ing new laws while Re­pub­li­can Chuck Grass­ley and De­mo­c­rat Ron Wyden in the Sen­ate have been try­ing to line up the top CEOs in the in­dus­try to tes­ti­fy lat­er this month. So far, on­ly Mer­ck CEO Ken Fra­zier has pub­licly agreed to take the hot seat. The sen­a­tors say they have an­oth­er one, still anony­mous, and Olivi­er Brandi­court's peo­ple are re­port­ed­ly check­ing his sched­ule to see if he can make it.
"This is an op­por­tu­ni­ty for com­pa­nies that pro­duce life-sav­ing treat­ments to ex­plain how they price these treat­ments and whether the sta­tus quo is ac­cept­able," Grass­ley said in a state­ment. "Pa­tients and tax­pay­ers de­serve to hear from lead­ers in the in­dus­try about what's be­hind this un­sus­tain­able trend and what can be done to low­er costs."
The top ex­ecs at Ab­b­Vie, As­traZeneca, Bris­tol-My­ers Squibb, J&J and Pfiz­er al­so qual­i­fied for the least cov­et­ed in­vi­ta­tions in Wash­ing­ton, DC.
The pres­i­dent is like­ly to find con­sid­er­able warmth for his pro­pos­al on Tues­day to spend $500 mil­lion on re­search in­to new ther­a­pies for child­hood can­cer as well as a com­mit­ment to wip­ing out HIV/AIDS in 10 years.
---
Im­age: Pres­i­dent Don­ald Trump de­liv­er­ing the State of the Union.AP IM­AGES