Scott Got­tlieb gave a savvy re­view of what we can ex­pect at the FDA; When times got rough, a biotech CEO demon­strat­ed re­al in­tegri­ty
Smart, rea­son­able and ex­treme­ly well pre­pared: What did we learn from Scott Got­tlieb's con­fir­ma­tion hear­ing?
On Wednes­day, when Scott Got­tlieb showed up for his con­fir­ma­tion hear­ing at the Sen­ate, it be­came quick­ly ap­par­ent that the prospec­tive FDA com­mis­sion­er was the best pre­pared per­son talk­ing that day. What the Dems had billed as a sharp at­tack on Got­tlieb's in­dus­try ties quick­ly dis­in­te­grat­ed in­to a se­ries of ran­dom, dis­joint­ed com­ments di­rect­ed against large­ly un­re­lat­ed is­sues.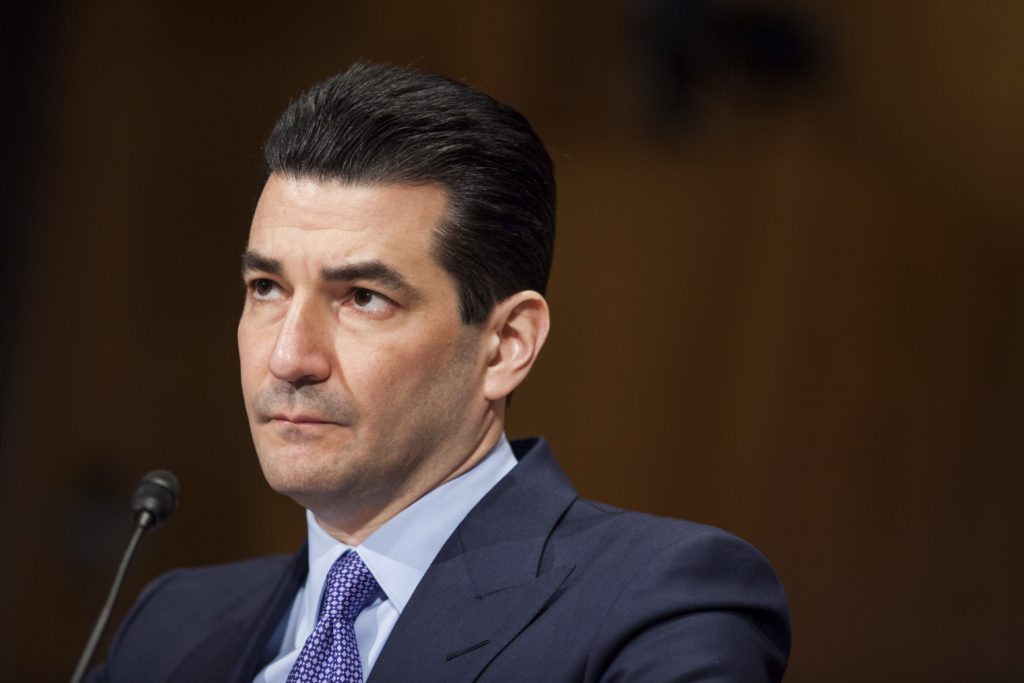 Com­mis­sion­er-des­ig­nate Scott Got­tlieb at his hear­ing

Zach Gib­son/Get­ty Im­ages
---
The Re­pub­li­cans were there to pat him on the back, which they man­aged to do just fine. A few used the oc­ca­sion to preen to their vot­ers. It's what law­mak­ers do. No mat­ter.
It was a non-event if you were look­ing for fire­works and con­fronta­tion. If you lis­tened care­ful­ly, though, there was some re­al meat to this ex­change as well, and some vi­tal­ly im­por­tant in­sights in­to how he sees his role in man­ag­ing re­form from the in­side rather than es­tab­lish­ing him­self as the agency's biggest crit­ic.
It was a huge­ly im­por­tant mo­ment for the bio­phar­ma in­dus­try, which has had to fear the worst over the past three months.
Got­tlieb looked like he had been prep­ping for this mo­ment for the past 20 years, or more. He has a back­ground in the FDA and deep ties to the in­dus­try. Over the past decade he has amassed a line­up of con­nec­tions to in­vest­ment groups and bio­phar­ma com­pa­nies. He will not set him­self in op­po­si­tion to the in­dus­try, nor should he. More im­por­tant­ly, he's pre­pared to cham­pi­on the R&D gold stan­dard on safe­ty and ef­fi­ca­cy.
Three cheers. But in ad­di­tion to all those jobs he pur­sued un­der the Oba­ma ad­min­is­tra­tion, there was one more po­si­tion he vol­un­teered for: FDA com­mis­sion­er-in-wait­ing.
Back be­fore his nom­i­na­tion, I took a close look at Got­tlieb. Based on the pub­lic record and peo­ple close to him, it was clear he had a spe­cif­ic agen­da in mind. And he ticked off most of those box­es to the sen­a­tors.
He was go­ing to go af­ter com­plex gener­ics, clear­ing the way for new com­pe­ti­tion to some very ex­ten­sive ther­a­pies. He would cel­e­brate Richard Paz­dur's clear achieve­ments in ac­cel­er­at­ing can­cer drug re­views — a role that has over­hauled and speed­ed a mas­sive amount of prod­uct de­vel­op­ment in the field — and promised to get some lag­gards at the agency up to speed.
He likes adap­tive tri­al de­signs, look­ing for new and bet­ter ways to in­tel­li­gent­ly as­sess safe­ty/ef­fi­ca­cy.
Drugs for rare dis­eases al­so look like they'll be a pri­or­i­ty. There's a way for skilled FDA staff to over­see small, fo­cused stud­ies for new drugs that can avoid the mess that Sarep­ta cre­at­ed and still suf­fers from.
I would have liked to have heard more specifics, such as pub­lish­ing CRLs (or trans­paren­cy in gen­er­al), how he will over­haul the or­phan drug process and do­ing away with the need for some out­comes stud­ies ahead of ap­provals, when they can be done af­ter­wards.
(Though can you al­so hear pay­ers sharp­en­ing their knives for those drugs? When reg­u­la­to­ry risk de­clines, pay­er risk ris­es dis­pro­por­tion­ate­ly these days. And af­ter Gilead's So­val­di primed the pump, it's a brand new day in the pay­er uni­verse.)
Maybe we can get some of that ex­tra de­tail in the fi­nal Q&A round to come. Pub­lish­ing CRLs won't over­ly dis­turb the re­spon­si­ble play­ers in the in­dus­try and Got­tlieb could add some much-need­ed trans­paren­cy as a way to dis­tin­guish his stint as an in­de­pen­dent com­mis­sion­er. It's not all go­ing to be cozy and fun.
What I was par­tic­u­lar­ly pleased to hear is that Got­tlieb views re­cruit­ing tal­ent as his biggest chal­lenge, while look­ing for a "bot­tom up" ap­proach from the cen­ters to dri­ve re­form. Got­tlieb's stint as FDA com­mis­sion­er would be long and fruit­less if he took a con­fronta­tion­al po­si­tion with staff.
So what do we get?
We get a com­mis­sion­er who's pledged to speed things up some more, re­spon­si­bly. He's go­ing to bring in new, bad­ly need­ed tal­ent. And we hope he clear­ly choos­es trans­paren­cy over the long and un­ac­cept­able black box that the agency has long been re­quired to work in — though that has yet to be seen.
I'll take it.
---
In­tegri­ty mat­ters more than ever in bio­phar­ma
I've been writ­ing about bio­phar­ma on a dai­ly ba­sis for close to 14 years now. And I'm more than fa­mil­iar with the re­struc­tur­ing drill.
Com­pa­ny X runs in­to some trou­ble. The biotech boat be­comes a life raft, or a log, and staffers have to go. There's a press re­lease, a canned quote from the CEO say­ing how grate­ful they were to the new­ly job­less, and on to the next thing.
So I was more than a lit­tle shocked when CEO Ron Co­hen reached out to talk to me about the lay­offs and down­siz­ing at Acor­da this week fol­low­ing a set­back on his patent front for Ampyra. That nev­er hap­pens. But he spelled out what the cuts meant, where the ax would fall and how they could mon­e­tize as­sets.
Co­hen has a Plan B. He hasn't been stand­ing on the tracks, wait­ing for the train to come. It's ex­tra­or­di­nar­i­ly high risk, and Plan B hasn't al­ways gone ac­cord­ing to plan over the years — which is par for this unique course. And now fail­ure is not an op­tion.
That's not a great place to be. No one en­vies his po­si­tion. But in­stead of duck­ing and tak­ing the easy way out, Co­hen demon­strat­ed re­al in­tegri­ty in stand­ing up and tak­ing it all on, di­rect­ly.
Sure, you could throw a cheap shot or two in his di­rec­tion. But in this in­dus­try in­tegri­ty mat­ters more than ever. And I re­spect it more than ever. We all should.