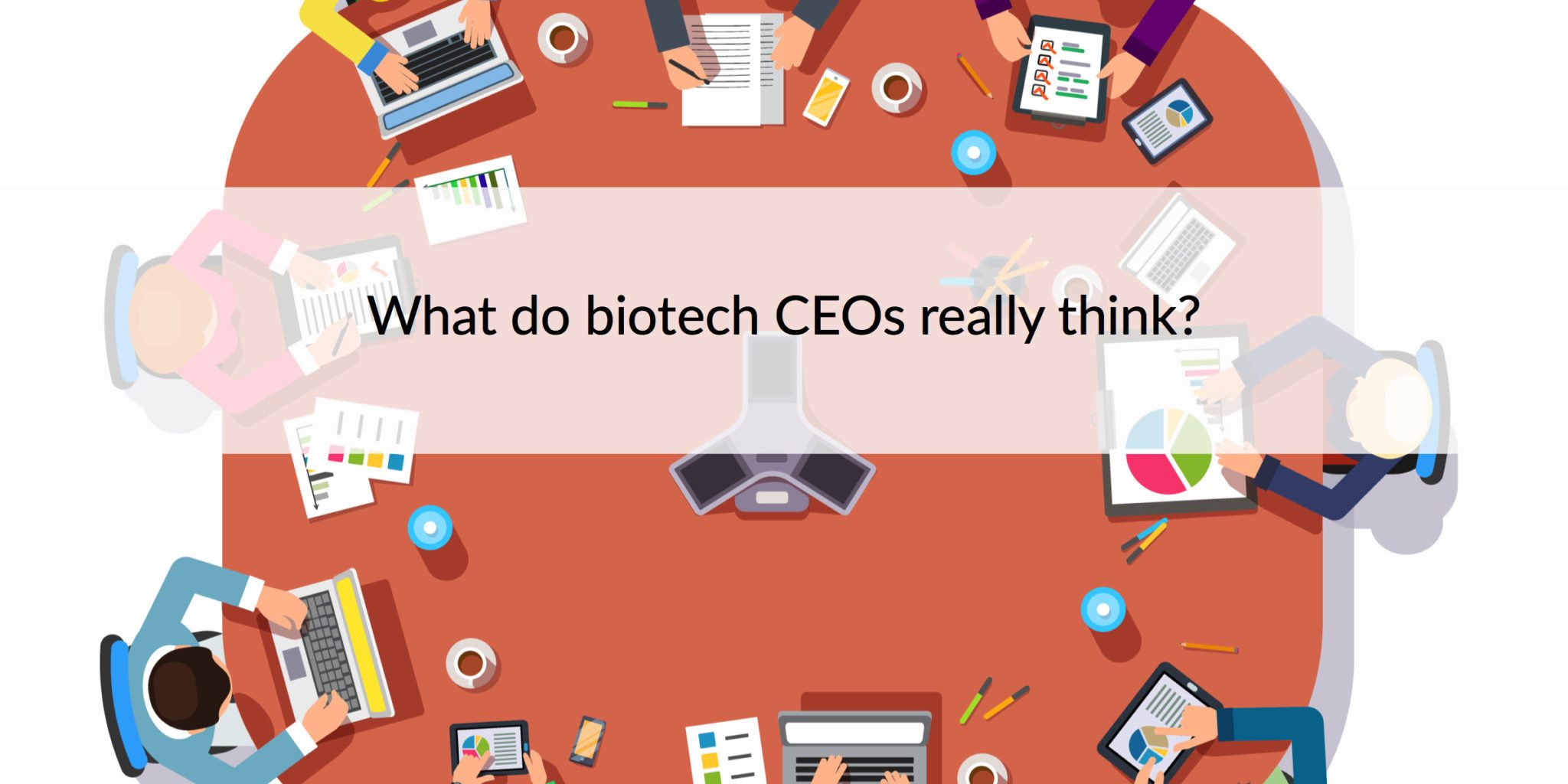 Biotech ex­ecs are feel­ing up­beat and look­ing to grow their com­pa­nies, but an un­der­tow of fresh con­cerns nags many
Biotech ex­ecs over­all are in a good mood these days.
Yes, the pub­lic mar­kets aren't near­ly as wide open as they were a year ago. Not every­one finds it easy to tap ven­ture in­vestors for more cash on the pre-IPO side of the busi­ness. And there's a dis­tinct un­der­tow of con­cern with clear notes of anx­i­ety that the fi­nanc­ing trend is tip­ping to­ward tougher times ahead.
But most are still con­fi­dent in their own abil­i­ty to raise more mon­ey in a cash-hun­gry busi­ness, they're def­i­nite­ly in hir­ing mode, large­ly find­ing ex­cel­lent can­di­dates for the work — though per­haps work­ing hard­er than ever to make sure of that — and more up­beat than ever re­gard­ing reg­u­la­tors' abil­i­ty to judge their da­ta; all while look­ing for­ward to what comes next.
In the show­down be­tween Hillary Clin­ton and Don­ald Trump, it's Clin­ton in a land­slide. (And that was the opin­ion be­fore Grope­gate sur­faced.) The pro-HRC camp, though, is dom­i­nat­ed by the grudg­ing sense that she rep­re­sents the less­er of two evils, with no good can­di­dates to pick from. A large mi­nor­i­ty see no re­al dif­fer­ence be­tween the two.
That, in a nut­shell, is what we found in End­points News' first quar­ter­ly con­fi­dence sur­vey of the glob­al biotech in­dus­try.
But what I found even more in­ter­est­ing than the hard num­bers from this sur­vey are the thoughts they shared on deal­mak­ing, biotech val­u­a­tions, hir­ing and more. As a group, this ex­ec­u­tive crowd has been do­ing a lot of think­ing about the state of af­fairs in biotech. And I'm hap­py to share many of their thoughts in the analy­sis of the num­bers be­low.
Al­to­geth­er 105 biotech ex­ecs agreed to take our sur­vey and 96 fin­ished the work. (Many of you might view that as N=96.) The group was large­ly made up of biotech CEOs, with the rest a med­ley of C-suite ex­ecs and VCs on a va­ri­ety of biotech boards from both sides of the At­lantic.
Most were based in the US, with heavy con­cen­tra­tions in Cam­bridge/Boston and Cal­i­for­nia, large­ly in the Bay Area. About a quar­ter of the par­tic­i­pants were in Eu­rope, weight­ed to­ward Lon­don and the Gold­en Tri­an­gle. I specif­i­cal­ly sought out ex­ec­u­tives in the three big hubs: Boston, San Fran­cis­co and Lon­don. But a num­ber of oth­er ex­ec­u­tives were scat­tered from coast-to-coast in the US and north to south in Eu­rope.
The re­sults are pre­sent­ed in the ag­gre­gate.
The in­di­vid­ual re­spons­es are con­fi­den­tial, but they al­so had an op­por­tu­ni­ty to make com­ments on the record or not for at­tri­bu­tion. And many of­fered some keen in­sights on some of the most im­por­tant is­sues fac­ing the in­dus­try.
You'll read di­rect quotes from our End­points 100 ex­ec­u­tives and have ac­cess to 15 in­ter­ac­tive charts. And learn:
Has the pric­ing de­bate in the US had any im­pact on biotech de­vel­op­ment plans?
How do biotech ex­ec­u­tives feel about their ac­cess to cap­i­tal?
How do they rate the pub­lic and pri­vate cap­i­tal mar­kets?
How do they rate biotech as­set val­u­a­tions — both li­cens­ing and M&A?
Are they hir­ing? What are their thoughts on the tal­ent pool avail­able to them?
How much do they out­source?
Who do they sup­port: Hillary Clin­ton, or Don­ald Trump?
---
Ac­cess to cap­i­tal
A large­ly sun­ny view on cap­i­tal
Ful­ly half of these ex­ec­u­tives said they were ei­ther ex­treme­ly con­fi­dent (14%) or very con­fi­dent (36%) in their abil­i­ty to ac­cess cap­i­tal for their com­pa­nies. An­oth­er 30% said they were sim­ply con­fi­dent. No one lacked con­fi­dence, though one in 5 were on­ly some­what con­fi­dent on this score.
That large­ly sun­ny mood comes de­spite a dis­tinct shift in the mood about the pub­lic mar­kets. A year af­ter the IPO mar­ket be­gan to slow down from a three-year fes­ti­val of new of­fer­ings, 42% of our sam­pling say that the mar­ket for IPOs and fol­low-on of­fer­ings is fair, 30% said av­er­age and 16% checked off poor. On­ly 11 picked good and there was one ex­cel­lent.
Look­ing back a year, 42% would have ranked the fall of 2015 as good, with an­oth­er 39% say­ing av­er­age, 10% fair and 6% poor. Three re­mem­ber it as an ex­cel­lent time.
But once you turn to the pri­vate as­sess­ments of the mar­ket, the mood sounds even more grim, de­pend­ing on how their com­pa­ny lines up with what's con­sid­ered hot and hap­pen­ing.
"Strong, well led com­pa­nies work­ing on tech­nolo­gies that are in vogue and / or with key lat­er phase clin­i­cal de­vel­op­ment mile­stones are now at­tract­ing cap­i­tal," said one of our ex­ecs, echo­ing a feel­ing that is re­flect­ed in a long stream of com­ments on this top­ic. "Life is tough for those that do not fall in­to ex­cit­ing, new, trendy or lat­er phase."
Sev­er­al ex­ecs said that it seemed that in­creas­ing­ly it was the biotechs with the trendi­est tech­nolo­gies – like gene edit­ing – that did the best these days.
Strong com­pa­nies that need to bor­row cash can do so eas­i­ly these days.
"For prof­itable/rev­enue gen­er­at­ing com­pa­nies bor­row­ing costs re­main at his­toric lows. This is strate­gic cap­i­tal."
"Cap­i­tal is there but more picky. A year ago it was bet­ter and much bet­ter two years ago."
To the ex­tent you can re­duce risk, though, mon­ey is eas­i­er to land. "Cap­i­tal is giv­en if most of the risk is gone," says Prab­ha­vathi Fer­nan­des, who found­ed Cem­pra a decade ago.
---
Hir­ing
Hir­ing? In a word, yes
There's no con­fus­ing this sig­nal. What­ev­er nag­ging con­cerns ex­ecs may have on fi­nanc­ing, these biotechs are large­ly grow­ing staffs.
Eighty-six per­cent of the re­spon­dents say they're hir­ing more em­ploy­ees in the fourth quar­ter, with vir­tu­al­ly the same num­ber say­ing the same thing about 2017. On­ly 14% of the group said that they had no plans to hire, with 7% not­ing that they don't know what's in store for next year.
Nine in 10 said that the qual­i­ty of job can­di­dates they're see­ing for open po­si­tions is good or ex­cel­lent. And ba­si­cal­ly 4 out of 5 felt they had a good pool of can­di­dates to pick from. One out of 5, though, said that wasn't the case.
Sift­ing through all the com­ments, though, and I found that every­thing isn't as op­ti­mistic as it may look at first blush. In the long line­up of re­spons­es:
"It has been chal­leng­ing to re­cruit per­son­nel with lat­er-stage ex­pe­ri­ence in the San Diego area. As a re­sult, we have built a de­vel­op­ment or­ga­ni­za­tion based in Cam­bridge, MA to ac­cess tal­ent."
That's mak­ing it tougher on the na­tive biotechs in the field.
"Boston/Cam­bridge/Waltham area is ad­van­taged by a large pool of tal­ent but com­pe­ti­tion is fierce as is cost of liv­ing and re­lo­ca­tion ex­pense."
Oth­ers are look­ing to big biotech to pro­vide a steady flow of new re­cruits.
"In SF, very tight mar­ket. Hard­er to ac­cess the waves of east coast R&D cuts. And for many G&A po­si­tions, in­tense com­pe­ti­tion from tech sec­tor. Good news is more folks loose in the sock­et at Big Biotech — Genen­tech, Gilead — folks can be picked off much eas­i­er than in years past."
These days, HR is as much about keep­ing good em­ploy­ees as re­cruit­ing new ones.
"Strik­ing war for tal­ent in Cam­bridge, MA and sur­round­ing re­gion. Re­tain­ing key em­ploy­ees is a sig­nif­i­cant strate­gic im­per­a­tive giv­en the choic­es they have to find al­ter­na­tive em­ploy­ment."
And watch out for Big Phar­ma gen­tri­fi­ca­tion.
"As a Cam­bridge-based biotech, the most ob­vi­ous ben­e­fit (by far) of hav­ing many large phar­mas move in­to the area is ac­cess­ing tal­ent from such com­pa­nies. Of course, the down­side is that those same com­pa­nies are con­tin­u­ing to push biotech out of Kendall Square from a re­al es­tate per­spec­tive. A com­ment I heard re­cent­ly was that 'there will be no biotech in Cam­bridge with­in five years.' De­press­ing."
Here's some ad­vice to re­mem­ber:
"Ex­ploit­ing pre-ex­ist­ing net­works to get the right staff with the right ex­pe­ri­ence is key."
We al­so have a com­plete­ly le­git help-want­ed no­tice to post from Pe­ter Hecht, the CEO at Iron­wood: "We are launch­ing our sec­ond prod­uct, Zu­rampic, and dou­bling the size of our sales force to sup­port both Zu­rampic and Linzess. We al­so have a grow­ing R&D pipeline with mul­ti­ple near term cat­a­lysts, and we are hir­ing to sup­port ex­pand­ing de­vel­op­ment ca­pac­i­ty needs. We are get­ting FAB­U­LOUS tal­ent."
Tell them you heard about it here.
---
Val­u­a­tions
Deal num­bers are high, but…
True, 42% of the group say that the val­u­a­tions they're see­ing in li­cens­ing deals look high, but an even larg­er 51% char­ac­ter­ize the same val­u­a­tions as no bet­ter than av­er­age. When you change the sub­ject to M&A, there's more of a tilt to high: 49% see­ing the prices zoom high, 39% av­er­age.
But there's an un­der­ly­ing prob­lem. The deal num­bers they're see­ing are high, but many say the num­ber of deals is low.
"Deal ac­tive com­pa­nies are will­ing to pay more for less," says one, a thought that was re­peat­ed by sev­er­al of the ex­ecs that of­fered an opin­ion on this.
"To­bi­ra is the key out­lier," says an­oth­er, "but deals such as Medi­va­tion even in­di­cate when M&A oc­curs it tends to tip high."
But then, there aren't a big num­ber of com­pa­nies snap­ping up biotechs like Al­ler­gan. I've been see­ing a lot more sto­ries about com­pa­nies that are sup­posed to be buy­ing some­thing big — Bio­gen, Gilead, Sanofi and so on — than ac­tu­al bids. That hasn't es­caped sev­er­al mem­bers of this group. And some are feel­ing some frus­tra­tion by the lack of ac­tion.
"This is a tough one: there have cer­tain­ly been a few eye pop­ping deals with shock­ing num­bers that make you won­der what's go­ing on. But be­hind those, there are many many oth­er deals that are not get­ting done at all, and com­pa­nies with po­ten­tial­ly in­ter­est­ing as­sets that can't find part­ners."
"Tremen­dous scarci­ty val­ue of rev­enue-gen­er­at­ing com­pa­nies with in­creas­ing­ly de-risked pipelines. Sur­pris­ing to see how many big phar­ma com­pa­nies bid on Medi­va­tion."
"Phar­ma is a bank and they are pay­ing very high pre­mi­ums when they ac­tu­al­ly open their check books. The prob­lem is in­er­tia and not enough deals."
"It seems to be a 'sell­ers' mar­ket when deals get done, but not a lot of deals are get­ting done. Large phar­ma is still sit­ting on the side­lines and/or do­ing deals with one an­oth­er."
Give it some time, though, and that may change.
"With the new tax in­ver­sion po­si­tion by the Trea­sury, we will see many more M&A of big Phar­ma de­ploy­ing their cash to buy biotech com­pa­nies. Pfiz­er and Al­ler­gan al­ready buy­ing lots of com­pa­nies," not­ed Stephane Ban­cel, the CEO of Mod­er­na.
"There is a clear uptick in ac­tiv­i­ty and in­ter­est from larg­er com­pa­nies," said an­oth­er. "While I don't think this has trans­lat­ed in­to as many deals as I would have ex­pect­ed, I sus­pect there will be an uptick as we move in­to 2017. Con­di­tions seem ex­cel­lent."
---
The reg­u­la­to­ry en­vi­ron­ment
Thumbs up for the FDA
Both the FDA and the EMA come out with sol­id marks for their will­ing­ness to ap­prove new drugs — but you can see a dis­tinct­ly big­ger vote of con­fi­dence for the FDA.
Eighty-two per­cent of our group said the FDA scored as good or ex­cel­lent in terms of their re­cep­tiv­i­ty to new drug ap­pli­ca­tions. But that score drops to 57% for the EMA, with a large mi­nor­i­ty — 36% — rat­ing the Eu­ro­pean agency as av­er­age.
I al­so asked if reg­u­la­to­ry re­view times are much changed from a year ago, but in all fair­ness to the group, it was a bad ques­tion. A decade ago there was a hard push to get the agency to re­spond more quick­ly. New rules were adopt­ed, the agency was left with mul­ti­ple pro­grams to step the gas on drug re­views. But sev­er­al ex­ecs not­ed that a year isn't much time to as­sess any sig­nif­i­cant changes in some­thing like agency re­spon­sive­ness.
Sev­en­ty per­cent said there was no change over a year ago.
Al­so, when you talk about the FDA, most peo­ple in the in­dus­try don't view it as a mono­lith­ic group that moves in uni­son.
"This varies a lot from branch to branch: on­col­o­gy di­vi­sion is awe­some, fast ap­provals and ex­cel­lent re­views."
"Great mo­men­tum for tru­ly in­no­v­a­tive can­cer drugs."
"Af­ter the first ex vi­vo gene ther­a­py ap­proval we be­lieve that for cell and gene ther­a­pies the path is short­er."
Quite a few of the com­ments, though, al­so re­flect­ed the fact that many peo­ple in biotech don't nec­es­sar­i­ly think they'll be fac­ing the FDA or the EMA — ex­its should come much soon­er than any sit-down with the reg­u­la­tors.
---
Out­sourc­ing
Out­sourc­ing much R&D? Yes, and more.
Every time we do a sur­vey for the first four quar­ters, I'm go­ing to add one an­nu­al ques­tion and leave it alone for 12 months be­fore re­vis­it­ing it. Some things just don't change all that fast. This first an­nu­al ques­tion gets to a trend Ar­salan Arif and I have been watch­ing for more than a decade: Out­sourc­ing.
The av­er­age biotech start­up tem­plate is con­struct­ed on a foun­da­tion of out­sourc­ing. There are some ex­cep­tions, es­pe­cial­ly as com­pa­nies with new tech­nolo­gies look to ramp up their own in-house man­u­fac­tur­ing fa­cil­i­ties. But for most, you raise mon­ey in or­der to pay a lot of it out to CROs and CMOs to do much of the heavy lift­ing. The em­pha­sis typ­i­cal­ly is on keep­ing in-house teams small.
So I want­ed to get a bet­ter idea of the lev­el of out­sourc­ing work that is go­ing on now. And it turns out to be quite a lot.
A bit more than half said they out­source most of their drug de­vel­op­ment work. One in 5 said "about half" and an­oth­er one in 5 said "some."
In ad­di­tion, ful­ly 48% of the ex­ecs in the sur­vey said they ex­pect to in­crease the amount of out­sourc­ing they do in 2017. Forty-three per­cent ex­pect it to re­main flat while on­ly 5% are look­ing for it to drop.
---
Pric­ing
Brac­ing for a tougher re­im­burse­ment mod­el
It's hard to com­plete a day's work in this busi­ness with­out hear­ing some­thing about the on­go­ing de­bate over drug pric­ing. New scan­dals over out­ra­geous price hikes on old ther­a­pies seem to erupt reg­u­lar­ly now, with a pa­rade of biotech ex­ecs be­ing sub­poe­naed to tes­ti­fy be­fore an­gry law­mak­ers. My­lan, Valeant, Tur­ing. Who's next? And each new con­tro­ver­sy breeds Tweets from in­flu­en­tial politi­cians like Hillary Clin­ton.
So has the din of de­bate over high drug prices in the US af­fect­ed the way drug de­vel­op­ers are work­ing?
Two thirds of our sur­vey group said no. In many cas­es, the com­ments sec­tion made clear that's be­cause they've had this sub­ject in mind for some time. Many be­lieve that keep­ing fo­cused on tru­ly im­por­tant new ther­a­pies that make a dif­fer­ence to peo­ple's health is the one fun­da­men­tal ap­proach to guard­ing against a pric­ing back­lash that will stay rel­e­vant.
"We on­ly fo­cus on drugs that can make a big im­pact on pa­tients."
A sig­nif­i­cant num­ber are ex­pect­ing that re­im­burse­ment will be reined in in the com­ing years. They're al­ready plan­ning to de­vel­op new ther­a­pies that can do well in that kind of an en­vi­ron­ment.
"We are us­ing con­ser­v­a­tive as­sump­tions for re­im­burse­ment lev­els in the fu­ture."
Not all drugs are cre­at­ed equal­ly, though, and some de­vel­op­ers want to be care­ful that they've thought every­thing through.
"More dili­gent as­sess­ment of which in­di­ca­tions should dri­ve the val­ue met­rics and pric­ing de­ci­sions."
"Yes. Al­though we work in the area of on­col­o­gy, which to date has been rel­a­tive­ly less af­fect­ed by the de­bate over drug pric­ing, we rec­og­nize that the time is com­ing for on­col­o­gy as well, and we are plan­ning ac­cord­ing­ly. One must be more thought­ful and plan­ful re­gard­ing pric­ing and plans for price in­creas­es."
Some are just ready to trust their gut on this one.
"True in­no­va­tion will be re­ward­ed. Call me an op­ti­mist, or in­no­cent."
---
The elec­tion: Clin­ton vs. Trump
More of an an­ti-Trump sen­ti­ment than pro-Clin­ton
Don't mis­take the 65% sup­port that Hillary Clin­ton gets in this group as the best can­di­date for biotech as ev­i­dence of en­thu­si­asm.
"What can I say … She ac­tu­al­ly at least un­der­stands the top­ic and the ques­tions and chal­lenges. She al­so un­der­stands what she can and can­not achieve with a split Con­gress and Sen­ate."
"While not a huge fan of Hillary ei­ther, she is the on­ly can­di­date that seems to be able to string co­her­ent thoughts to­geth­er. "
There were sev­er­al re­spons­es like this:
Hillary Clin­ton – "Not an in­sane big­ot."
Hillary Clin­ton – "Just spit­balling here, but I think it'll be eas­i­er to get re­search done if we're not in­volved in an on­go­ing nu­clear ex­change with North Ko­rea, or per­haps France."
The 25% of re­spon­dents who saw no dif­fer­ence be­tween the two al­so hand­i­ly beat out the 10% who thought Trump would do bet­ter by biotech. Again, though, that last mi­nor­i­ty re­port had more to do with an­ti-HC think­ing than pro-Don­ald sen­ti­ment. One Don­ald Trump sup­port­er not­ed:
"Hillary wants to move our coun­try to a so­cial­ized med­i­cine mod­el."
An­oth­er:
"Don't get me wrong, he would be a ter­ri­ble pres­i­dent, but would be am­biva­lent to biotech where­as Hillary is more like­ly to have com­mit­ted her­self to an an­tag­o­nis­tic role."
There was at least one en­thu­si­as­tic Trump sup­port­er in the mix.
"Bet­ter ap­pre­ci­a­tion of val­ue to US of biotech in­dus­try in terms of in­no­va­tion, jobs and lead­er­ship and how ap­pro­pri­ate val­ue based pric­ing fu­els more dis­cov­er and in­no­va­tion."
You don't come away from this last ques­tion on the elec­tion with a sense that many peo­ple in biotech are look­ing for­ward to watch­ing the swear­ing-in cer­e­mo­ny, re­gard­less of who wins the elec­tion. Most, though, would clear­ly pre­fer just about any­one oth­er than Trump.
---
Thanks to our End­points 100 ex­ec­u­tives be­low for their par­tic­i­pa­tion
| | |
| --- | --- |
| An­drea Pfeifer | AC Im­mune |
| Ron Co­hen | Acor­da |
| Rick Orr | Ad­ynxx |
| Mary Szela | Aege­ri­on Phar­ma­ceu­ti­cals |
| David Schenkein | Agios |
| Richard Pops | Alk­er­mes |
| Alex­ey Mar­golin | Al­lena Phar­ma­ceu­ti­cals |
| John Maraganore | Al­ny­lam |
| John Crow­ley | Am­i­cus |
| Mike Grey | Am­plyx |
| Hamza Suria | Anap­tys­Bio |
| Nor­bert Riedel | Aptinyx |
| Joe Payne | Arc­turus Ther­a­peu­tics |
| Tim Van Hauw­er­meiren | Ar­genx |
| Bruce Booth | At­las Ven­ture |
| Tito Ser­afi­ni | Atre­ca |
| Na­tal­ie Holles | Au­dentes Ther­a­peu­tics, Inc. |
| Jay Lichter | Aval­on Ven­tures |
| Carmine N. Sten­gone | Ave­las Bio­sciences, Inc. |
| Robert Con­nel­ly | Ax­cel­la (Pronu­tria) |
| Howard Liang | BeiGene |
| Jean-Jacques Bi­en­aimé | Bio­Marin Phar­ma­ceu­ti­cal |
| Jef­frey Al­bers | Blue­print Med­i­cines |
| An­drew J. Phillips | C4 Ther­a­peu­tics |
| Gregg San­do | Cell Med­ica |
| Prab­ha­vathi Fer­nan­des | Cem­pra |
| Art Krieg | Check­mate Phar­ma­ceu­ti­cals |
| Jeff Stein | Cidara |
| Lau­ra Shawver | Cleave Bio |
| Doug Williams | Co­di­ak |
| Kei­th Dionne | Con­stel­la­tion Phar­ma |
| Yu­val Co­hen | Cor­bus Phar­ma |
| ROBERT I. BLUM | Cy­to­ki­net­ics, Inc. |
| Sean Mc­Carthy | Cy­tomX Ther­a­peu­tics |
| Steve Holtz­man | Deci­bel Ther­a­peu­tics |
| Ryan Watts | De­nali |
| Kevin Ju­dice | DiCE Mol­e­cules |
| An­nal­isa Jenk­ins | Di­men­sion Ther­a­peu­tics |
| Geral­dine Hamil­ton | Em­u­late |
| Tim Mayleben | Es­pe­ri­on |
| David Giljo­hann | Ex­i­cure |
| Alexan­der Pas­teur | F-Prime Cap­i­tal Part­ners |
| John Hau­rum | F-star |
| Greg Ver­dine | Fog Phar­ma |
| Sander Slootweg | For­bion Cap­i­tal Part­ners |
| Steve Tre­gay | For­ma Ther­a­peu­tics |
| Michael Pelli­ni | Foun­da­tion Med­i­cine |
| Robert Gould | Ful­crum Ther­a­peu­tics |
| Mark Vel­le­ca | G1 Ther­a­peu­tics |
| Pier­lui­gi Parac­chi | GENEN­TA Sci­ence |
| Chip Clark | Geno­cea Bio­sciences |
| He­len Tor­ley | Halozyme |
| Mal­colm Weir | Hep­tares |
| Rich Hey­man | Hey­man Biotech |
| Rus­sell Hern­don | Hy­dra Bio­sciences |
| Eliot Forster | Im­muno­core |
| Hervé Hop­penot | In­cyte |
| Nes­san Berming­ham | In­tel­lia Ther­a­puet­ics |
| Pe­ter Hecht | Iron­wood |
| Kim Cobleigh Drap­kin | Jounce Ther­a­peu­tics |
| Cameron Dur­rant | Kalo­Bios |
| Arie Bellde­grun | Kite Phar­ma |
| Troy Wil­son | Ku­ra On­col­o­gy |
| Paul Sekhri | Lyc­era Corp. |
| Kees Been | Lyso­so­mal Ther­a­peu­tics |
| Denise Scots-Knight | Mereo Bio­phar­ma |
| An­na Pro­topa­pas | Mer­sana Ther­a­peu­tics |
| Ju­lia Owens | Mil­len­do |
| Chuck Baum | Mi­rati Ther­a­peu­tics |
| Stephane Ban­cel | Mod­er­na |
| Praveen Tipir­neni | Mor­phic Ther­a­peu­tic |
| Tas­sos Gi­anakakos | MyoKar­dia |
| George P. Vla­suk | Nav­i­tor Phar­ma­ceu­ti­cals, Inc. |
| David Mott | NEA |
| Jeff Jonker | NGM Bio |
| Don Nichol­son | Nim­bus Ther­a­peu­tics |
| Jon Con­gle­ton | Ni­valis Ther­a­peu­tics |
| Clif­ford J. Stocks | On­coRe­sponse |
| Je­re­my Levin | Ovid Ther­a­peu­tics |
| Bernard Coulie | Pli­ant Ther­a­peu­tics |
| Kevin Bit­ter­man | Po­laris Part­ners |
| Dale Schenk | Prothena |
| John Bea­dle | PsiOxus |
| Alan Auer­bach | Puma |
| Dou­glas Tre­co | Ra Phar­ma­ceu­ti­cals |
| Robert Ward | Ra­dius |
| Olav Helle­bø | ReNeu­ron Group plc |
| Robert Cof­fin | Replimune |
| Clay Sie­gall | Seat­tle Ge­net­ics |
| Glenn Ned­win | Sec­ond Genome |
| Wern­er Cautreels | Se­lec­ta |
| An­toine Pa­piernik | Sofinno­va |
| Ar­mon Sharei | SQZ Ther­a­peu­tics |
| Glyn Ed­wards | Sum­mit Ther­a­peu­tics plc |
| Detlev Bin­iszkiewicz | Sur­face On­col­o­gy |
| Kate Bing­ham | SV Life Sci­ences |
| Nan­cy Si­mon­ian | Sy­ros Phar­ma­ceu­ti­cals |
| Lon­nie Moul­der | Tesaro |
| Mary Lynne Hed­ley | Tesaro |
| Ed­uar­do Bra­vo | Tigenix, SAU |
| Max­ine Gowen | Treve­na |
| Niclas Stiern­holm | Tril­li­um Ther­a­peu­tics |
| Bernat Olle | Vedan­ta |
| Lau­rence Reid | Warp Dri­ve Bio |
| Steve Yang | WuXi AppTec |
| Rachel King | Gly­coMimet­ics |