Lousy year for share­hold­ers, but Al­ler­gan CEO Brent Saun­ders sprints past Gorsky, Gon­za­lez with $32M pay pack­age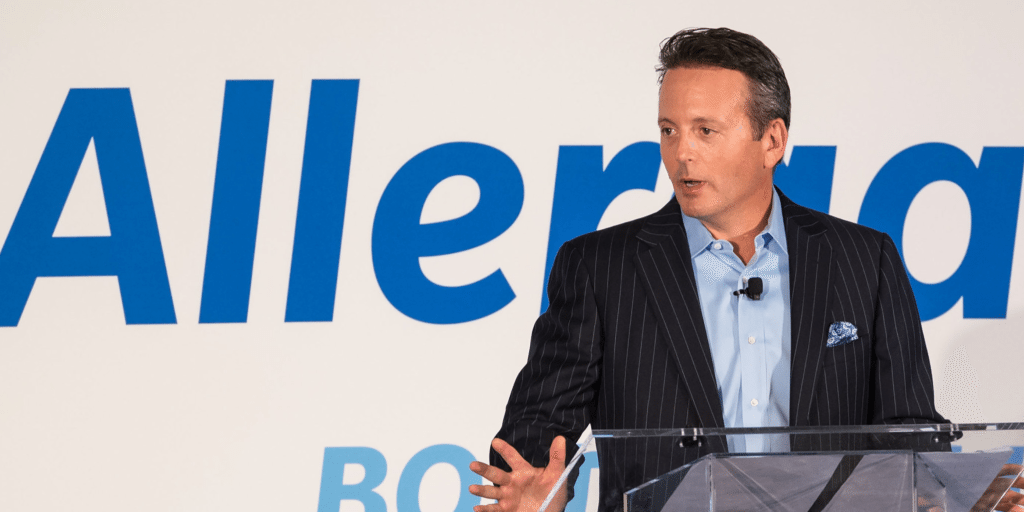 Brent Saun­ders' H2 2017 strat­e­gy to pre­serve con­trol of the Resta­sis patents may be un­der as­sault from every an­gle, forc­ing the com­pa­ny to re­struc­ture ahead of the like­ly loss of its lu­cra­tive fran­chise, but that didn't stop Al­ler­gan CEO Brent Saun­ders from pick­ing up a huge hike in com­pen­sa­tion for the year.
The com­pa­ny's proxy state­ment shows Saun­ders took home a pay pack­et worth $32.8 mil­lion — about 8 times what he earned the year be­fore. And with a raft of new SEC fil­ings to­day, it's clear that Saun­ders scored high rel­a­tive to the ex­ecs in charge of much, much larg­er phar­ma com­pa­nies with a bet­ter track record on share val­ue.
J&J CEO Alex Gorsky got a com­pen­sa­tion pack­age worth $29.8 mil­lion for 2017, build­ing on a $1.6 mil­lion base salary that re­mained flat. In 2016 Gorsky's com­pen­sa­tion was $26.9 mil­lion. His CSO, Paul Stof­fels, bagged a pack­et worth $13.6 mil­lion, up from $12.7 mil­lion. The $JNJ stock went from $113.85 to $138.18 in the year.
Richard Gon­za­lez had a ban­ner year at Ab­b­Vie $AB­BV, but kept his pay hike to a small amount. His com­pen­sa­tion amount­ed to $22.6 mil­lion, up from $21 mil­lion. R&D chief Michael Sev­eri­no came in at $8.4 mil­lion, up from $7.2 mil­lion. The stock soared, al­most dou­bling from $61.11 to $112.22.
Saun­ders isn't the on­ly biotech CEO mak­ing out af­ter a down year on the mar­ket. Hervé Hop­penot, the CEO at In­cyte $IN­CY, just re­port­ed that he scored a $16 mil­lion pay pack­et, up from $11.8 mil­lion in 2016 and a rel­a­tive­ly mea­ger $6 mil­lion in 2015.
In con­trast, Reid Hu­ber, his CSO, earned a slight­ly less amount than the year be­fore, hov­er­ing at $4 mil­lion. In­cyte's stock start­ed 2017 at $121.21 and end­ed the year at $90.29 — a 25% drop.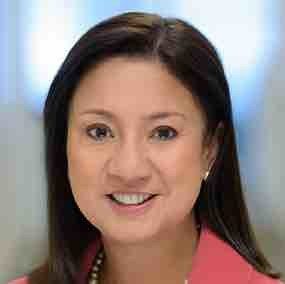 Maria Tere­sa Hi­la­do
Much of Saun­ders' com­pen­sa­tion came in the form of a $22.7 mil­lion stock award, far more than his $1.2 mil­lion in pay — which went up more than 20% over 2016. Saun­ders al­so picked up a bonus worth more than $8 mil­lion for some longterm goals around the 2014 merg­er deal that made Al­ler­gan $AGN in­to the com­pa­ny it is to­day. And his whole ex­ec­u­tive team ben­e­fit­ed as well.
CFO Maria Tere­sa Hi­la­do earned $10.7 mil­lion in com­pen­sa­tion, up from $1.2 mil­lion.
CCO William Meury bagged $11 mil­lion, up from $1.7 mil­lion.
R&D chief David Nichol­son al­so brought home a pack­et worth $11 mil­lion, up from $1.7 mil­lion.
And for­mer COO Robert Stew­art got $9.4 mil­lion, up from $1.5 mil­lion.
As a team, their com­pen­sa­tion soared from $11.8 mil­lion to $74.9 mil­lion — a 634% year over year in­crease.
Share­hold­ers didn't make out so well dur­ing that pe­ri­od. Al­ler­gan's stock de­clined from $218.89 to $180.26 over that pe­ri­od, and is cur­rent­ly trad­ing at $163.19 in a chop­py mar­ket. And Al­ler­gan has had a mixed record on the pipeline front, with few M&A deals ex­pect­ed this year to pump up an­a­lysts.
The rank and file at the com­pa­ny, mean­while, was forced to un­der­go a re­vamp. The biotech laid off more than 1,000 and elim­i­nat­ed 400 open jobs at the be­gin­ning of this year to po­si­tion it­self for the blow that will ar­rive when Resta­sis los­es patent pro­tec­tion soon. Saun­ders and his team had hoped that hand­ing the patents over to a Mo­hawk tribe — which then claimed sov­er­eign im­mu­ni­ty to in­ter partes re­view — would help guard the block­buster. That cost close to $14 mil­lion in an up­front. In­stead, it's been dissed by the courts and like­ly wouldn't have worked in any case, giv­en the patent re­view process that ex­ists for drug mak­ers.
A group of Sen­a­tors added in­sult to in­jury re­cent­ly by in­tro­duc­ing a bill that would make it im­pos­si­ble for any­one else to even try this ap­proach.
---
Im­age: Al­ler­gan CEO Brent Saun­ders.