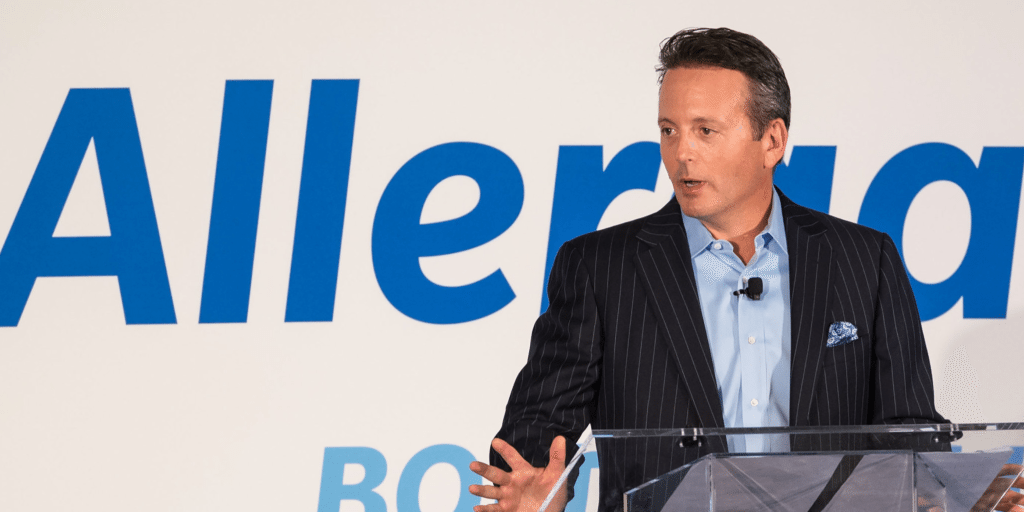 Brent Saunders' H2 2017 strategy to preserve control of the Restasis patents may be under assault from every angle, forcing the company to restructure ahead of the likely loss of its lucrative franchise, but that didn't stop Allergan CEO Brent Saunders from picking up a huge hike in compensation for the year.
The company's proxy statement shows Saunders took home a pay packet worth $32.8 million — about 8 times what he earned the year before. And with a raft of new SEC filings today, it's clear that Saunders scored high relative to the execs in charge of much, much larger pharma companies with a better track record on share value.
J&J CEO Alex Gorsky got a compensation package worth $29.8 million for 2017, building on a $1.6 million base salary that remained flat. In 2016 Gorsky's compensation was $26.9 million. His CSO, Paul Stoffels, bagged a packet worth $13.6 million, up from $12.7 million. The $JNJ stock went from $113.85 to $138.18 in the year.
Richard Gonzalez had a banner year at AbbVie $ABBV, but kept his pay hike to a small amount. His compensation amounted to $22.6 million, up from $21 million. R&D chief Michael Severino came in at $8.4 million, up from $7.2 million. The stock soared, almost doubling from $61.11 to $112.22.
Saunders isn't the only biotech CEO making out after a down year on the market. Hervé Hoppenot, the CEO at Incyte $INCY, just reported that he scored a $16 million pay packet, up from $11.8 million in 2016 and a relatively meager $6 million in 2015.
In contrast, Reid Huber, his CSO, earned a slightly less amount than the year before, hovering at $4 million. Incyte's stock started 2017 at $121.21 and ended the year at $90.29 — a 25% drop.
Much of Saunders' compensation came in the form of a $22.7 million stock award, far more than his $1.2 million in pay — which went up more than 20% over 2016. Saunders also picked up a bonus worth more than $8 million for some longterm goals around the 2014 merger deal that made Allergan $AGN into the company it is today. And his whole executive team benefited as well.
CFO Maria Teresa Hilado earned $10.7 million in compensation, up from $1.2 million.
CCO William Meury bagged $11 million, up from $1.7 million.
R&D chief David Nicholson also brought home a packet worth $11 million, up from $1.7 million.
And former COO Robert Stewart got $9.4 million, up from $1.5 million.
As a team, their compensation soared from $11.8 million to $74.9 million — a 634% year over year increase.
Shareholders didn't make out so well during that period. Allergan's stock declined from $218.89 to $180.26 over that period, and is currently trading at $163.19 in a choppy market. And Allergan has had a mixed record on the pipeline front, with few M&A deals expected this year to pump up analysts.
The rank and file at the company, meanwhile, was forced to undergo a revamp. The biotech laid off more than 1,000 and eliminated 400 open jobs at the beginning of this year to position itself for the blow that will arrive when Restasis loses patent protection soon. Saunders and his team had hoped that handing the patents over to a Mohawk tribe — which then claimed sovereign immunity to inter partes review — would help guard the blockbuster. That cost close to $14 million in an upfront. Instead, it's been dissed by the courts and likely wouldn't have worked in any case, given the patent review process that exists for drug makers.
A group of Senators added insult to injury recently by introducing a bill that would make it impossible for anyone else to even try this approach.
---
Image: Allergan CEO Brent Saunders.
---
The best place to read
Endpoints News

? In your inbox.

Comprehensive daily news report for those who discover, develop, and market drugs. Join 44,100+ biopharma pros who read Endpoints News by email every day.

Free Subscription
---
---
---