Sun Phar­ma screech­es to the pso­ri­a­sis fin­ish line with FDA OK of Ilumya. Too bad ri­vals J&J and oth­ers beat them to it
In the crowd­ed race to launch new ther­a­pies for pso­ri­a­sis, In­dia's largest drug­mak­er Sun Phar­ma hus­tled to the fin­ish line Thurs­day with FDA ap­proval of tildrak­izum­ab. Un­for­tu­nate­ly for Sun, sev­er­al oth­er drug­mak­ers were al­ready there wait­ing.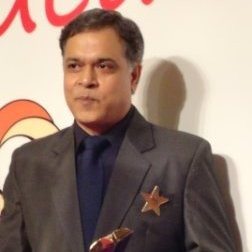 Ab­hay Gand­hi, Sun Phar­ma North Amer­i­ca CEO
The com­pa­ny's bi­o­log­ic, which is now brand­ed as Ilumya, was first in-li­censed from Mer­ck back in 2014 for $80 mil­lion. The med, de­liv­ered through sub­cu­ta­neous in­jec­tion, was al­ready in Phase III tri­als at the time of the deal, and Mer­ck hand­ed all reg­u­la­to­ry and launch re­spon­si­bil­i­ties over to Sun.
Ilumya is an IL-23 drug like J&J's Trem­fya (guselkum­ab), on­ly… well, not as good. Last year J&J launched Trem­fya for the same in­di­ca­tion – mod­er­ate to se­vere plaque pso­ri­a­sis – and it had a bet­ter safe­ty pro­file than ex­ist­ing brands.
But Sun isn't on­ly go­ing against J&J. The com­pa­ny is rather late to reach the mar­ket, with com­pe­ti­tion com­ing from J&J's Ste­lara, No­var­tis' Con­sen­tyx, Valeant's Siliq, and Eli Lil­ly's Taltz. Oh, and then there's Ab­b­Vie and Boehringer In­gel­heim, which are de­vel­op­ing ri­val drug risankizum­ab. It has promis­ing clin­i­cal re­sults so far.
Even with all those ri­vals, an­a­lysts ex­pect Ilumya can reach $350 mil­lion in peak sales in three to four years. Set­ting the drug's price com­pet­i­tive­ly will be crit­i­cal for Sun to el­bow its way in­to the mar­ket.
The FDA OK for the drug was based on two Phase III tri­als dubbed Resur­face 1 and 2, in which 926 adult pa­tients were treat­ed with Ilumya or place­bo. Re­sults were pub­lished in The Lancet in Ju­ly 2017, and pre­sent­ed at last year's EADV, which End­points cov­ered at the time. Both stud­ies met their pri­ma­ry end­points but failed to beat out J&J's re­sults for Trem­fya.