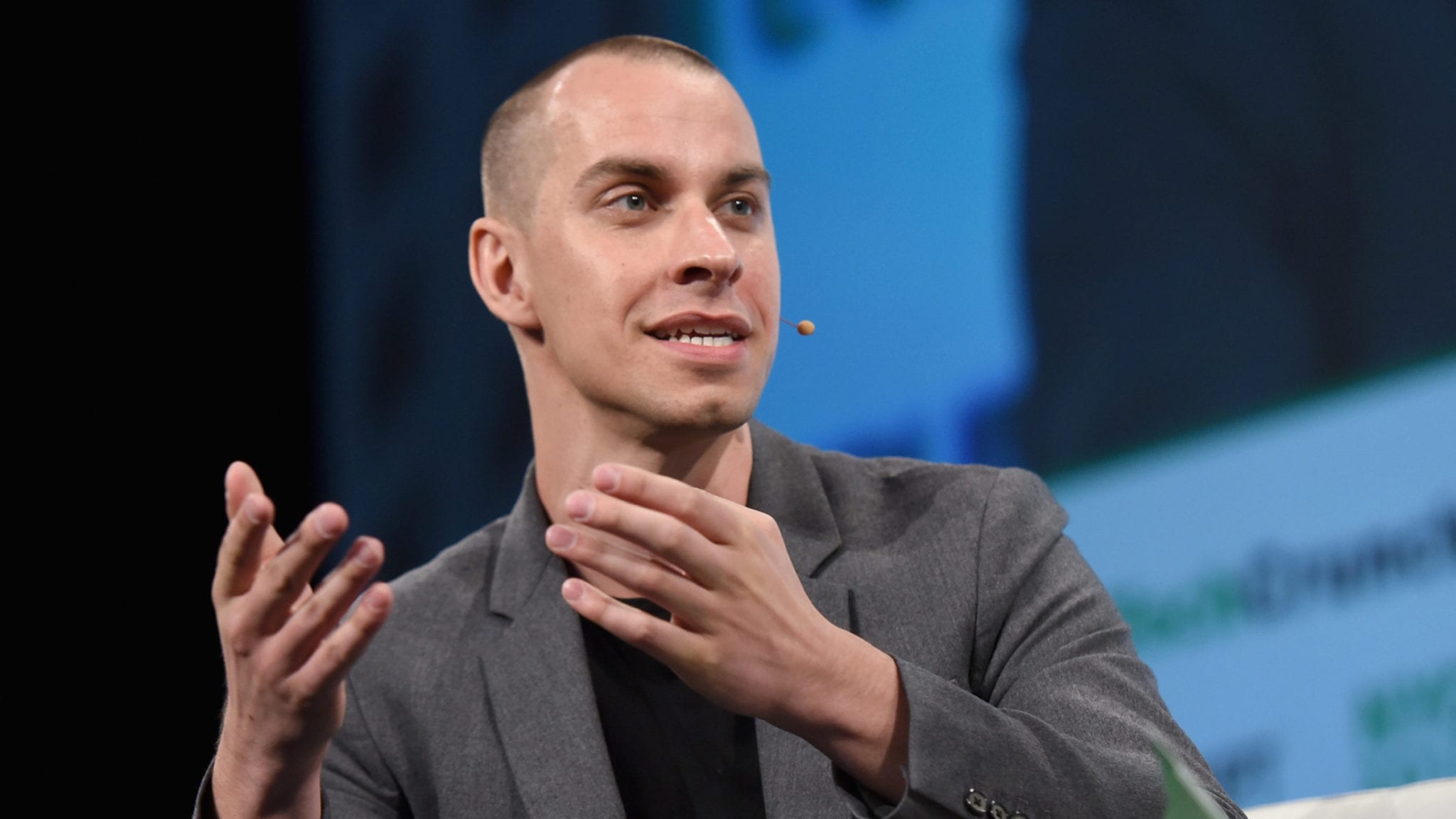 Paul Dabrowski, Synthego CEO (Noam Galai/Getty Images for TechCrunch)
Syn­thego adds $100M from RA, Welling­ton, 8VC in pur­suit of 'vir­tu­al­iz­ing bi­ol­o­gy'
The Pe­ter Thiel-backed, Jen­nifer Doud­na-ad­vised, SpaceX en­gi­neer-found­ed CRISPR plat­form com­pa­ny just added a new mega-round.
Syn­thego an­nounced $100 mil­lion in Se­ries D fund­ing led by Welling­ton Man­age­ment, RA Cap­i­tal Man­age­ment and 8VC. The com­pa­ny's sec­ond $100 mil­lion-plus round since 2018, the new cash will help Syn­thego ad­vance its plat­form of CRISPR as­says, screens and en­gi­neered cell lines.
For sev­er­al years, they've been help­ing aca­d­e­m­ic re­searchers and com­pa­nies run tests and ex­per­i­ments that re­quire gene edit­ing, but CEO Paul Dabrows­ki said he wants to use their more re­cent and fu­ture fund­ing to push the com­pa­ny to a far more am­bi­tious goal, one that the for­mer SpaceX en­gi­neer couch­es in terms rem­i­nis­cent of an a16z blog post: "vir­tu­al­iz­ing bi­ol­o­gy."
Main­ly, though, what Dabrows­ki means is that they'll not on­ly pro­vide peo­ple with the tools to run CRISPR and cell ther­a­py ex­per­i­ments, but in many cas­es ful­ly run the ex­per­i­ments for them.
"This idea of vir­tu­al­iz­ing bi­ol­o­gy: In the tech world, you have cloud serv­er in­fra­struc­ture. Ama­zon Web Ser­vices is, like, a thing. You would nev­er try to build out your own in­fra­struc­ture of servers and main­tain all of that. You just swipe your cred­it card and go, and you fo­cus on your con­tent, your web­site, your me­dia," he told End­points News. "And I fore­see this be­com­ing a re­al­i­ty prob­a­bly with­in the next 5-10 years, where sci­en­tists get to fo­cus on their do­main, their bi­ol­o­gy, their cell mod­els, their dis­ease ar­eas and they don't have to wor­ry about the un­der­ly­ing dif­fi­cul­ties of do­ing the ex­per­i­men­tal work."
Par­tial­ly that would mean just do­ing the work of a spe­cial­ized CRO. But Dabrows­ki says Syn­thego has been fo­cus­ing on stan­dard­iza­tion and scale, build­ing out pre­dictabil­i­ty soft­ware and an au­to­mat­ed fac­to­ry that would make them far more ef­fi­cient than com­pa­nies or re­searchers could be on their own. It's a sim­i­lar goal to the one Vi­um, the dig­i­tal vi­var­i­um re­cent­ly pur­chased by Re­cur­sion, put forth for gen­er­al in vi­vo re­search.
"The ex­pec­ta­tion is that the turn­around times keep get­ting short­er, the suc­cess rates get high­er, and ul­ti­mate­ly this whole thing be­comes — you swipe your cred­it card and go," he said.
Since the 2012 launch, Syn­thego has ex­pand­ed from large­ly pro­vid­ing CRISPR guide RNA to a suite of op­tions, most re­cent­ly adding ca­pa­bil­i­ties to ed­it iP­SC stem cells line on a large scale. Dur­ing the pan­dem­ic, they've aid­ed sev­er­al ef­forts, most no­tably an analy­sis of how SARS-CoV-2 pro­teins in­ter­act with hu­man ones that was lat­er pub­lished in Na­ture. And they pro­vid­ed guide RNAs for Sher­lock's CRISPR-based di­ag­nos­tic.
Dabrows­ki said more tools are in the works and will be added in the near fu­ture. An IPO might be in the cards as well. For the ul­ti­mate goal, though, he said the com­pa­ny is pro­ceed­ing cau­tious­ly.
"This next step of, can I just do this whole ex­per­i­ment for you?" he said. "That's a lit­tle bit of a leap, both in terms of trust and faith, so we need to make sure we ap­proach that cor­rect­ly."