Take­da earns win for its TKI in­hibitor in tiny lung can­cer group — but GI side ef­fects could be an ear­ly red flag
Japan­ese drug­mak­er Take­da has made a big push in re­cent years to build a hand in on­col­o­gy, par­tic­u­lar­ly in the next-gen can­cer space. One of those can­di­dates, ty­ro­sine ki­nase in­hibitor (TKI) mobo­cer­tinib, re­cent­ly earned the FDA's in­ter­est in a small sec­tion of un­treat­ed lung can­cer pa­tients, but will se­vere GI side ef­fects be a road­block?
Take­da's oral mobo­cer­tinib post­ed clin­i­cal­ly sig­nif­i­cant ob­jec­tive re­sponse rates in a Phase I/II adap­tive tri­al drug­ging metasta­t­ic non-small cell lung can­cer pa­tients with EGFR ex­on 20 gene mu­ta­tions who had pre­vi­ous­ly un­der­gone plat­inum-based chemother­a­py, ac­cord­ing to da­ta pre­sent­ed Thurs­day at the vir­tu­al World Con­fer­ence on Lung Can­cer.
Pa­tients re­ceiv­ing mobo­cer­tinib hit an ORR of 35% as judged by the tri­al's in­ves­ti­ga­tors and 28% from an in­de­pen­dent da­ta re­view com­mit­tee. The drug al­so showed a me­di­an du­ra­tion of re­sponse of 17.5 months — both in­ves­ti­ga­tors and the DRC agreed on that fig­ure — and pro­gres­sion-free sur­vival of 7.3 months.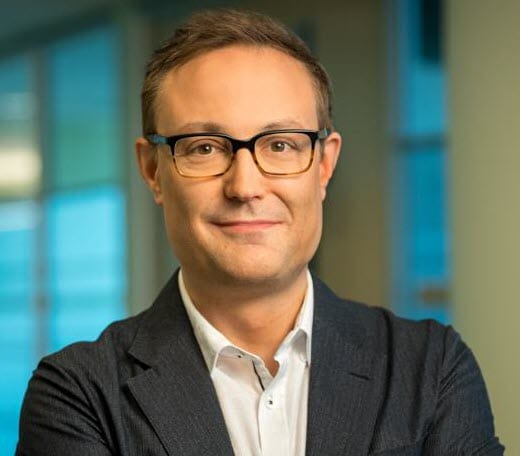 Chris Arendt
Ac­cord­ing to Chris Arendt, Take­da's head of on­col­o­gy, the pooled re­sults show promise for ex­on 20-pos­i­tive pa­tients, who make up about 10% of the to­tal EGFR NSCLC pop­u­la­tion and have a par­tic­u­lar­ly poor prog­no­sis. De­spite the sin­gle-fig­ure gap be­tween in­ves­ti­ga­tors' and the com­mit­tee's find­ings, Arendt told End­points News his team didn't view the dif­fer­ence as mean­ing­ful giv­en "a bit of a wob­ble" in terms of judg­ing re­sponse.
It's a small pop­u­la­tion but one with a high un­met clin­i­cal need. Mobo­cer­tinib earned the FDA's break­through des­ig­na­tion tag back in April for sec­ond-line use af­ter plat­inum-based chemo and is look­ing to bring the drug in­to the first-line use in fur­ther tri­als.
But it wasn't all ros­es for Take­da's drug. In­ves­ti­ga­tors not­ed a high rate of se­vere di­ar­rhea in tri­al pa­tients — enough so that they in­sti­tut­ed a di­ar­rhea man­age­ment pro­to­col for pa­tients in the Phase I por­tion of the tri­al and con­tin­ued in the Phase II ex­pan­sion. In all, di­ar­rhea was re­port­ed in 90% of all pa­tients with se­vere side ef­fects, fol­lowed by rash at 45%. Nine­teen per­cent of the study's 114 pa­tients dropped out, with di­ar­rhea and nau­sea tagged as the most com­mon cause.
See­ing those GI side ef­fects ear­ly, Take­da's in­ves­ti­ga­tors in­sti­tut­ed a di­ar­rhea pro­to­col that Arendt de­clined to out­line. He said the drug­mak­er would use those guide­lines in fu­ture tri­als and would like­ly file for reg­u­la­to­ry ap­proval to in­clude the pro­to­col on mobo­cer­tinib's po­ten­tial la­bel. Even with the guide­lines in place, the vast ma­jor­i­ty of pa­tients with se­vere side ef­fects re­port­ed di­ar­rhea, like­ly in­di­cat­ing an even high­er rate of di­ar­rhea in pa­tients who didn't re­ceive the pro­to­col.
When asked to clar­i­fy the rate of di­ar­rhea in pa­tients pri­or to those guide­lines be­ing put in place, Arendt "cau­tion(ed) a lit­tle bit in terms of over-in­ter­pret­ing" and said the pro­to­col was de­signed to be "avail­able to pa­tients and not oner­ous." The drug­mak­er plans to present fur­ther de­tails on those guide­lines at a lat­er date, Arendt said, and not­ed that se­vere di­ar­rhea was com­mon in ex­on 20-pos­i­tive pa­tients af­ter chemo.
With Phase II da­ta in hand, Take­da is work­ing on fil­ing mobo­cer­tinib's ap­pli­ca­tion with the FDA for sec­ond-line use and is al­so gun­ning for ear­li­er use in ex­on 20-pos­i­tive pa­tients, Arendt said. The drug­mak­er is look­ing to con­firm its Phase II find­ings on the glob­al lev­el and has earned a break­through tag in Chi­na to speed de­vel­op­ment there.