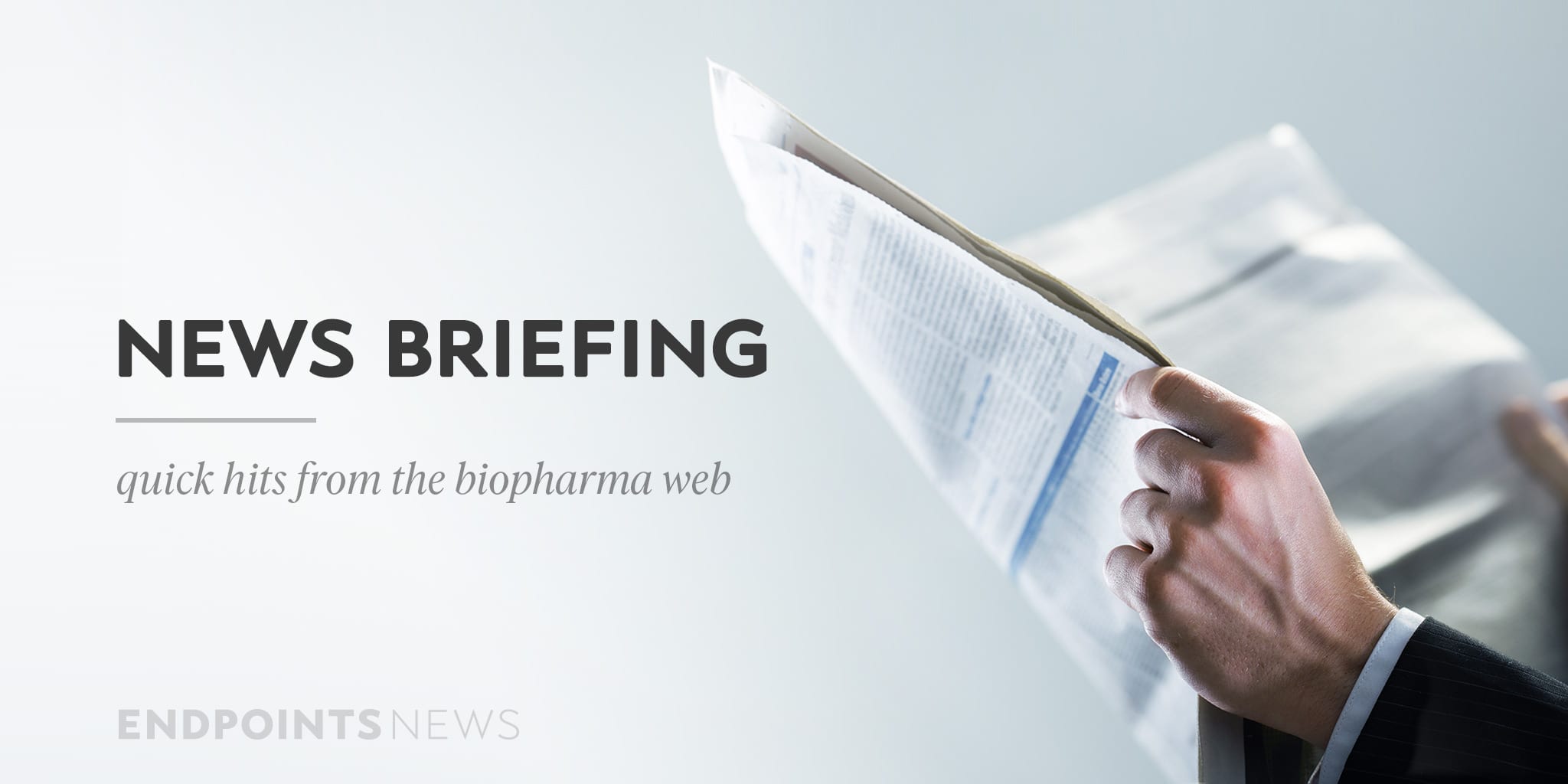 Take­da snaps up the Japan­ese rights to an old Shire cast-off; Boehringer In­gel­heim ac­quires Abexxa Bi­o­log­ics
A week be­fore the FDA is set to de­cide on Mirum Phar­ma­ceu­ti­cals' lead liv­er dis­ease drug — an old Shire cast-off called mar­al­ix­i­bat — Take­da is swoop­ing in to se­cure the rights in Japan.
Mar­al­ix­i­bat's roots trace back to Lu­me­na, which was snapped up by Shire for $260 mil­lion-plus back in 2014. While the can­di­date had failed mid-stage stud­ies at Shire, Mirum be­lieves bet­ter tri­al de­sign and pa­tient se­lec­tion will de­liv­er the wins it needs. The drug is cur­rent­ly in de­vel­op­ment for Alag­ille syn­drome (a con­di­tion called AL­GS in which bile builds up in the liv­er), pro­gres­sive fa­mil­ial in­tra­hep­at­ic cholesta­sis (PF­IC, which caus­es pro­gres­sive liv­er dis­ease) and bil­iary atre­sia (a block­age in the ducts that car­ry bile from the liv­er to the gall­blad­der).
Mirum sub­mit­ted an NDA for the can­di­date to treat itch­i­ness in pa­tients with AL­GS in March, and reg­u­la­tors as­signed a PDU­FA date of Sept. 29.
"As we ap­proach po­ten­tial com­mer­cial­iza­tion in the Unit­ed States and com­plete the re­cent fil­ing for Alag­ille syn­drome in Eu­rope, our goal is to part­ner with top com­pa­nies out­side of North Amer­i­ca and Eu­rope to en­sure glob­al reach for pa­tients with these ter­ri­ble dis­eases," CEO Chris Peetz said in a state­ment.
For an undis­closed amount, Take­da is get­ting de­vel­op­ment and com­mer­cial­iza­tion rights to mar­al­ix­i­bat in AL­GS, PF­IC and BA in Japan. The phar­ma will be re­spon­si­ble for reg­u­la­to­ry ap­proval and com­mer­cial­iza­tion in that coun­try, as well as de­vel­op­ment, in­clud­ing clin­i­cal stud­ies in cholesta­t­ic in­di­ca­tions. — Nicole De­Feud­is
Boehringer In­gel­heim ac­quires Abexxa Bi­o­log­ics
Ger­man bio­phar­ma Boehringer In­gel­heim an­nounced to­day that it bought pre­ci­sion on­col­o­gy firm Abexxa Bi­o­log­ics. The deal in­cludes an undis­closed up­front pay­ment, along with mile­stones and oth­er pay­ments.
Boehringer In­gel­heim has been busy, hav­ing just agreed less than two weeks ago to dole out more than $700 mil­lion in mile­stones to Twist Bio­science for ac­cess to its an­ti­body li­brary.
"The ac­qui­si­tion of Abexxa bol­sters our com­mit­ment to tu­mor-anti­gen dis­cov­ery and new ways of tar­get­ing in­tra­cel­lu­lar anti­gens," said Boehringer In­gel­heim's cor­po­rate SVP and head of dis­cov­ery re­search, Clive Wood, in a pre­pared state­ment.
In 2016, Boehringer In­gel­heim's Ven­ture Fund award­ed Abexxa ini­tial in­vest­ment fund­ing. Lat­er that year, Abexxa won In­gel­heim's In­no­va­tion Prize, which al­lowed Abexxa to ex­pand op­er­a­tions in­to a shared lab space in Cam­bridge, Mass­a­chu­setts.
Abexxa will con­tin­ue to op­er­ate in Ar­ling­ton, Texas, col­lab­o­rat­ing with their US-based col­leagues at Boehringer In­gel­heim's fa­cil­i­ty in Ridge­field, Con­necti­cut. — Paul Schloess­er
Black Di­a­mond Ther­a­peu­tics strikes dis­cov­ery deal with soft­ware com­pa­ny Open­Eye Sci­en­tif­ic
Black Di­a­mond Ther­a­peu­tics an­nounced this morn­ing that it is en­ter­ing in­to a strate­gic part­ner­ship with sci­ence soft­ware firm Open­Eye, in­te­grat­ing the soft­ware com­pa­ny's in-house mol­e­c­u­lar de­sign plat­form in­to Black Di­a­mond's drug dis­cov­ery en­gine.
Ac­cord­ing to a state­ment re­leased by the two com­pa­nies, Black Di­a­mond and Open­Eye will work to co-de­vel­op sam­pling ca­pa­bil­i­ties and de­liv­er in­for­ma­tion more quick­ly. Ul­ti­mate­ly, their goal is to ad­vance Black Di­a­mond's ef­forts to de­vel­op can­cer ther­a­pies that can tar­get an en­tire fam­i­ly of mu­ta­tions — what they call a "Mas­terKey" in­hibitor, ac­cord­ing to a pre­pared state­ment.
The deal fol­lows a re­cent per­son­nel move at Black Di­a­mond, as then-CMO Rachel Humphrey was fired and CSO Christo­pher Roberts re­signed from the pre­ci­sion on­col­o­gy firm in mid-Ju­ly.
The arrange­ment be­tween Open­Eye and Black Di­a­mond in­volves an undis­closed up­front pay­ment, along with po­ten­tial down­stream eco­nom­ics for Open­Eye.
"We are be­gin­ning to see the mar­riage of com­pu­ta­tion and ge­nomics not just through se­quence analy­sis, but at the struc­tur­al lev­el," said Open­Eye CEO and founder An­tho­ny Nicholls in a state­ment. "We're very proud to be able to work with Black Di­a­mond to com­bine mol­e­c­u­lar sim­u­la­tion on our cloud plat­form, Ori­on, with their MAP drug dis­cov­ery en­gine to ac­cel­er­ate their search for nov­el can­cer ther­a­peu­tics." — Paul Schloess­er
Pe­ter Thiel joins the board of a Medicare ad­vi­so­ry group
As pro­pos­als for drug pric­ing re­forms make their way through Con­gress, Sil­i­con Val­ley pow­er play­er Pe­ter Thiel is jump­ing on the board of Chap­ter, a Medicare ad­vis­ing group that helps Amer­i­cans find the best cov­er­age plans.
Chap­ter un­veiled a $17 mil­lion Se­ries A round Tues­day, led by Narya Cap­i­tal with a hand from Susa Ven­tures, Mav­er­ick Ven­tures, XYZ Ven­ture Cap­i­tal, Core In­no­va­tion Cap­i­tal and Health2047 Cap­i­tal Part­ners. Along with the round, the com­pa­ny added Thiel to its board of di­rec­tors.
"It is…com­mon­place that deal­ing with the gov­ern­ment is dif­fi­cult. It is un­com­mon that any­one does any­thing about it," Thiel said in a state­ment. "Chap­ter's abil­i­ty to help peo­ple nav­i­gate Medicare's bu­reau­crat­ic maze makes it both ad­mirable and valu­able."
While lega­cy Medicare bro­kers aren't re­quired to search a min­i­mum num­ber of plans or dis­close the num­ber they do search, Chap­ter promis­es to search every plan — in­clud­ing Medicare Ad­van­tage, Medicare Sup­ple­ments and stand­alone Part D pre­scrip­tion plans. To do so, it's part­nered with Thiel-found­ed Palan­tir Tech­nolo­gies to de­vel­op a com­pre­hen­sive Medicare da­ta plat­form.
The news comes a cou­ple of weeks af­ter Pres­i­dent Joe Biden's ad­min­is­tra­tion called for new re­forms to in­clude Medicare drug price ne­go­ti­a­tions, as well as mea­sures to slow price in­creas­es over time on ex­ist­ing drugs.
"Most Amer­i­cans nav­i­gate Medicare alone or un­in­ten­tion­al­ly use re­sources that lim­it their op­tions," Chap­ter CEO Co­bi Blu­men­feld-Gantz said in a state­ment. "Medicare cov­er­age is too im­por­tant to get wrong: sign­ing up too late can re­sult in life­time penal­ties. Fur­ther­more, plans have such sig­nif­i­cant dif­fer­ences in ben­e­fits and pre­mi­ums that it's crit­i­cal to search every sin­gle op­tion." — Nicole De­Feud­is
Il­lu­mi­na ex­pects EU or­der to keep Grail a sep­a­rate com­pa­ny
Il­lu­mi­na said on Mon­day that it ex­pects the Eu­ro­pean Com­mis­sion to is­sue an or­der to keep re­cent­ly ac­quired Grail as a sep­a­rate com­pa­ny — a hand­ful of hours af­ter EU an­titrust reg­u­la­tors warned of in­ter­im mea­sures for clos­ing the deal be­fore their ap­proval.
While Il­lu­mi­na fi­nal­ized the Grail takeover last month de­spite protest from the Com­mis­sion, the biotech said it would hold the com­pa­ny sep­a­rate while wait­ing for a de­ci­sion on the deal.
"We had an­tic­i­pat­ed that the Com­mis­sion would seek to im­pose a hold sep­a­rate or­der, and this is the rea­son why it has al­ready vol­un­tar­i­ly agreed to such an arrange­ment; their pro­pos­als are based on Il­lu­mi­na's vol­un­tary un­der­tak­ings," Il­lu­mi­na said in a state­ment. The com­pa­ny said it would dis­cuss cer­tain changes sug­gest­ed by the EU in the com­ing days.
Un­der EU merg­er rules, a com­pe­ti­tion watch­dog can or­der com­pa­nies to un­wind their deals or sell off shares or as­sets ac­quired for vi­o­la­tions.
Com­mis­sion VP Mar­grethe Vestager em­pha­sized Il­lu­mi­na's ac­tions, say­ing it was the first time com­pa­nies had open­ly im­ple­ment­ed a deal while reg­u­la­tors were still in­ves­ti­gat­ing. She not­ed the com­pa­ny's ac­tions were se­ri­ous.
"The stand­still oblig­a­tion is a cor­ner­stone of our ex-ante merg­er con­trol regime which aims at pre­vent­ing harm­ful ef­fects to com­pe­ti­tion while our re­view is on­go­ing," she said in a state­ment.
The Com­mis­sion said the in­ter­im mea­sures aim to re­store and main­tain ef­fec­tive com­pe­ti­tion pend­ing a fi­nal de­ci­sion on the deal, which will be made af­ter re­ceiv­ing the com­pa­nies' re­sponse to the state­ment of ob­jec­tions. — Paul Schloess­er
Stoke Ther­a­peu­tics sees ear­ly signs of ef­fi­ca­cy for Dravet syn­drome can­di­date
The num­bers are in on Stoke Ther­a­peu­tics' lead an­ti­sense oligonu­cleotide for Dravet syn­drome.
Sin­gle dos­es of STK-001 up to 30 mg and mul­ti­ple dos­es at 20 mg were found to be well-tol­er­at­ed in a Phase I/IIa study, Stoke an­nounced on Tues­day. The in­ter­im analy­sis was based on 21 pa­tients treat­ed in sin­gle-dose co­horts who were fol­lowed for at least three months, and six pa­tients in the 20 mg mul­ti­ple-dose co­hort, most of whom had re­ceived three month­ly dos­es.
Dravet syn­drome is a se­vere and pro­gres­sive epilep­sy that be­gins with­in a new­born's first year of life. Pa­tients in the Phase I/IIa study had a me­di­an of 17 con­vul­sive seizures in the four-week screen­ing pe­ri­od lead­ing up to treat­ment, ac­cord­ing to Stoke.
While there were no se­ri­ous side ef­fects re­lat­ed to STK-001, the most com­mon low­er-grade events were headache, ir­ri­tabil­i­ty, vom­it­ing, seizure and back pain.
In ad­di­tion, pri­ma­ry analy­ses sug­gest a trend to­ward a re­duc­tion in seizure fre­quen­cy in the sin­gle-dose group, Stoke an­nounced. The trend was more ev­i­dent in the 2- to 12-year-old age group.
"The ini­tial pos­i­tive safe­ty da­ta from MONARCH are high­ly en­cour­ag­ing and we now have greater clar­i­ty on the dose lev­els that are like­ly to be phar­ma­co­log­i­cal­ly ac­tive in pa­tients," CMO Bar­ry Ti­cho said in a state­ment.
The com­pa­ny plans on giv­ing an­oth­er up­date at the Amer­i­can Epilep­sy So­ci­ety meet­ing in De­cem­ber and shar­ing da­ta from the pa­tients giv­en mul­ti­ple dos­es of 30 mg in the sec­ond half of next year. — Nicole De­Feud­is