Tak­ing on a big chal­lenge, ex-Cel­gene CEO Bob Hug­in read­ies a run for the Sen­ate
Can a high­ly suc­cess­ful bio­phar­ma ex­ec­u­tive and ex-Ma­rine win a Sen­ate race for the Re­pub­li­cans in New Jer­sey?
Ex-Cel­gene CEO — and un­til a few days ago ex­ec­u­tive chair­man — Bob Hug­in in­tends to find that out.
For years Hug­in im­pressed Wall Street with his record of big an­nu­al rev­enue gains and a bliz­zard of part­ner­ship deals around the world for his biotech. That earned Cel­gene a mar­ket cap of $72 bil­lion.
Re­cent­ly, though, the die-hard con­ser­v­a­tive and Re­pub­li­can stal­wart had been dis­cussing a run for the Sen­ate seat of De­mo­c­rat Robert Menen­dez, who was just let off the hook on fed­er­al bribery charges. And to­day Bloomberg re­ports that Hug­in will make it of­fi­cial with a for­mal an­nounce­ment on Tues­day.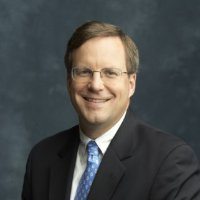 Rich Bag­ger
Un­like some of his fel­low heavy­weight CEOs in the busi­ness, Hug­in en­joyed close re­la­tions with Pres­i­dent Don­ald Trump in the White House. At one point he had been a big backer of New Jer­sey Gov­er­nor Chris Christie for his run at the White House. Cel­gene ex­ec­u­tive vice pres­i­dent Rich Bag­ger went on leave to di­rect the tran­si­tion crew for Don­ald Trump at one point un­der his old boss Christie.
This year in par­tic­u­lar Hug­in would be fac­ing a tough run in a De­mo­c­ra­t­ic lean­ing state like New Jer­sey, where the pres­i­dent has been painful­ly un­pop­u­lar. Al­so not help­ful: Cel­gene be­came enor­mous­ly prof­itable by jack­ing up the price on Revlim­id every year, which may not sit well with the av­er­age cit­i­zen these days.
In his fa­vor: Hug­in is a cam­paign­er. He knows how to win peo­ple over and his self-con­fi­dence has proven to be a win­ner in his line of work. His mil­i­tary ser­vice won't be ig­nored. He's al­so ru­mored to have pledged $20 mil­lion of his own for­tune to win the race, and he has the ties nec­es­sary to raise mil­lions more.
Jump­ing in­to pol­i­tics in the deep end won't be easy for Hug­in — but bet­ting against him could prove cost­ly.
---
Im­age: Bob Hug­in. Get­ty Im­ages