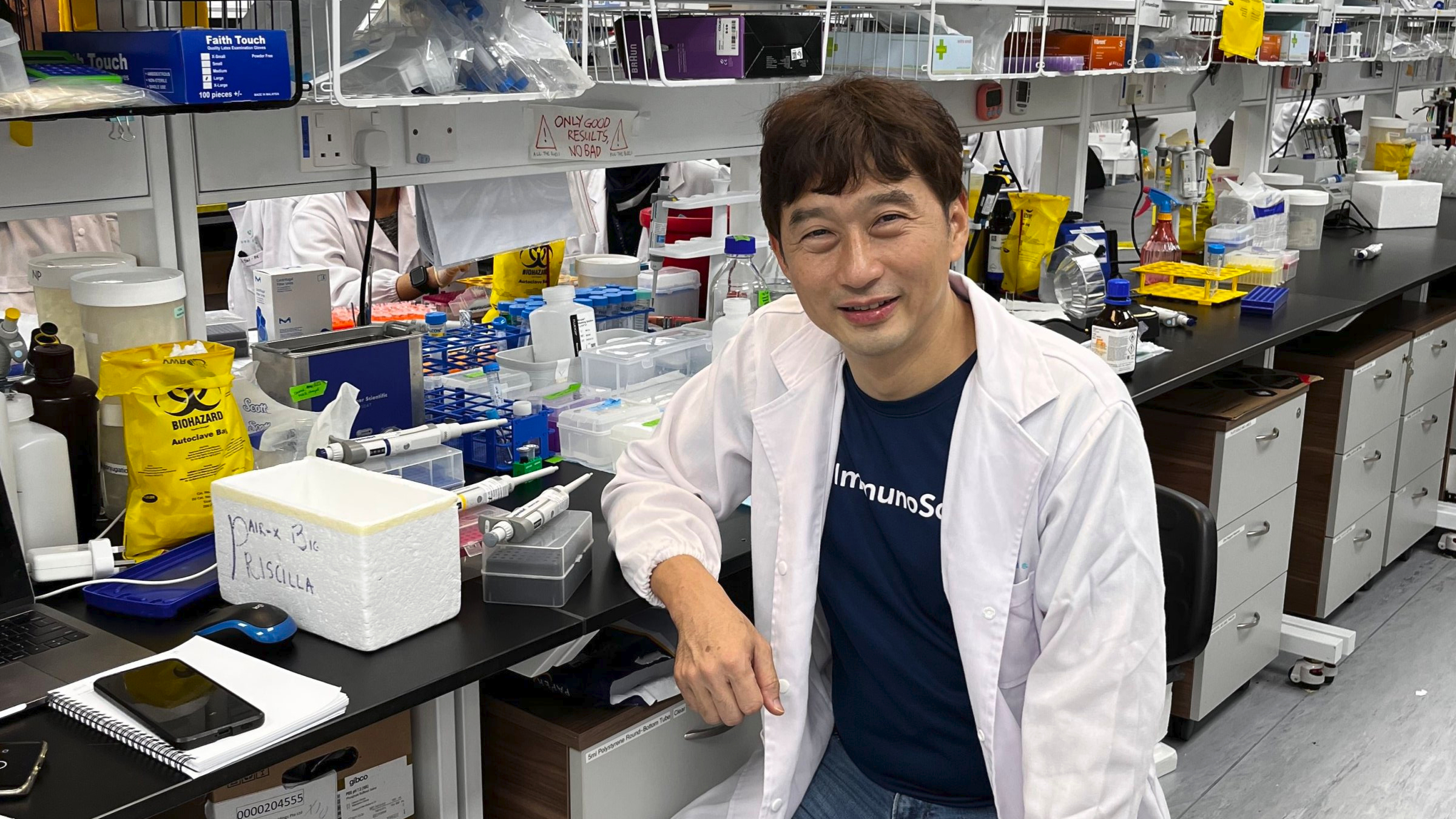 Choon-Peng Ng, ImmunoScape CEO
TCR up­start gets fresh fund­ing as it looks to charge to­ward the clin­ic
While sev­er­al com­pa­nies have been find­ing suc­cess in the TCR-T cell ther­a­py space — with In­tel­lia hav­ing its treat­ment ac­cept­ed by the FDA last year — an­oth­er com­pa­ny is us­ing ma­chine learn­ing to get in on the ac­tion and find a can­di­date to bring to­ward the clin­ic.
Im­munoScape, a biotech based in Sin­ga­pore and Cal­i­for­nia, has raised $14 mil­lion in a fresh round of fi­nanc­ing. The com­pa­ny it­self was found­ed in 2016 as a spin­out from the Sin­ga­pore-based Agency for Sci­ence, Tech­nol­o­gy and Re­search, set­ting up its US op­er­a­tions in San Diego in 2020.
In an in­ter­view with End­points News, Im­munoScape CEO Choon-Peng Ng said the up­start is fo­cused on the dis­cov­ery and even­tu­al de­vel­op­ment of TCR-T cell ther­a­pies in the on­col­o­gy space, with a fo­cus on sol­id tu­mors. Im­munoScape us­es a ma­chine learn­ing-based tech­nol­o­gy plat­form that an­a­lyzes da­ta from its lab to in­ves­ti­gate and even­tu­al­ly de­vel­op TCR-T cell ther­a­pies.
While the com­pa­ny has not un­veiled the de­tails of its ther­a­pies just yet, Ng not­ed that it does have some tar­gets iden­ti­fied and is cen­ter­ing on treat­ments re­lat­ed to breast can­cer, prostate and lung can­cer. He said that Im­munoScape will choose its as­sets and in­sert them in­to the pipeline by the end of the year, with the biotech plan­ning to have an IND filed by 2024.
The $14 mil­lion raise will be go­ing to­ward ex­pe­dit­ing de­vel­op­ment ef­forts and get­ting a can­di­date clos­er to the clin­ic. To date, Im­munoScape has man­aged to raise $41 mil­lion in to­tal through oth­er fundrais­ing ef­forts, in­clud­ing $14 mil­lion last year. Ng said that he would not rule out any fu­ture fund­ing, and while he does rec­og­nize that the IPO can be tough to nav­i­gate cur­rent­ly, he said that the com­pa­ny will be keep­ing its eye on the mar­ket.
As for the im­me­di­ate fu­ture, Peng Ng told End­points that, apart from pur­su­ing its IND, they will al­so be hop­ing to part­ner with oth­er groups and com­pa­nies that may have an in­ter­est to de­vel­op its as­sets.
"At the end of the day, (it's) ful­fill­ing the mis­sion in bring­ing as many of these nov­el ther­a­peu­tics to the clin­ic. And we rec­og­nize that we are a small team, and we want to do the best we can for what we can man­age," he said.
Ng al­so not­ed that Im­munoScape is sep­a­rat­ing it­self from the pack due to its ma­chine learn­ing tech­nol­o­gy that can dis­cov­er tar­gets at scale and screen hun­dreds of epi­topes. Al­so, by dis­cov­er­ing nat­u­ral­ly oc­cur­ring TCR anti­gens, Ng be­lieves that this will give the com­pa­ny's ther­a­pies a more pos­i­tive safe­ty pro­file.
Anzu Part­ners led the round, with Am­gen Ven­tures and Sin­ga­pore-based ED­BI al­so par­tic­i­pat­ing.