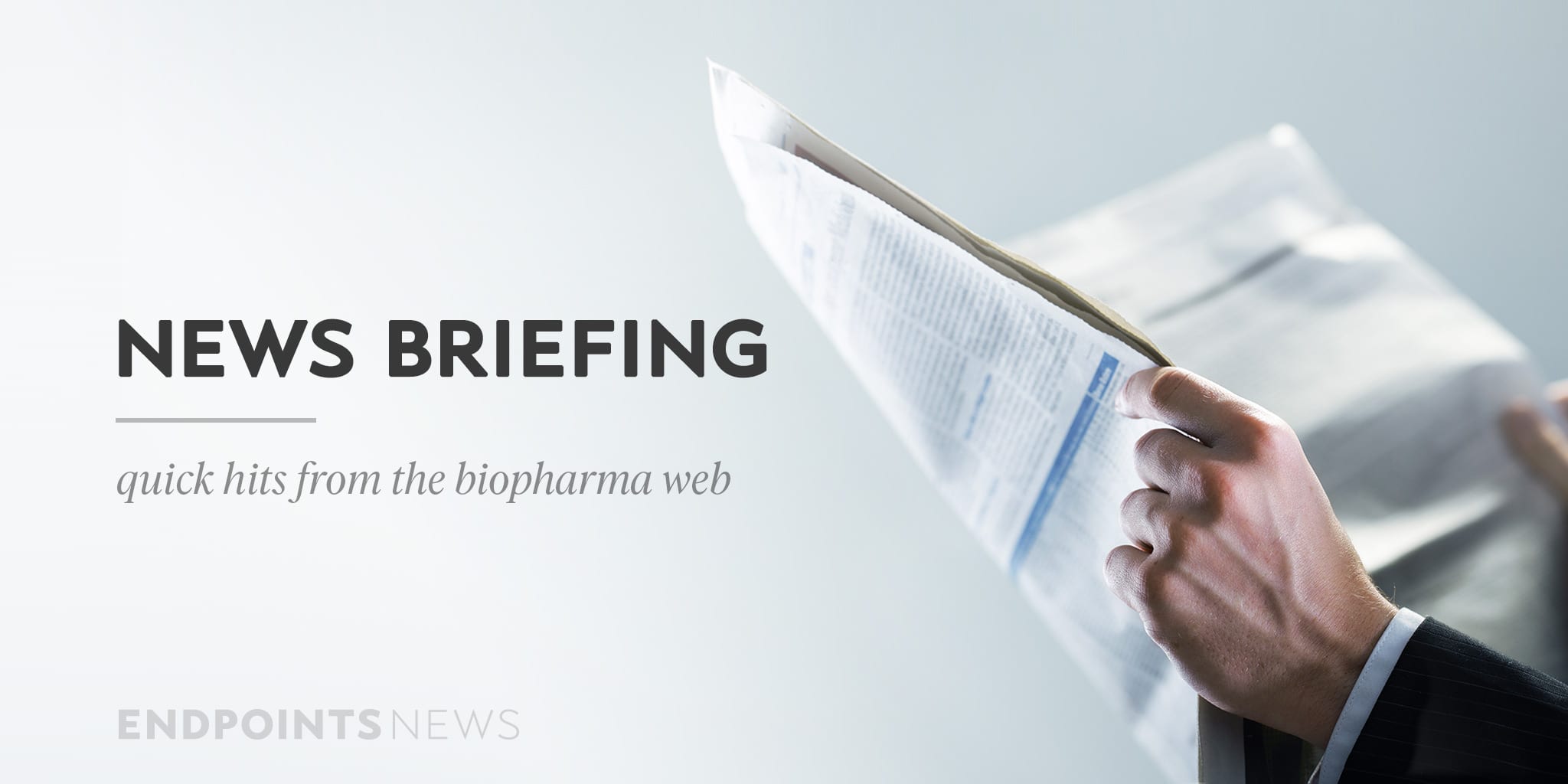 FDA ac­cepts In­tel­li­a's IND for CRISPR and TCR-T cell ther­a­py; San­té clos­es Fund IV at $260M
Rid­ing the coat­tails of a mas­sive $600 mil­lion cash raise in June, In­tel­lia an­nounced that the FDA ac­cept­ed their IND ap­pli­ca­tion for their gene edit­ing treat­ment NT­LA-5001, built as a treat­ment for acute myeloid leukemia.
The Cam­bridge, MA biotech said that they have plans to start pa­tient screen­ing in a Phase I/IIa study by the end of 2021. The study will eval­u­ate the ef­fects of a sin­gle dose of the treat­ment in adults who have de­tectable AML af­ter hav­ing re­ceived stan­dard first-line ther­a­py. The study will con­tain a dose es­ca­la­tion and ex­pan­sion phase, with up to 54 par­tic­i­pants.
"The FDA's ac­cep­tance of our IND for NT­LA-5001 is an im­por­tant mile­stone in our pur­suit of de­vel­op­ing ad­vanced cell ther­a­pies uti­liz­ing In­tel­lia's pro­pri­etary en­gi­neer­ing plat­form to treat pa­tients with can­cer," said In­tel­lia pres­i­dent and CEO John Leonard.
Out­side of the US, In­tel­lia al­so sub­mit­ted a reg­u­la­to­ry ap­pli­ca­tion to the UK for NT­LA-5001.
San­té clos­es over­sub­scribed Fund IV af­ter rais­ing $260 mil­lion
Texas health­care in­vest­ment firm San­té fi­nal­ly closed its over­sub­scribed Fund IV. The $260 mil­lion fund will make in­vest­ments across ear­ly-stage biotech, healthtech and medtech com­pa­nies, ac­cord­ing to a com­pa­ny state­ment.
Fund IV se­cured com­mit­ments from more than two-dozen part­ners, in­clud­ing new in­sti­tu­tion­al in­vestors in Asia and Latin Amer­i­ca. Re­turn­ing part­ners ac­count­ed for near­ly 90% of the raised funds.
San­té co-founder and man­ag­ing di­rec­tor Kevin La­lande said in a state­ment: "The con­fi­dence and com­mit­ment of our in­vestors led to the quick­est fundraise since in­cep­tion. We are grate­ful for their part­ner­ship as we de­ploy this next fund to cap­i­tal­ize on sig­nif­i­cant health­care op­por­tu­ni­ties and nur­ture cut­ting-edge tech­nolo­gies."
Zai Lab ex­pands US op­er­a­tions with of­fice in Cam­bridge
Zai Lab is ex­pand­ing its pres­ence in the Unit­ed States — by open­ing an of­fice in biotech hub Cam­bridge. The new of­fice will be the head­quar­ters of dif­fer­ent busi­ness op­er­a­tions such as al­liance man­age­ment, along with le­gal and gov­er­nance func­tions.
"We are ex­cit­ed to ex­pand our pres­ence in the U.S. by open­ing a new Zai Lab of­fice in Cam­bridge," Zai Lab CEO and chair Saman­tha Du said in a state­ment. "This is an im­por­tant step in Zai Lab's jour­ney to be­come a glob­al bio­phar­ma­ceu­ti­cal com­pa­ny, a part­ner of choice and a place where our em­ploy­ees can do their best work."
This an­nounce­ment comes al­most im­me­di­ate­ly af­ter Zai Lab an­nounced on Tues­day that they re­ceived BTD for be­mar­ituzum­ab from the NM­PA. They are now look­ing to ad­vance the drug in­to reg­is­tra­tional tri­als.
Bio­gen re­leas­es re­sults from Phase II study on neu­ropa­thy pain drug
Cam­bridge, MA biotech Bio­gen an­nounced pos­i­tive topline re­sults from its Phase II study of vixot­rig­ine, a non-opi­oid oral pain drug be­ing eval­u­at­ed for the treat­ment of small fiber neu­ropa­thy (SFN).
The CON­VEY study had a dou­ble-blind pe­ri­od, where pa­tients were ad­min­is­tered 200 mg of vixot­rig­ine twice dai­ly. That arm met its pri­ma­ry end­point of change from base­line to week 12 of the dou­ble-blind pe­ri­od in mean av­er­age dai­ly pain (ADP) score.
In the same study, there was an open-la­bel pe­ri­od where all par­tic­i­pants who en­rolled re­ceived a high­er dose of the drug — 350 mg twice dai­ly. This pre­ced­ed the dou­ble-blind por­tion of the study.
While the 350 mg twice dai­ly arm did not meet the pri­ma­ry end­point, it met sta­tis­ti­cal sig­nif­i­cance in the Pa­tient Glob­al Im­pres­sion of Change (PG­IC) at week 12. Da­ta from the study will in­form po­ten­tial dos­es for study in fu­ture Phase III clin­i­cal tri­als.
"We are en­cour­aged by the over­all re­sults of the CON­VEY study," said Bio­gen SVP and head of the ther­a­peu­tics de­vel­op­ment unit Kather­ine Daw­son. "We are grate­ful to all the par­tic­i­pants, in­ves­ti­ga­tors and study staff who con­tributed to this study and al­lowed us to eval­u­ate vixot­rig­ine as a non-opi­oid treat­ment op­tion."
Niger­ian start­up 54gene rais­es $25 mil­lion in Se­ries B — Re­port
Ge­nomics start­up 54gene re­cent­ly raised $25 mil­lion in a Se­ries B round to ad­vance its pre­ci­sion med­i­cine ca­pa­bil­i­ties.
Ac­cord­ing to TechCrunch, the round comes a year af­ter the com­pa­ny, found­ed by Abasi Ene-Obong in 2019, raised $15 mil­lion in a Se­ries A and two years af­ter it closed a $4.5 mil­lion seed round.
The com­pa­ny launched a ge­net­ic se­quenc­ing and mi­croar­ray lab in La­gos, Nige­ria last Sep­tem­ber through a part­ner­ship with Il­lu­mi­na.
Ac­cord­ing to a press re­lease is­sued by Il­lu­mi­na last year, the fa­cil­i­ty will look at ge­net­ic in­for­ma­tion for health re­search and drug de­vel­op­ment — and Ene-Obong fur­ther said that the lab will do whole-genome se­quenc­ing and whole-ex­ome se­quenc­ing as part of the lab's work.
New York biotech Ban­tam com­pletes $25 mil­lion in seed fund­ing
Ban­tam Phar­ma­ceu­ti­cal com­plet­ed a $25 mil­lion seed fund­ing round to fi­nal­ize ac­tiv­i­ties for its lead pro­gram BTM-3566. The funds are in­tend­ed to fin­ish prepa­ra­tions so the com­pa­ny can file its IND, which it plans to do in Feb­ru­ary — along with mak­ing prepa­ra­tions for first-in-hu­man clin­i­cal tri­als.
The fund­ing was co-led by Ban­tam's cur­rent in­vestors.
Ban­tam is look­ing to start Phase I clin­i­cal stud­ies in pa­tients with B-cell hema­to­log­i­cal ma­lig­nan­cies in Q2 of 2022. Ban­tam has es­tab­lished its op­er­a­tions in the North Car­oli­na Re­search Tri­an­gle.
"This fund­ing en­ables Ban­tam Phar­ma­ceu­ti­cal to be ful­ly pre­pared to en­ter the clin­ic for first in hu­man stud­ies in ear­ly 2022, rep­re­sent­ing a ma­jor mile­stone. We are ex­cit­ed about mov­ing to the next stage of de­vel­op­ment," said co-found­ing in­vestor and board mem­ber Li­onel Gold­frank in a state­ment.