Tech maven Travis May takes the helm of Roivan­t's da­ta min­ing start­up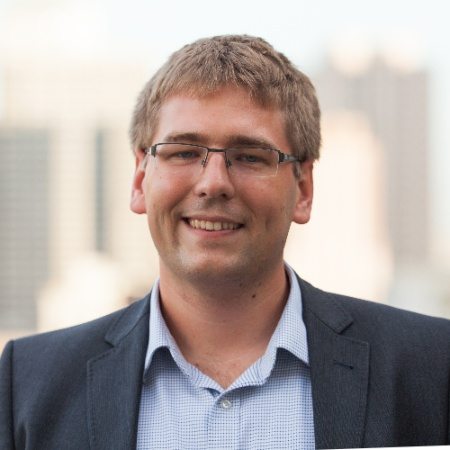 Travis May, Data­vant
As a founder of Liv­eR­amp, Travis May was li­on­ized for his role in build­ing one of the most tech­no­log­i­cal­ly so­phis­ti­cat­ed da­ta on­board­ing out­fits, which spe­cial­ized in reach­ing a mass con­sumer au­di­ence. And to­day, he's not on­ly tak­ing the lead on Roivant Sci­ences' am­bi­tious new ef­fort to trans­late mass da­ta in­to bet­ter drugs that can be ef­fi­cient­ly de­vel­oped, he's in­vest­ing in the com­pa­ny as well.
The young Travis May, rec­og­nized last year in one of Forbes' 30 un­der 30 lists, is tak­ing the helm at the fledg­ling Data­vant, Vivek Ra­maswamy's new op­er­a­tion de­signed to build on its work in gath­er­ing da­ta on a pipeline of shelved ther­a­pies.
Ra­maswamy has cre­at­ed a mul­ti­fac­eted biotech com­pa­ny with a slate of star­tups that have been gath­er­ing as­sets from the bar­gain base­ments of the world's biggest phar­ma com­pa­nies. Its lead drug is Ax­o­vant's Alzheimer's med, bagged from GSK and now about to spell out Phase III da­ta. Now Data­vant will take that one more big step for­ward, gath­er­ing mas­sive quan­ti­ties of drug da­ta and us­ing ar­ti­fi­cial in­for­ma­tion tech to find more drugs for the pipeline.
From May's per­spec­tive, health­care da­ta is a mess. And there­in lies some big op­por­tu­ni­ties.
"As a tech­nol­o­gist look­ing at the bio­phar­ma in­dus­try, it's sur­pris­ing and dis­con­cert­ing how lit­tle da­ta is shared as com­pared to oth­er in­dus­tries," said May in a state­ment. "Bio­phar­ma­ceu­ti­cal da­ta is siloed across big phar­ma com­pa­nies, uni­ver­si­ties, health­care con­sor­tia, CROs, re­search groups, hos­pi­tal sys­tems, reg­u­la­to­ry bod­ies, pa­tient reg­istries, ge­nomics com­pa­nies, and EMRs. There is tremen­dous po­ten­tial to ap­ply an­a­lyt­ics to this da­ta more ef­fec­tive­ly, im­prove drug de­vel­op­ment, and ul­ti­mate­ly save lives."