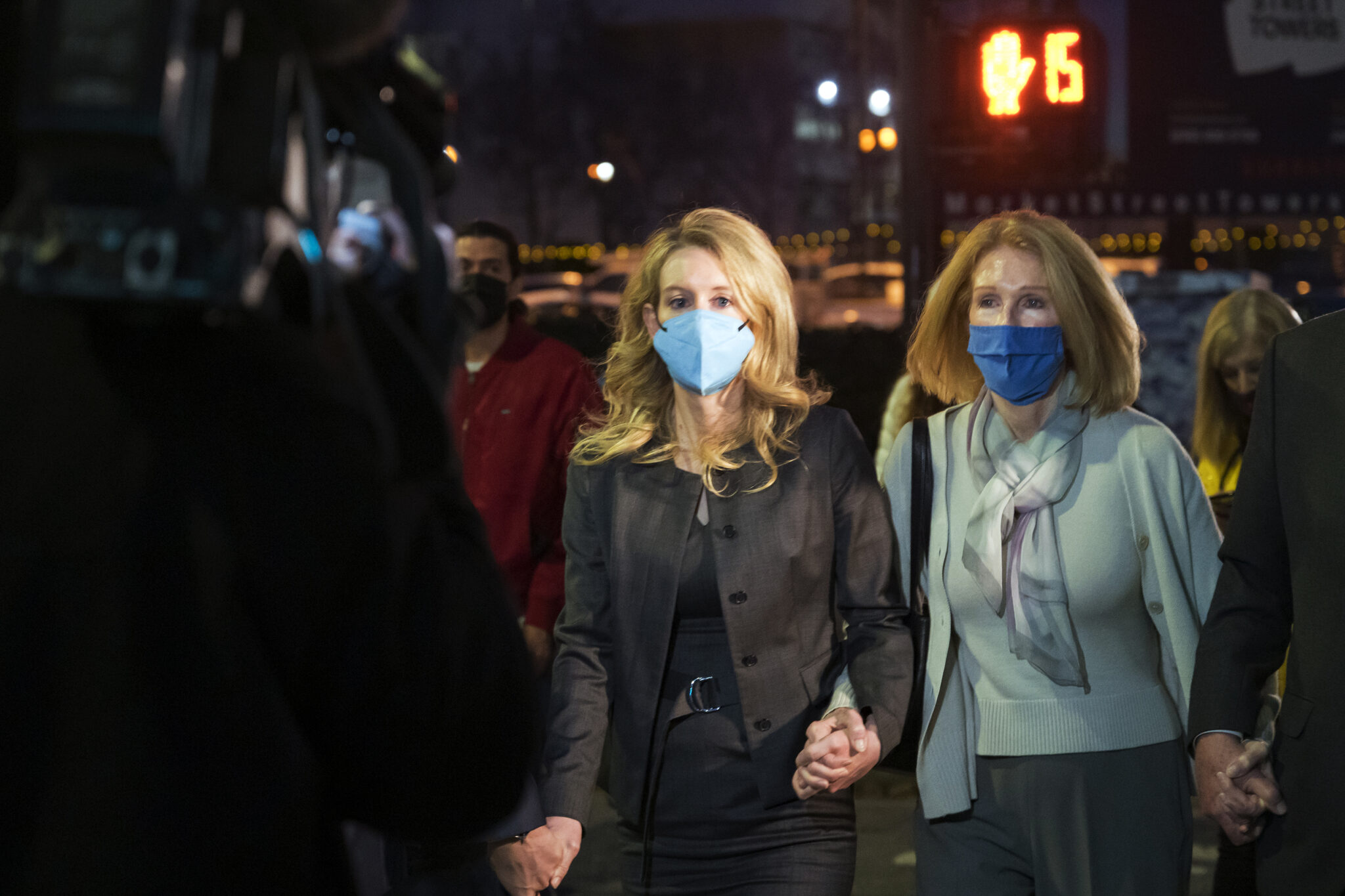 Elizabeth Holmes leaves federal court after the verdict in San Jose, CA, Jan. 3, 2022 (Nic Coury/AP Images)
Ther­a­nos founder Eliz­a­beth Holmes found guilty on four counts of de­fraud­ing in­vestors
The Ther­a­nos saga has cap­ti­vat­ed the phar­ma world over the last two decades, from its found­ing to its sharp rise and even sharp­er de­cline. And late Mon­day, its founder and for­mer CEO Eliz­a­beth Holmes was found guilty on sev­er­al counts re­lat­ed to mis­lead­ing in­vestors, with each car­ry­ing a max­i­mum of up to 20 years in prison.
Ju­rors re­turned the ver­dict Mon­day evening, find­ing Holmes guilty on one count of con­spir­a­cy to com­mit wire fraud and three counts of wire fraud against spe­cif­ic in­vestors, with sev­er­al news out­lets re­port­ing on the re­sult. Holmes was found not guilty on four counts re­lat­ed to de­fraud­ing pa­tients and ju­rors dead­locked on three counts of mis­lead­ing in­di­vid­ual in­vestors.
A mis­tri­al was sub­se­quent­ly de­clared for the lat­ter three charges, CN­BC re­port­ed. Holmes is like­ly to ap­peal the guilty ver­dicts.
Found­ed in 2003 when Holmes was a stu­dent at Stan­ford, Ther­a­nos gained promi­nence by promis­ing to of­fer quick and easy screen­ing tests us­ing just a few drops of a pa­tient's blood pricked from their fin­gers. Holmes made waves her­self as a rare woman CEO in Sil­i­con Val­ley's man-dom­i­nat­ed cul­ture, rais­ing more than $900 mil­lion from big-name in­vestors and earn­ing Ther­a­nos a val­u­a­tion as high as $9 bil­lion.
But things be­gan un­rav­el­ing quick­ly af­ter a Wall Street Jour­nal in­ves­ti­ga­tion in 2015 paint­ed the pic­ture of a com­pa­ny strug­gling to hold things to­geth­er, us­ing third-par­ty tech­nol­o­gy to run most of its tests. The re­port cit­ed un­named em­ploy­ees who said they were side­lined af­ter rais­ing con­cerns over the tests' re­li­a­bil­i­ty.
Ther­a­nos even­tu­al­ly shut­tered in 2018, mark­ing an end to the busi­ness but not the com­pa­ny's le­gal trou­bles. In ad­di­tion to Holmes, pros­e­cu­tors charged her for­mer boyfriend and deputy Ramesh "Sun­ny" Bal­wani with sim­i­lar counts, with Bal­wani ex­pect­ed to stand tri­al next month. Bal­wani has de­nied the al­le­ga­tions.
The Holmes and Ther­a­nos sagas have cap­ti­vat­ed ob­servers, of­fer­ing a rare look in­side the nor­mal­ly se­cre­tive Sil­i­con Val­ley and spawn­ing doc­u­men­taries try­ing to record the his­to­ry. Few Val­ley ex­ecs have been charged for white col­lar crimes, as the tri­al os­ten­si­bly pre­sent­ed a warn­ing to oth­er star­tups who might think of stretch­ing the truth to in­vestors.
As Holmes files an ap­peal mov­ing for­ward, a hear­ing for the hung charges is ex­pect­ed to be held next week, at which point Holmes is like­ly to face her sen­tenc­ing. The four sen­tences will prob­a­bly be served con­cur­rent­ly and it's un­like­ly Holmes faces the max­i­mum of 20 years, giv­en she has no pri­or con­vic­tions.