Tiny Treve­na re­turns to FDA in sec­ond bid for con­tro­ver­sial opi­oid painkiller
A year and a half af­ter be­ing re­buffed, mi­cro­cap biotech Treve­na is head­ing back to the FDA in a sec­ond bid to win ap­proval for its opi­oid painkiller.
Treve­na pitched their drug, known as oliceri­dine, as an opi­oid that used dif­fer­ent sig­nal­ing path­ways in the brain and would come with few­er side ef­fects than tra­di­tion­al com­pounds, such as mor­phine. But when the FDA re­viewed the drug in 2018, they came to dif­fer­ent con­clu­sions, say­ing it had "an abuse po­ten­tial, over­dose po­ten­tial and abil­i­ty to pro­duce phys­i­cal de­pen­dence that is sim­i­lar to oth­er mu-opi­oid ag­o­nists."
Af­ter an ad­vi­so­ry com­mit­tee vot­ed 8-7 against ap­proval, the FDA is­sued a CRL. The com­pa­ny went back to the clin­ic, at the agency's re­quest, to run a test on QT pro­lon­ga­tion, a mea­sure of heart func­tion. The study is de­signed to elu­ci­date the drug's po­ten­tial to cause these kinds of ar­rhyth­mias, which are one of the most com­mon and dan­ger­ous side ef­fects of opi­oids.
Now Treve­na has re­filed their NDA. They said they an­tic­i­pate a 6-month re­view process be­cause the ap­pli­ca­tion is con­sid­ered a class 2 re­sponse to the agency's ac­tion let­ter. A PDU­FA date is set for Au­gust 7.
Oliceri­dine, ten­ta­tive­ly brand­ed as Olin­vo, is ad­min­is­tered in­tra­venous­ly and would be in­di­cat­ed for mod­er­ate-to-se­vere pain for pa­tients in hos­pi­tals. It would be dosed at a max­i­mum of 27 mg, a sig­nif­i­cant re­duc­tion from the 100 mg max­i­mum dose the com­pa­ny once pro­posed.
Any opi­oid drug ap­proval could stoke crit­i­cism, though. Last year, af­ter the agency ap­proved Acel­Rx's new opi­oid Dsu­via, an anes­the­si­ol­o­gist on the agency's out­side ad­vi­so­ry com­mit­tee ac­cused the FDA of "will­ful blind­ness that bor­ders on the crim­i­nal."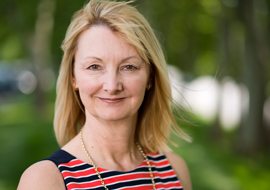 Max­ine Gowen
That crit­i­cism could be ag­gra­vat­ed by the ques­tions that still swirl about Treve­na's past con­duct. At­tor­neys at Bern­stein Lieb­hard ac­cused Treve­na ex­ecs, specif­i­cal­ly ex-CEO Max­ine Gowen, of mis­lead­ing in­vestors when she an­nounced, in 2016, that the com­pa­ny was "very pleased" with a meet­ing with the FDA and had come to a gen­er­al agree­ment on the de­sign of a Phase III tri­al. But the 2018 FDA re­view re­vealed the agency in fact had deep qualms about the tri­al de­sign.
Still, the ad­vi­so­ry com­mit­tee vot­ed in fa­vor of that Acel­Rx drug and ex­perts cau­tion that the com­mon phrase "opi­oid epi­dem­ic" is best char­ac­ter­ized as the "opi­oid abuse epi­dem­ic." Many pa­tients, in­clud­ing those with can­cer or oth­er ill­ness­es that cause sig­nif­i­cant chron­ic pain, still need these drugs to main­tain a de­cent qual­i­ty of life.