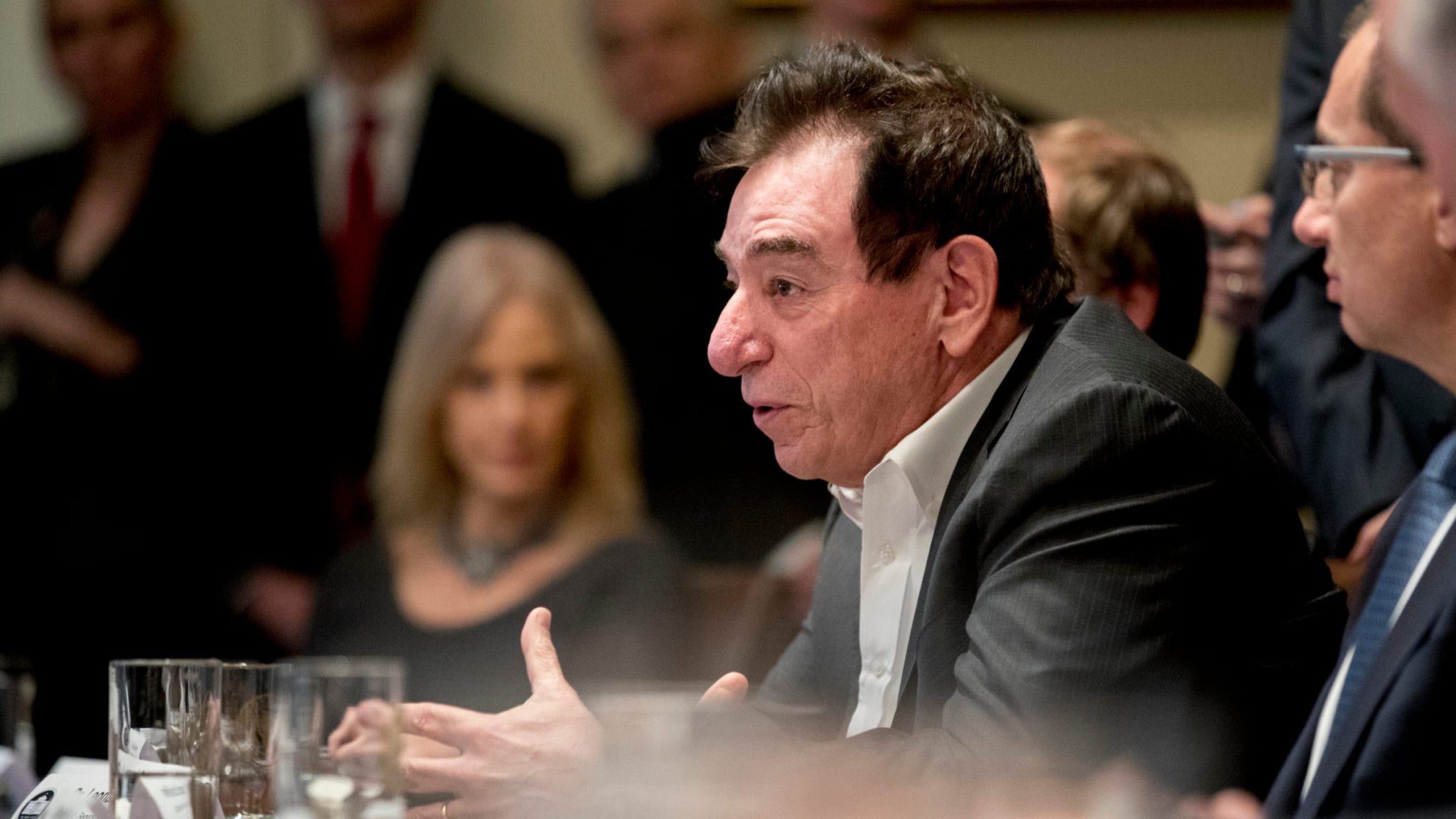 Leonard Schleifer, Regeneron CEO (Andrew Harnik/AP)
Trail­ing Eli Lil­ly by 12 days, Re­gen­eron gets the FDA OK for their Covid-19 an­ti­body cock­tail
A month and a half af­ter be­com­ing the ex­per­i­men­tal treat­ment of choice for a new­ly di­ag­nosed pres­i­dent, Re­gen­eron's an­ti­body cock­tail has re­ceived emer­gency use au­tho­riza­tion from the FDA. It will be used to treat non-hos­pi­tal­ized Covid-19 pa­tients who are at high-risk of pro­gress­ing.
Al­though the Rgen­eron drug is not the first an­ti­body treat­ment au­tho­rized by the FDA, the news comes as a sig­nif­i­cant mile­stone for a com­pa­ny and a treat­ment sci­en­tists have watched close­ly since the out­break be­gan.
Da­ta the com­pa­ny re­leased at the end of last month showed the drug, known as REGN-CoV2, re­duced virus lev­els and hos­pi­tal­iza­tion rates in new­ly di­ag­nosed pa­tients. Ide­al­ly, it could be used to pre­vent se­vere dis­ease in the el­der­ly and peo­ple with mul­ti­ple co­mor­bidi­ties at a time when cas­es and hos­pi­tal­iza­tions are surg­ing to record lev­els across the coun­try.
Along with the Eli Lil­ly treat­ment the FDA au­tho­rized ear­li­er this month, REGN-CoV-2 will rough­ly dou­ble the amount of an­ti­body drug avail­able this year. No oth­er drug is avail­able for out­pa­tients.
Still, the im­pact may not be as pro­found as many had hoped it would be in the spring or sum­mer. A tri­al for pa­tients on oxy­gen was abort­ed af­ter fail­ing a risk-ben­e­fit cal­cu­la­tion, end­ing hopes that the drug could help in se­vere dis­ease. And al­though the fed­er­al gov­ern­ment in­vest­ed over the sum­mer in ex­pand­ing Re­gen­eron's ca­pac­i­ty, sup­ply will still be se­vere­ly lim­it­ed.
The biotech ex­pects 80,000 dos­es to be avail­able this month, which is less than the num­ber of di­ag­noses just in the state of Illi­nois in the last week. Al­though most cas­es are not high-risk and not-el­i­gi­ble, ex­perts point­ed out af­ter the Eli Lil­ly EUA that in some com­mu­ni­ties, the ma­jor­i­ty of peo­ple are.
Re­gen­eron CEO Leonard Schleifer ac­knowl­edged the like­ly con­straints and pushed for the gov­ern­ment to play a heavy hand in dis­tri­b­u­tion.
"This FDA Emer­gency Use Au­tho­riza­tion is an im­por­tant step in the fight against COVID-19, as high-risk pa­tients in the Unit­ed States will have ac­cess to a promis­ing ther­a­py ear­ly in the course of their in­fec­tion," he said in a state­ment. "Even with these in­cred­i­ble ef­forts, de­mand may ex­ceed sup­ply ini­tial­ly, mak­ing it even more crit­i­cal that fed­er­al and state gov­ern­ments en­sure the casiriv­imab and imde­vimab an­ti­body cock­tail is dis­trib­uted fair­ly and eq­ui­tably to the pa­tients most in need."
The gov­ern­ment has al­ready sent states two de­liv­er­ies of the Eli Lil­ly an­ti­body, but it re­mains un­clear how and to whom many of those dos­es will be giv­en out.
There are lin­ger­ing ques­tions around how med­ical cen­ters will ad­min­is­ter the an­ti­body treat­ments, which have to be in­fused over the course of an hour but are in­di­cat­ed on­ly for pa­tients who are not hos­pi­tal­ized. With hos­pi­tals around the coun­try reach­ing ca­pac­i­ty, some have con­sid­ered sim­ply turn­ing down the Eli Lil­ly an­ti­body, rather than try to ad­min­is­ter it while si­mul­ta­ne­ous­ly han­dling huge in­flux­es of se­vere Covid-19 pa­tients.
Adding to their ret­i­cence were the sparse da­ta around the Eli Lil­ly's an­ti­body: The low dose the FDA au­tho­rized had failed the pri­ma­ry end­point in the phar­ma's study, and the In­fec­tious Dis­ease So­ci­ety of Amer­i­ca rec­om­mend­ed against pre­scrib­ing it.
Re­gen­eron has ar­guably shown stronger da­ta, but they have not dis­closed re­sults for the low dose they plan to de­liv­er to pa­tients. They have al­so not re­leased da­ta on whether the drug helped al­le­vi­ate symp­toms, dis­ap­point­ing some an­a­lysts.
The com­pa­ny ex­pects to be able to make 300,000 dos­es by the first week of Jan­u­ary. A part­ner­ship with Roche, ex­pect­ed to get ful­ly on­line at the start of 2021, should al­low them to churn out 250,000 dos­es per month, ex­ec­u­tives said in late Sep­tem­ber.
For a look at all End­points News coro­n­avirus sto­ries, check out our spe­cial news chan­nel.