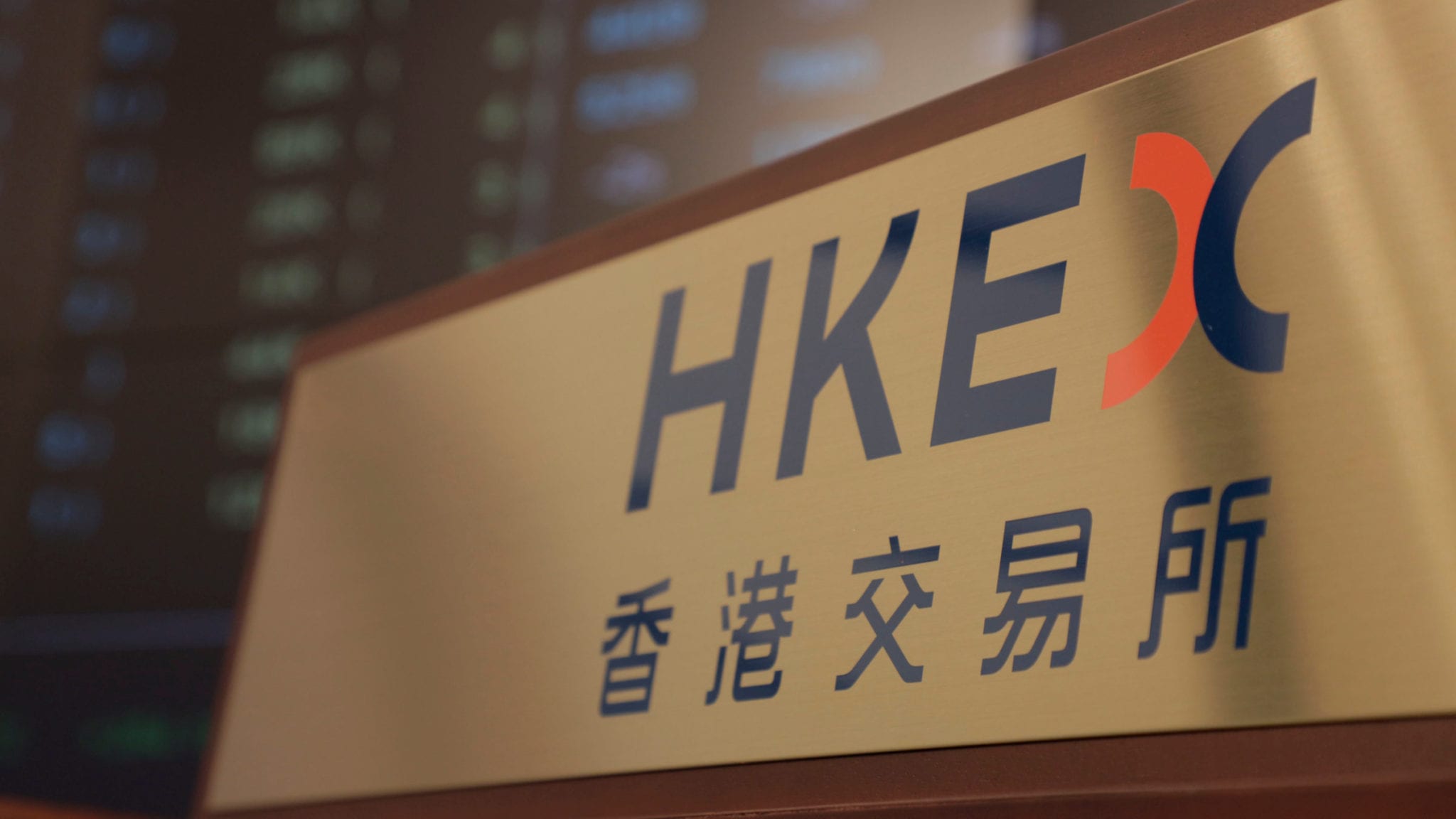 Signboard at the Hong Kong Exchange (AP Images)
Two years in, Hong Kong's biotech ex­per­i­ment has been val­i­dat­ed
Biotech Voices is a collection of exclusive opinion editorials from some of the leading voices in biopharma on the biggest industry questions today. Think you have a voice that should be heard? Reach out to Amber Tong.
On April 30th, the two-year an­niver­sary passed of the Stock Ex­change of Hong Kong's (HKEX) im­ple­men­ta­tion of its new biotech chap­ter. As we re­flect on it two years lat­er, this piv­otal de­ci­sion has aged well with time and is de­liv­er­ing on its promise in a big way. While ca­su­al ob­servers might re­call that the new biotech era in Hong Kong start­ed off with some grow­ing pains, list­ings have strength­ened over time to the ex­tent that Hong Kong is right up there with New York and is ar­guably even the stronger mar­ket for biotech list­ings in ear­ly 2020. The tim­ing couldn't have been bet­ter. Just as cur­rent events il­lus­trate how vi­tal our in­dus­try is to the world, biotech is start­ing to bloom in Asia. This wouldn't be pos­si­ble with­out the pub­lic mar­kets.
In case you do not know, here is some his­to­ry.
HKEX was pre­vi­ous­ly miss­ing out on biotech com­pa­ny list­ings be­cause the ex­change had rev­enue and prof­it re­quire­ments that dis­qual­i­fied the typ­i­cal biotech com­pa­ny from look­ing to have an ini­tial pub­lic of­fer­ing there. Most biotechs are sole­ly fo­cused on re­search and de­vel­op­ment (R&D) at the time of list­ing and rarely have mean­ing­ful rev­enue, let alone prof­it, when they are ready to go pub­lic. With­out this abil­i­ty in Hong Kong, world-class Chi­nese biotechs like BeiGene and Zai Lab could on­ly look to New York as a list­ing venue in the past. Re­al­iz­ing biotech's role in the new econ­o­my, HKEX changed its re­quire­ment for the sec­tor on April 30, 2018. There was much fan­fare about this de­ci­sion, but al­so some doubt about whether biotech could thrive in a mar­ket that had no ex­pe­ri­ence valu­ing R&D like this.
A rocky start – first im­pres­sions are hard to shake.
To be hon­est, it couldn't have start­ed out worse. Aim­ing to max­i­mize the en­thu­si­asm, the first com­pa­ny to list, As­cle­tis Phar­ma, went off at an un­re­al­is­tic val­u­a­tion and fell hard im­me­di­ate­ly. To this day, it is still down 79% from the IPO price. The next list­ing, a sec­ondary IPO by BeiGene, was un­der­wa­ter for over a year. The third list­ing, Hua Med­i­cine, has al­so been a poor per­former since the be­gin­ning. With­out a doubt, if the ex­change and bankers could do this over again, I'm sure they would have cho­sen a dif­fer­ent line­up of com­pa­nies to start with and at low­er val­u­a­tions. First im­pres­sions are hard to shake, and you can't blame some ca­su­al ob­servers (es­pe­cial­ly out­side of Asia) for los­ing in­ter­est af­ter this rocky start.
But the Hong Kong mar­ket for biotech has grown stronger over time.
What the ca­su­al ob­serv­er has missed since then is that the IPO mar­ket in Hong Kong has strength­ened over time to the ex­tent that it is cook­ing with gas to­day. The turn hap­pened in Oc­to­ber of 2018 when In­novent Bi­o­log­ics, a world-class and ex­pe­ri­enced com­pa­ny that was found­ed in 2011, went off at a rel­a­tive­ly rea­son­able val­u­a­tion. It is up over 200% since then and cur­rent­ly sports a $7B+ val­u­a­tion. In­novent has al­so sub­se­quent­ly com­plet­ed two fol­low-on of­fer­ings in Hong Kong, a key el­e­ment of a func­tion­ing biotech mar­ket. In my opin­ion, this com­pa­ny has all the char­ac­ter­is­tics of be­ing a glob­al leader one day and should have been the first com­pa­ny to go pub­lic un­der the new biotech chap­ter. Much of that is out of the ex­change's hands, but a wink and a nod wouldn't have hurt.
Since In­novent's IPO, the mar­ket for biotech has been what I would de­scribe as ro­bust, while strength­en­ing over time. 13 com­pa­nies have of­fi­cial­ly gone pub­lic un­der the biotech chap­ter since In­novent. Some have gone up and some have been flat or down, a com­plete­ly nor­mal mar­ket. Suc­cess­ful ones that stand out in­clude CanSi­no Bi­o­log­ics (+870%), Jun­shi Bio­sciences (+120%), and Al­pham­ab On­col­o­gy (+125%). Hong Kong's new biotech rule has fos­tered a cul­ture of in­vest­ing in life sci­ences, and that is very im­por­tant. An un­der­ap­pre­ci­at­ed ben­e­fit is that the IPO mar­ket for oth­er life sci­ences com­pa­nies there, while not tech­ni­cal­ly un­der the pre-rev­enue biotech rule, has al­so been very strong. These in­clude WuXi AppTec (+145%), Han­soh Phar­ma­ceu­ti­cal (+136%), and Vi­va Biotech (+55%).
To­day, you could ar­gue that the IPO mar­ket for biotech in Hong Kong is, at least for the time be­ing, just as strong and if not stronger than New York. The last five IPOs have all been big win­ners in their ini­tial trad­ing. Fur­ther­more, the amount of mon­ey raised has been im­pres­sive. Three com­pa­nies dur­ing this tur­bu­lent 2020 have al­ready raised a to­tal of over $900M and a fourth com­pa­ny (Kin­tor) is slat­ed to IPO this week. This com­pares to $1.35B raised through­out the en­tire of 2019. The pipeline of fu­ture list­ings is very strong. This is all while the rest of the mar­ket has faced sig­nif­i­cant chal­lenges. Biotech is the hottest sec­tor in Hong Kong, and Hong Kong biotech might be the hottest IPO sto­ry hap­pen­ing any­where in the world to­day. At the same time, Nas­daq has had one Chi­na biotech IPO in 2020 (I-Mab) and two oth­ers (Gen­etron Health and Leg­end Biotech) are on file.
Cur­rent events show how vi­tal of a move this was.
I think the ul­ti­mate val­i­da­tion of Hong Kong's new biotech chap­ter is the tim­ing. COVID-19 has il­lus­trat­ed to the world how vi­tal bi­ol­o­gy is to so­ci­ety. Ours is like­ly to be a sec­tor of fo­cus for years to come. That the HKEX did this two years ago is key. I strong­ly be­lieve that if you don't have a stock mar­ket for biotech, you can­not have a biotech sec­tor be­cause ours is one of the most cap­i­tal in­ten­sive in­dus­tries that ex­ists. Com­pa­nies need to con­stant­ly raise new mon­ey and that is not pos­si­ble with­out a healthy pub­lic mar­ket com­po­nent for fi­nanc­ing. The fact that HKEX had al­ready put this in place will no doubt help com­pa­nies in Asia rise to the chal­lenge dur­ing this piv­otal mo­ment. Since the time of the de­ci­sion, Shang­hai has made a sim­i­lar move with the cre­ation of its STAR Mar­ket and Shen­zhen's ChiNext was al­so re­cent­ly giv­en ap­proval to do the same.
HKEX was al­so right when it made its ini­tial bet by rec­og­niz­ing that biotech is a vi­tal sec­tor of the new econ­o­my, and an en­gine of growth. To be a com­pet­i­tive glob­al ex­change of the fu­ture, it was im­por­tant for HKEX to get in on this busi­ness. The per­for­mance of biotech vs the rest of the stock mar­ket in Hong Kong since then has been strik­ing. My com­pa­ny has cre­at­ed the Chi­na Bio­Phar­ma In­dex, a bas­ket of 29 Chi­nese bio­phar­ma­ceu­ti­cal com­pa­nies, 83% of which are list­ed in Hong Kong. As of May 15th, the Lon­car Chi­na Bio­phar­ma In­dex is +10% YTD in 2020, +21% over 1 year, and +5% since the first biotech IPO hap­pened in Ju­ly of 2018. This com­pares to the Hang Seng In­dex (to­tal re­turn) of -15% YTD in 2020, -13% over 1 year, and -13% since the first biotech IPO in Ju­ly of 2018. The new econ­o­my has been a dri­ver of growth.
This is just the be­gin­ning.
While this suc­cess is re­al and im­pres­sive, it is im­por­tant to note that it is on­ly the be­gin­ning for biotech in Hong Kong. One big mis­take the naysay­ers made is that they ex­pect­ed every­thing to be per­fect on day one and passed judge­ment af­ter the first few list­ings were not great. In re­al­i­ty, the way to eval­u­ate a big change like this is over the course of many years. It is true that every­thing was not in place on day one (num­ber of buy-side and sell-side an­a­lysts cov­er­ing the sec­tor) and still is not, and it is al­so true that the list­ings got off to a rocky start. But they have since gained strength, and that is an en­tire­ly nor­mal course of events for some­thing new. The U.S. biotech sec­tor was not built overnight ei­ther. When you con­sid­er that Hong Kong is on­ly two years in­to its biotech chap­ter, I think you can on­ly view the present sit­u­a­tion as a great start and a re­sound­ing val­i­da­tion of the idea to do it.
There is one fi­nal is­sue that needs to be men­tioned. HKEX did make one big mis­cal­cu­la­tion two years ago when this was all start­ing. Back then, it was sug­gest­ed that the ex­change would go af­ter biotech list­ings from all over the globe, in­clud­ing from the Unit­ed States. In my view, that was bit­ing of more than they can chew and was not re­al­is­tic be­cause you have to earn that first. It is even less re­al­is­tic now in a world of COVID-19 and the po­lit­i­cal protests that have been tak­ing place in the city. While HKEX has not achieved (and might not for some time, if ever) this ag­gres­sive goal, to­day it has be­come with­out a doubt an ex­cel­lent home for Chi­na-fo­cused biotech com­pa­nies. There is great de­mand and mo­men­tum for that. This is a huge achieve­ment that HKEX, and all of Asia, de­serves to be proud of. The biotech chap­ter is off to a great start.