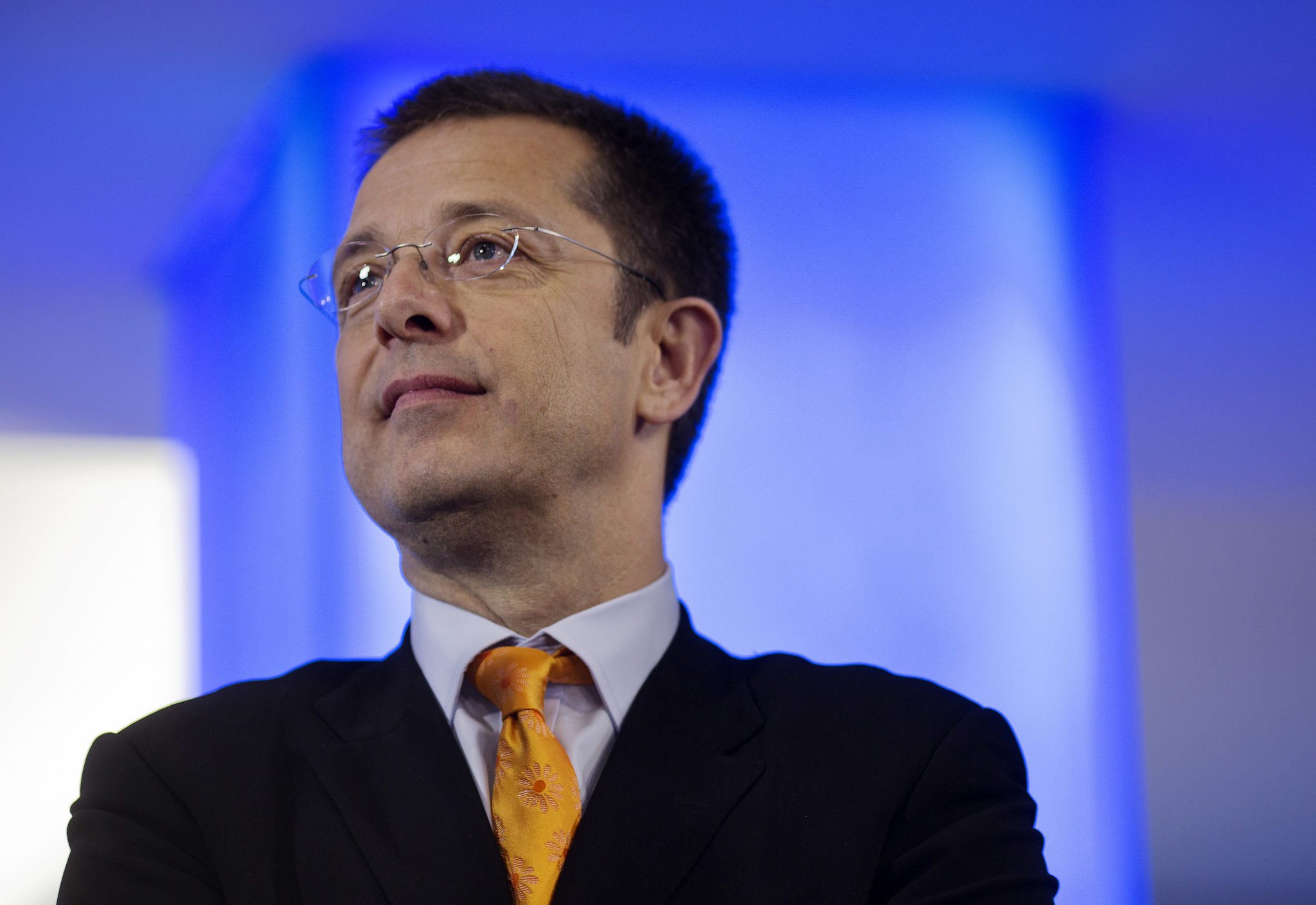 Hans Bishop, Grail CEO (Victor J. Blue/Bloomberg via Getty Images)
$1.6 bil­lion liq­uid biop­sy play­er Grail files IPO, re­veal­ing 2021 com­mer­cial plans and a Mi­das-sized $65M pay pack­age for Hans Bish­op
The hunt for the Grail just got a lot eas­i­er. In fact, in a few weeks you'll like­ly be able to pick up a por­tion of it on Robin Hood, no co­conut hors­es re­quired.
Grail, the mon­strous­ly backed liq­uid biop­sy biotech, has filed for an IPO. No pric­ing de­tails have been dis­closed, but if his­to­ry is any in­di­ca­tor, the com­pa­ny will have a chance to cap 6 months of boom­ing pan­dem­ic-era of­fer­ings the way the bil­lion-dol­lar Dark Knight films would cap the sum­mer block­buster in their hey­day. CEO Hans Bish­op has pen­ciled in $100 mil­lion for the raise, but that fig­ure has be­come a stan­dard place­hold­er un­til biotechs can gauge ex­act­ly how much they can raise.
The S-1 lifts a lid on a group that has op­er­at­ed in rel­a­tive ob­scu­ri­ty over the past few years, known pri­mar­i­ly by way of the big-name in­vestors — Jeff Be­zos, Il­lu­mi­na and ARCH Ven­ture among them — who poured in $1.6 bil­lion while it was still a pri­vate com­pa­ny. It shows, for one, that the com­pa­ny is plan­ning a faster roll­out than some may have ex­pect­ed. And it re­veals that Bish­op, long one of the in­dus­try's high­est paid ex­ec­u­tives, got a prince­ly sum to re­turn from a post-Juno sab­bat­i­cal.
Like Third Rock-backed Thrive and a few less­er-known ri­vals, Grail is try­ing to de­vel­op a blood test that can de­tect can­cers more cheap­ly and ear­li­er than con­ven­tion­al di­ag­nos­tics can. It's a goal that could trans­form can­cer treat­ment, al­low­ing doc­tors to be­gin ther­a­py when it's most ef­fec­tive and catch po­ten­tial­ly fa­tal ma­lig­nan­cies while they're still treat­able, but it comes with ma­jor tech­no­log­i­cal and fi­nan­cial hur­dles.
To­day Grail re­vealed plans to roll out its first ma­jor test, called Gal­leri, next year, set­ting them up to po­ten­tial­ly beat Thrive to mar­ket. That promise, the com­pa­ny ac­knowl­edges, comes in ad­vance of the ac­tu­al da­ta to sup­port that test and the roll­out could be de­layed if Covid-19 again blocks tri­als, as they did ear­li­er this year. Grail is cur­rent­ly run­ning a tri­al, called Pathfind­er, to see whether the test can prospec­tive­ly help doc­tors de­tect can­cer ear­ly. They will al­so use a sub­set of da­ta an ob­ser­va­tion­al study that pro­vid­ed their first val­i­da­tion last year.
The com­pa­ny al­so plans to roll out a sec­ond test that will aid tra­di­tion­al di­ag­noses in the sec­ond half of next year. Sub­se­quent tri­al da­ta could help ex­pand the in­di­ca­tion.
To over­see fi­nal de­vel­op­ment and launch, Grail hired Bish­op as CEO last year. The se­r­i­al ex­ec­u­tive had worked with ARCH's Bob Nelsen at Juno Ther­a­peu­tics, the CAR-T com­pa­ny that Cel­gene bought for $9 bil­lion. Bish­op, who at one point made $88 mil­lion in a year at Juno, took home a pay pack­age of $64 mil­lion last year, most of it in stock.
For an in­tra-in­dus­try com­par­i­son, that's a lit­tle more than the $59 mil­lion Mod­er­na CEO Stephané Ban­cel earned af­ter the mR­NA biotech's IPO and it's a lit­tle less than the $70 mil­lion Sarep­ta's Doug In­gram made, a fig­ure that ranked him 10th in Bloomberg's list of top ten CEOs.
Still, the S-1 al­so points to the ob­sta­cles will face as it looks to tran­si­tion from a cash-rais­ing com­pa­ny to a prof­it-gen­er­at­ing one. No­tably, they will have to se­cure re­im­burse­ment from in­sur­ers, par­tic­u­lar­ly in Med­ic­aid, and they ac­knowl­edge they will prob­a­bly "not have broad-based cov­er­age and re­im­burse­ment at the ini­tial com­mer­cial launch for Gal­leri." Long-term, if pa­tients have to pay out-of-pock­et, doc­tors may be un­will­ing to or­der it.
They ac­knowl­edge, too, that if "com­peti­tors' prod­ucts do not per­form as in­tend­ed, the mar­ket for our prod­ucts could be im­paired" — i.e., if an­oth­er com­pa­ny has faulty tests, pay­ers and doc­tors may dis­count the en­tire ap­proach. Which means that, al­though Grail may be rac­ing Thrive and a hand­ful of oth­ers to the fin­ish line, they're al­so de­pend­ing on them to de­liv­er.