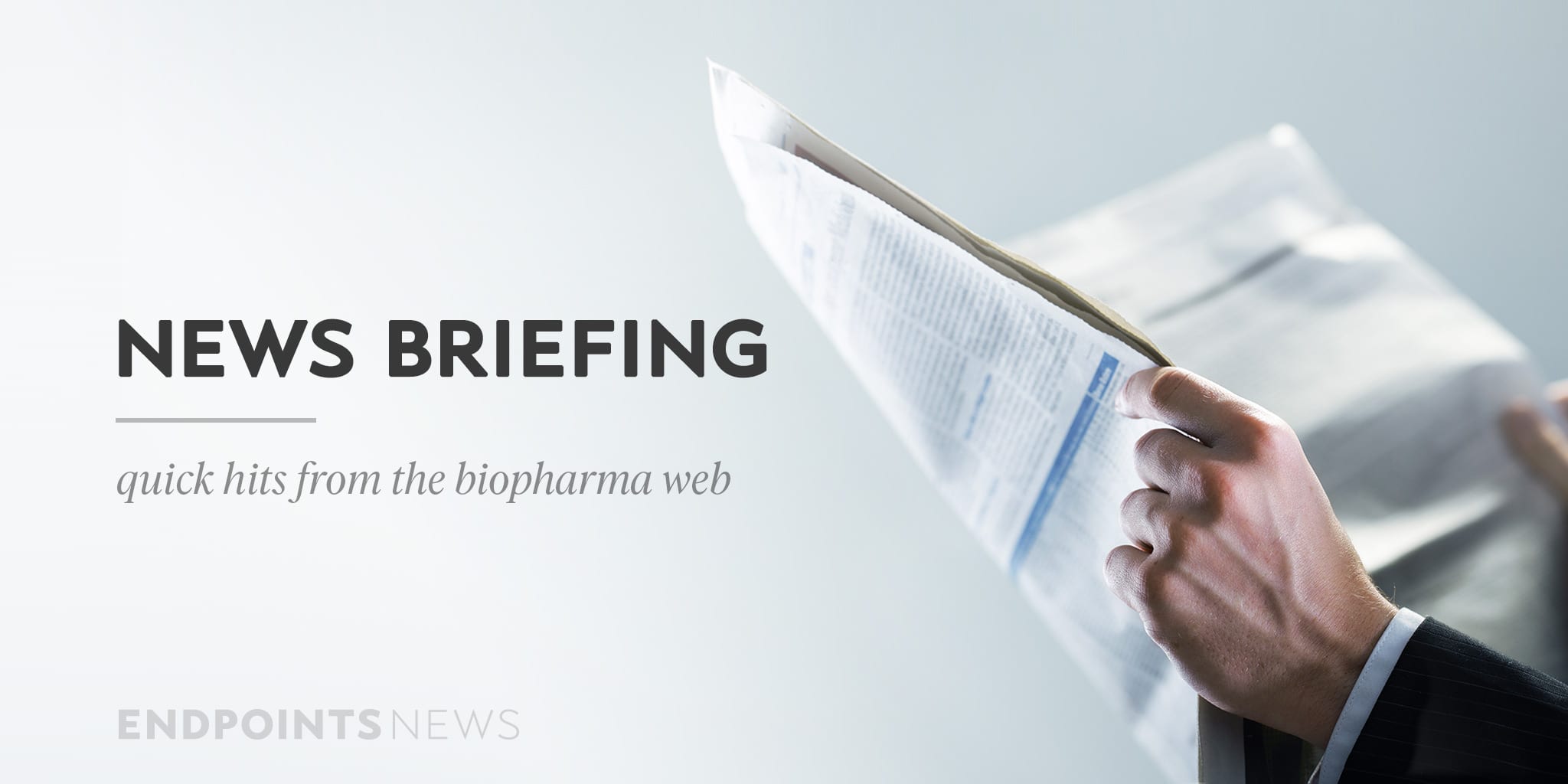 US sells Wu-Tang Clan al­bum to cov­er Shkre­li debt; Or­biMed backs GSK vet­s' Chi­nese start­up
Mar­tin Shkre­li be­came a top tar­get for ridicule and anger in the mid-2010s when he and his biotech Tur­ing Phar­ma­ceu­ti­cals raised the price of a life-sav­ing med­i­cine from $13.50 to $750 per pill. But he al­so gained no­to­ri­ety around that time for pur­chas­ing a one-of-a-kind al­bum from rap group the Wu-Tang Clan at auc­tion for about $2 mil­lion.
Now, the al­bum is on the move again.
The De­part­ment of Jus­tice an­nounced Tues­day it has sold the al­bum, "Once Up­on a Time in Shaolin," to an undis­closed buy­er to help cov­er Shkre­li's $7.36 mil­lion debt when he was con­vict­ed for de­fraud­ing in­vestors in 2017. The sale of the al­bum ac­count­ed for the re­main­der of Shkre­li's bal­ance, the de­part­ment said in a news re­lease.
Pros­e­cu­tors had seized the al­bum back in 2018 and the new buy­er is a group of peo­ple, rather than an in­di­vid­ual, per a New York Times re­port. The iden­ti­ties of the pur­chasers re­main undis­closed, as does the sale price.
The al­bum was per­ceived as akin to a fine art piece as the pur­chas­ing agree­ment from the orig­i­nal auc­tion con­tained sev­er­al re­stric­tions, in­clud­ing bar­ring the own­er from re­leas­ing any of the songs com­mer­cial­ly for 88 years. On­ly one copy of the al­bum was made, and the new own­ers are bound to the same re­stric­tions.
A lawyer for the group, Pe­ter Scoolidge, lis­tened to the al­bum as part of the sale arrange­ment, per the NYT, say­ing, "It's a banger, man. It's a banger."
The move to sell the al­bum came the same day that DoJ seized a tablet bear­ing part of the epic of Gil­gamesh, one of the world's old­est sur­viv­ing pieces of lit­er­a­ture. Known as the Gil­gamesh Dream Tablet, it was for­feit­ed by the own­ers of re­tail chain Hob­by Lob­by, who were ac­cused of smug­gling more than 5,500 ar­ti­facts out of Iraq to dis­play at their Mu­se­um of the Bible. Hob­by Lob­by paid a $3 mil­lion fine in 2018 in the scan­dal. — Max Gel­man
Or­biMed backs GSK vets' take on brain-pen­e­trant breast can­cer drugs
Three years af­ter launch­ing Zion Phar­ma with a unique take on small mol­e­cule can­cer drugs, a pair of Glax­o­SmithK­line vets have bagged their sec­ond round.
Jack Cheng and Ding Zhou, who had both worked at GSK's Shang­hai hub, had cen­tered the pitch around their deep grasp of drug me­tab­o­lism and phar­ma­co­ki­net­ics, or DMPK. Where­as Zhou spent close to two decades as a chem­istry lead at the British phar­ma, Cheng held a stint as head of DMPK at As­traZeneca be­fore re­unit­ing with his for­mer col­league.
Or­biMed led the $40 mil­lion Se­ries B, which is de­signed to fu­el a hir­ing dri­ve on top of R&D.
Stay­ing on a straight and nar­row path, Zion's lead can­di­date is a breast can­cer drug that can get in­to the brain, in hopes of treat­ing the metas­tases that af­fect be­tween 30% to 50% of new­ly di­ag­nosed pa­tients. Cur­rent treat­ments like surgery or ra­di­a­tion have too many side ef­fects and don't help pa­tients live too much longer, ac­cord­ing to the com­pa­ny.
"De­sign­ing chem­i­cal en­ti­ties that can pass through the blood-brain bar­ri­er and the abil­i­ty to pre­dict and as­sess the en­ti­ties' DMPK at­trib­ut­es are core to the Zion team's com­pet­i­tive­ness," Or­biMed part­ner Da­song Wang said in a state­ment. "Zion's breast can­cer pro­gram for brain metas­tases showed PK, tox­i­col­o­gy and ef­fi­ca­cy re­sults in Phase I that aligned very well with pre­clin­i­cal pre­dic­tions."
Ex­ist­ing in­vestors at Qim­ing, Sher­pa Ven­ture Cap­i­tal, Ming Bioven­tures and Med-Fine Cap­i­tal al­so joined the fi­nanc­ing. — Am­ber Tong
My­covia wins pri­or­i­ty re­view in quest to shake up yeast in­fec­tion mar­ket
Pulling up be­hind Scynex­is in the race to de­vel­op oral an­ti­fun­gals against yeast in­fec­tions, My­covia is speed­ing to­ward a pri­or­i­ty re­view.
The Durham, NC-based biotech an­nounced Wednes­day the FDA has ac­cept­ed its NDA for otesec­ona­zole and grant­ed the com­pound a speedy look-see. Reg­u­la­tors have set the PDU­FA date for Jan. 27, 2022.
My­covia is aim­ing to win an OK in an area that Scynex­is hasn't won ap­proval yet: re­cur­rent vul­vo­vagi­nal can­didi­a­sis, or chron­ic yeast in­fec­tion de­fined as at least three episodes per year. Scynex­is gained ap­proval in vul­vo­vagi­nal can­didi­a­sis for its Brex­afemme pill last month.
My­covia says da­ta from three Phase III stud­ies are back­ing the NDA, in­clud­ing two glob­al tri­als and one US-based tri­al. The drug­mak­er says otesec­ona­zole showed su­pe­ri­or ef­fi­ca­cy to Pfiz­er's flu­cona­zole, cur­rent­ly the mar­ket's stan­dard-bear­er.
"RVVC is a dif­fer­ent con­di­tion from yeast in­fec­tions, sim­ply known as VVC, so it re­quires a dif­fer­ent treat­ment. Re­search shows that flu­cona­zole, the stan­dard of care for VVC, is more than 90% ef­fec­tive in treat­ing an ini­tial episode of VVC, but in stud­ies of pa­tients with RVVC, greater than 50% of women ex­pe­ri­ence a re­cur­rence fol­low­ing main­te­nance ther­a­py dis­con­tin­u­a­tion," My­covia CEO Patrick Jor­dan said in a state­ment. — Max Gel­man
On the heels of a $363M Parkin­son's deal, Ipsen places a big bet on a new can­cer tar­get
It's been a cou­ple of weeks since Ipsen bet $363 mil­lion on IR­LAB's lev­odopa-in­duced dysk­i­ne­sia (LID) can­di­date — but the Paris-based com­pa­ny isn't quite done mak­ing deals.
Ipsen has promised up to $852 mil­lion to col­lab­o­rate on BAKX Ther­a­peu­tics' pre­clin­i­cal BAX ac­ti­va­tor in leukemia, lym­phoma and sol­id tu­mors, the com­pa­nies said on Tues­day. Ipsen will shell out $14.5 mil­lion of that up­on clos­ing, and the part­ners will split the costs and prof­its.
"This part­ner­ship brings to­geth­er Ipsen's ex­cel­lent clin­i­cal de­vel­op­ment and com­mer­cial ca­pa­bil­i­ties with our in­dus­try-lead­ing knowl­edge of the BAX pro­tein and our unique com­pu­ta­tion­al plat­form," BAKX CEO Sree Kant said in a state­ment.
The pro­gram, dubbed BKX-001, is the re­sult of pi­o­neer­ing work around apop­to­sis by BAKX's sci­en­tif­ic co-founders Loren Walen­sky and Evri­pidis Ga­vathi­o­tis. When dereg­u­lat­ed, apop­to­sis — the nat­u­ral­ly oc­cur­ring process of pro­grammed cell death — can lead to un­con­trolled cell di­vi­sion and tu­mor de­vel­op­ment. BAX is a new tar­get in the apop­to­sis cell-sig­nal­ing path­way, down­stream of oth­er an­ti-apop­tot­ic pro­teins like BCL-2, BCL-XL, and MCL-1, the com­pa­ny said.
BAKX has an­oth­er two undis­closed can­di­dates in the dis­cov­ery stage, ac­cord­ing to its web­site. — Nicole De­Feud­is
A pre­vi­ous ver­sion of this ar­ti­cle in­cor­rect­ly stat­ed that BAKX's can­di­date is a BAX in­hibitor. A cor­rec­tion has been made.