Ver­tex deal for Scot­land — no deal for Eng­land
Cys­tic fi­bro­sis (CF) drug mak­er Ver­tex Phar­ma­ceu­ti­cals — which is still locked in ne­go­ti­a­tion with NHS Eng­land to en­dorse the use of its med­i­cines — has suc­cess­ful­ly ne­go­ti­at­ed a deal with Scot­tish au­thor­i­ties.
A month ago, the Scot­tish Med­i­cines Con­sor­tium spurned two of the com­pa­ny's med­i­cines — Orkam­bi and Symke­vi — cit­ing un­cer­tain­ty over their long-term ef­fi­ca­cy in re­la­tion to their cost.
Each drug car­ries a list price of more than £100,000 per pa­tient per year. The UK has more than 10,400 cys­tic fi­bro­sis pa­tients – the largest CF pop­u­la­tion out­side the US, ac­cord­ing to the Cys­tic Fi­bro­sis Foun­da­tion.
But on Thurs­day, Ver­tex an­nounced a deal had been reached with Scot­land. The price ne­go­ti­at­ed for the treat­ments is con­fi­den­tial, but as part of the five-year agree­ment Ver­tex will col­lect re­al-world ev­i­dence on the drugs that sup­port any fu­ture sub­mis­sions, the com­pa­ny said, adding that about 400 out of the 900 CF pa­tients in Scot­land car­ry the mu­ta­tions ad­dress­able by Orkam­bi or Symke­vi.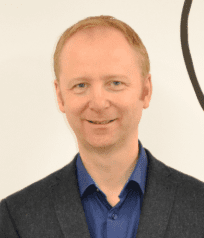 David Rams­den Cys­tic Fi­bro­sis Trust
"We cel­e­brate the news in Scot­land to­day, but our cam­paign must con­tin­ue to fo­cus on Ver­tex and all par­ties in Eng­land, Wales and North­ern Ire­land. Those in need of the drugs have al­ready wait­ed too long and we must en­sure that thou­sands more peo­ple are not sub­ject­ed to a post­code lot­tery. Scot­land's suc­cess must now be repli­cat­ed across the UK with­out fur­ther dam­ag­ing de­lay," Cys­tic Fi­bro­sis Trust chief David Rams­den said in a state­ment.
The cys­tic fi­bro­sis drugs made by Ver­tex $VRTX are the first treat­ments that ad­dress the un­der­ly­ing ge­net­ic caus­es of cys­tic fi­bro­sis, which is char­ac­ter­ized by a thick sticky mu­cus in the lungs, di­ges­tive sys­tem and oth­er or­gans that re­duces life ex­pectan­cy. In its sec­ond-quar­ter re­sults — pub­lished in late Ju­ly — Ver­tex's tri­fec­ta of CF med­i­cines com­bined gen­er­at­ed near­ly $1 bil­lion in sales, up 25% from the pre­ced­ing quar­ter. The FDA is al­so re­view­ing the Boston biotech's three-drug cock­tail for CF, which is ex­pect­ed to treat 90% of CF pa­tients.
Jeff Lei­den Ver­tex
Ver­tex has been hag­gling with UK's cost-ef­fec­tive­ness watch­dog NICE, which has re­fused to al­low the drug in­to Eng­land's NHS un­til Ver­tex of­fers it a dis­count on the treat­ment's price tag that would com­pel the agency to look fa­vor­ably up­on its cost-ef­fec­tive­ness. Ear­li­er this year, NHS Eng­land of­fered Ver­tex £500 mil­lion over five years and £l bil­lion over the next 10 years to ac­cess the com­pa­ny's med­i­cines — but the US drug­mak­er re­ject­ed the of­fer. Ne­go­ti­a­tions are still on­go­ing.
To the hor­ror of UK cys­tic fi­bro­sis pa­tients, a Ver­tex ex­ec­u­tive dis­closed that last year close to 8,000 packs (each con­tain­ing a 28-day sup­ply) of the com­pa­ny's treat­ment, Orkam­bi, were de­stroyed af­ter cross­ing their ex­piry date. In a stand­off with UK par­lia­ment in March, Ver­tex chief Jeff Lei­den stood his ground, de­spite be­ing chas­tised by a pletho­ra of MPs for Ver­tex's pric­ing strat­e­gy, busi­ness mod­el and ethics.
So­cial im­age: Ver­tex