Vi­sion or voodoo? Biotech IPO mas­ter Vivek Ra­maswamy is still set­ting up new biotechs and hatch­ing more deals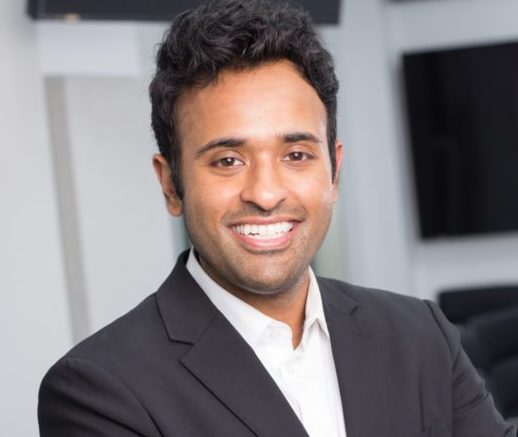 Vivek Ra­maswamy
In the 18 months since Vivek Ra­maswamy blind­sided the biotech in­dus­try with a record-set­ting IPO for the mys­tery biotech Ax­o­vant, the one-time hedge fund mae­stro turned drug en­tre­pre­neur has set up three more com­pa­nies and tak­en one of them pub­lic at near su­per­son­ic speed, all while busi­ly in-li­cens­ing drugs from a grow­ing list of sup­pli­ers.
And he isn't slow­ing down. In a sit­down with me at JP Mor­gan this week, Ra­maswamy says he may well un­cork an­oth­er start­up and strike up an­oth­er three or four deals in 2017.
"I wouldn't be sur­prised to see an­oth­er ma­jor 'vant' in 2017," Ra­maswamy says, as he fo­cus­es on a va­ri­ety of new fields like a "post im­muno-on­col­o­gy world," in­fec­tious dis­eases and pul­monolo­gy.
Ra­maswamy is per­haps the most ac­com­plished fi­nan­cial en­gi­neer in the in­dus­try, and that's ex­act­ly the rep­u­ta­tion he hates the most.
"I don't per­son­al­ly take pride in our IPOs as an ac­com­plish­ment," says the young chief of Roivant Sci­ences, the um­brel­la com­pa­ny that hosts Ax­o­vant ($AX­ON, a $360 mil­lion IPO), My­ovant ($MY­OV, a $218 mil­lion IPO), En­zy­vant and Der­ma­vant. A pained frown clouds a typ­i­cal­ly smil­ing face as I list his Wall Street coups, which have added enor­mous­ly to his wealth.
In­stead of Wall Street sta­tus, Ra­maswamy is go­ing for bio­phar­ma vi­sion­ary, look­ing to take an al­ready well de­fined ap­proach in-li­cens­ing Big Phar­ma's castoffs and ramp­ing it up while find­ing an ef­fi­cient, sus­tain­able R&D strat­e­gy that in­cludes re­al­ly in­cen­tiviz­ing the peo­ple do­ing the work to suc­ceed — rather than grim­ly hang­ing on to what­ev­er project they have in hand. And with that re­cruit­ment strat­e­gy Ra­maswamy fig­ures he can hire the best, in­clud­ing peo­ple like My­ovant CEO Lynn Seely, a Medi­va­tion vet­er­an.
He's been able to do much of this af­ter rais­ing a phe­nom­e­nal amount of cash from in­vestors while of­ten pay­ing ex­tra­or­di­nar­i­ly lit­tle for his as­sets. (And not just from his share­hold­ers. Bil­lion­aire An­dreas Halvors­en's Viking Glob­al In­vestors is al­so par­tic­i­pat­ing.) GSK let go of Ax­o­vant's Alzheimer's drug for a mere $5 mil­lion in cash — af­ter it had burned through much more in a failed ef­fort to gain pos­i­tive da­ta. My­ovant was whipped up through a pact with Take­da, which was glad to grab eq­ui­ty in pay­ment. Ra­maswamy al­so says that it was Take­da that pushed for an IPO.
Be­ing su­per suc­cess­ful at cre­at­ing pa­per bil­lions — at least tem­porar­i­ly — out of deals done with bar­gain base­ment prices at a time as­set val­u­a­tions have been go­ing through the roof has land­ed Ra­maswamy on the cov­er of Forbes, in TechCrunch and plen­ty of oth­er pubs and places as well.
And lat­er this year he can start to ei­ther live up to his self-im­age as the de­vel­op­er of im­por­tant new med­i­cines with a rad­i­cal new R&D strat­e­gy or start to feel the pain of re­search risk as his Alzheimer's drug is set to read out late-stage da­ta.
In the mean­time, look out for for more deals ahead. Ra­maswamy is nev­er far from his smart phone.